How active are you? As homeschool moms, we're always busy, but it isn't always an active busy. This Get Active Challenge will help keep you moving without requiring lots of time (or money!) for fitness.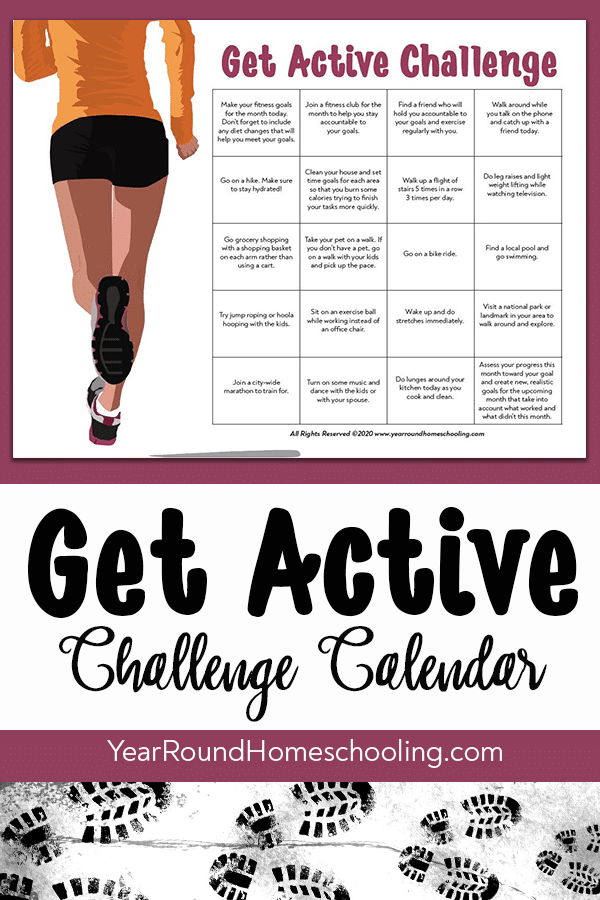 Before we moved to the North Woods of Maine, I went to a gym weekly with a friend. It was a fun time together, but I didn't always really have the time to go. I had to make the time.
After starting our family business and moving north, I haven't been consistent with fitness. Hiking is my favorite way to stay fit, but getting away isn't always possible.
Finding ways to stay healthy and fit is important to me, my family and our family business. If I'm not well, then I will struggle, my family will suffer and our family business will as well.
Perhaps you need a challenge to kick your fitness up a notch? Maybe you just need a change of pace?
This Get Active Challenge Calendar features activities that you'll enjoy and keep yourself healthy for those you love most. You'll go hiking, shop with baskets instead of a cart, do lunges around the kitchen and more!
For even more monthly challenges to use throughout the coming year, be sure to check out my store page here.