What facts do your kids know about Jupiter? These Jupiter Notebooking Pages are a fun resource for them to use as part of a study of the planet.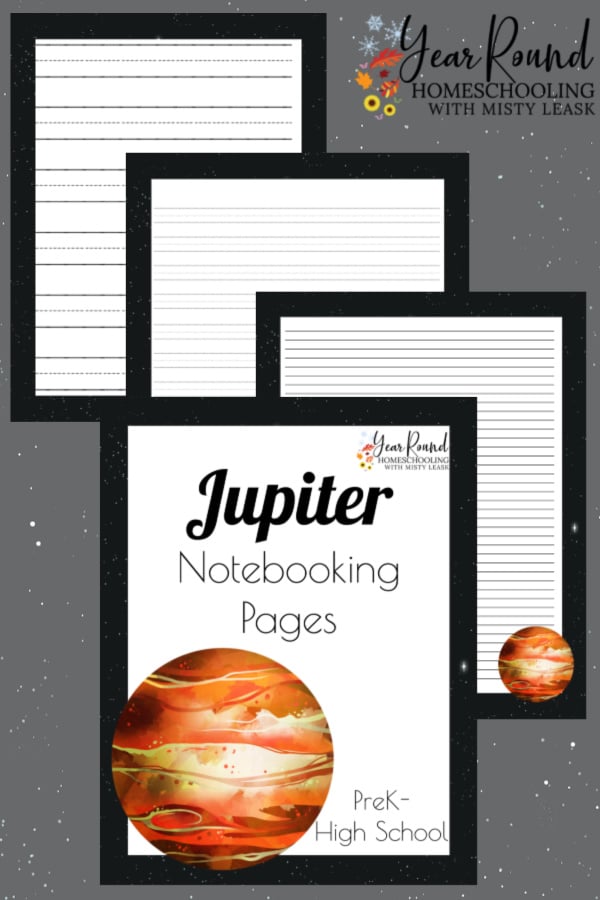 While Jupiter is most known for its Giant Red Spot, there is so much more to learn about this gas giant in our solar system. From rings to moons, from the swirls and stripes to the planet's temperature.
In Maine, we see extreme temperature differences throughout the year, but nothing like on Jupiter. With lows in the -200 Fahrenheit and highs in the 90,000+ Fahrenheit range, Jupiter's temperatures make the planet uninhabitable.
Studying Jupiter as part of your homeschool science class doesn't require a lot from you because I've already organized everything you'll need! My Jupiter Unit Study features a lesson, videos, online articles, literature options, art projects, games and much more!
This design makes it easy for you to pick and choose which you'd like to use, designing the perfect Jupiter study for your homeschool.
Plain white notebook paper isn't very inspiring sometimes. These Jupiter Notebooking Pages add a bit of fun to writing, which can be challenging for some students.
This pack includes Jupiter-themed lined pages for all your students from Preschool through High School.