Learning the history of Christmas traditions and how they came to be, is a wonderfully educational way to celebrate Christmas as a family.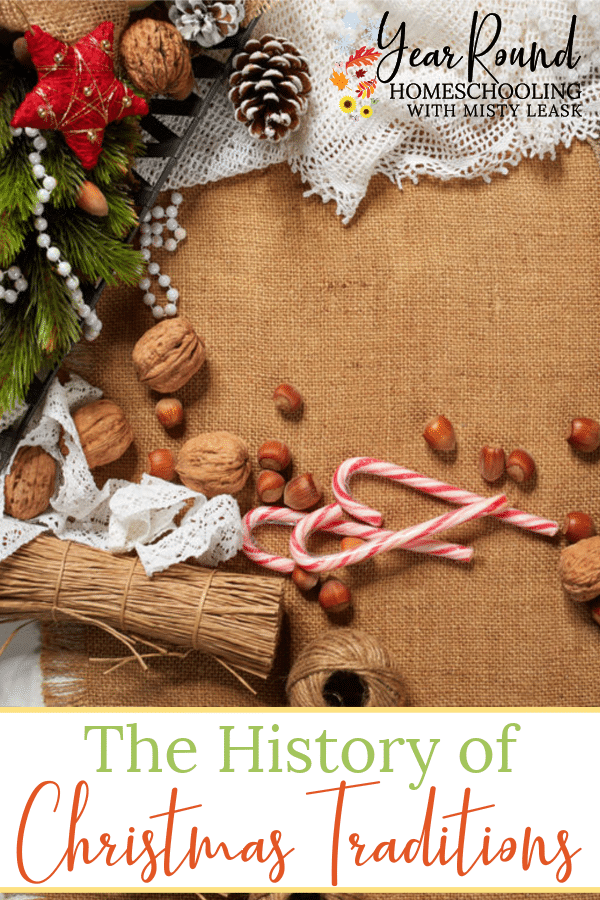 At first glance, one might think that the history of Christmas is very straightforward. It is the Bible story of Joseph and Mary going to Bethlehem, finding no room in the inn and giving birth to Jesus in a stable.
Although that is the Christmas story and the reason why we celebrate Christmas. It is not the history of how we celebrate Christmas. The history of Christmas traditions that you and your family observe issure to be surprising!
The History of Christmas Traditions
While we are exploring the history of Christmas, it is important to go back to the first Christmas and remind ourselves of the "reason for the season".
Begin your history of Christmas study by reading a portion of the Christmas story each day together. After your reading, research the historical background and the culture of those times.
You could also memorize Isaiah 9:1-7 together and talk about the fact that Jesus' birth fulfilled a prophecy given through the prophet Isaiah 700 years previously.
Another option would be to have a family discussion covering questions surrounding the Christmas story. Be sure to ask your kids if they have any questions of their own.
Why and how was Zachariah chosen to go into the Holy of Holies?

Why was it strange that Zachariah and Elisabeth chose John for the name of their son?

Why do you think Mary decided to visit Elisabeth when she found out that she was pregnant?

You may want to follow Mary from Nazareth to her cousin, Elisabeth's house in Jerusalem and back again on a map.

Why would Joseph want to secretly"divorce" Mary and why would that be allowed in Jewish culture?

How could a Jewish person divorce someone they were merely engaged to?

You may want to follow Joseph and Mary on a map from Nazareth to Bethlehem and then from Bethlehem to Egypt and from Egypt back to Nazareth.

Why did King Herod ask his men to find out what the prophet prophesied about the birthplace of the Messiah?

Why didn't Herod merely kill all newborn babies, why did he order the murder of all babies 0-2 years old?

What would be going through your mind had you been one of the shepherds in the field on the night the angels announced Jesus' birth?
Christmas caroling was originally done by pheasants in search of food from their feudal lords in the middle ages. Back then, it was known as "wassailing".
In the early 1220s, Saint Francis of Assisi began including these blessings as part of his services on Christmas. His encouragement brought his church members to embrace music during the Christmas season.
Once sung in church, Christmas carols became commonplace in homes, being passed down throughout the generations for hundreds of years.
When the Puritans came to power in the 16th century, however, Christmas was not observed. This caused people to have to sing Christmas carols in secret until King Charles was restored to the throne. King Charles' restoration to the throne of England in 1660 allowed both the observation of Christmas and Christmas caroling to return.
During the 18th century, Christmas carols were looked down upon, especially by those in the city. They saw them as a common person's activity and Christmas carols again almost completely disappeared. However, by the late 19th century, once again Christmas carols had become accepted — in both church and home. The 20th century brought the writing of new Christmas carols and general acceptance of Christmas caroling.
It is thanks to pastors and scholars of times past that the Christmas carols we love to sing today were written down and preserved to be enjoyed for generations to come.
It is a common belief that the Christmas tree comes from pagan traditions, beginning with the Romans and after them the Druids, who used fir branches to decorate their houses during the winter solstice. Some believed the branches would protect them and ward off evil spirits.
However, if you look closely at the pagan traditions, they most often would use branches of trees on the outside of their house to ward off evil spirits. They also brought them inside as a symbol of something alive during the season of death and burn yule logs in celebration. They never really decorated Christmas trees.
In fact, legend has it that the first person to bring a tree into their house and decorate it with lights was Martin Luther in the 16th century. As the story goes, he was walking home in the snow and the moon shining on the snow and sparkling off the branches of the tree inspired him so much that he cut a tree down and decorated it with candles for his family in an attempt to replicate the beauty he saw.
It is interesting that throughout the 16th century we see indoor, decorated "Christmas trees" showing up in many countries and cultures. In pagan traditions, they are usually danced around outside and later lit on fire. Whereas in the Christian tradition, they are decorated in honor of the birth of Jesus Christ.
Tree skirts (or tree carpets as they were originally called) were a thing of practicality. They were used to collect the fallen pine needles and protect their table or floor from wax that dripped from the candles and over the years they became very elaborate and apart of the decoration of the tree.
There are several legends surrounding the candy cane. Some say it was invented by a German priest who wanted to keep children entertained during mass. Others say it was a candy maker from Indiana. They liken the shape to a shepherd's staff or the "J" in Jesus, the white stripes to the purity of the Christ-child, and the red stripes to the blood shed for us on the cross.
The first candy cane was just a white candy stick and was made for an exhibition in Massachusetts in 1837. However, their connection to Christmas came 10 years later when August Irmgard, a German-Swedish immigrant decorated his Christmas tree with paper decorations and candy canes.
They began being featured on Christmas cards in the early 1900s. Their red stripes, peppermint flavor and curved top developed slowly over time from various candy makers.
As legend would have it, a poor girl was going to church on Christmas Eve and had nothing to give to Baby Jesus.
So, she knelt down to pick some weeds on the side of the road and made a small bouquet of them.
As she placed these weeds before the nativity scene in the church, the weeds bloomed into beautiful red poinsettias. From that time on poinsettias were known as"The Flowers of the Holy Night". You can learn more about the origin of the poinsettia here.
Advent calendars originate from a tradition in the 1800s where German protestants would make 24 or 25 chalk marks on their doors and rub one off each day to count down the days to Christmas. In the early 1900s paper calendars began being mass-produced in Germany.
The most popular one was printed by Gerhard Lang. He printed two sheets of cardboard, one had the numbers 1-25 on it; and the other had pretty pictures you could cut out and glue onto the numbers each day. Most advent calendars displayed pictures of the Christmas story or other winter scenes. Candy and toy calendars didn't really become popular until the 1980s.
The tradition of gift-giving on Christmas comes from basically the same background all over the world. The reason being that the wisemen gave Jesus gifts of gold, frankincense, and myrrh, and because with the coming/birth of Jesus Christ, mankind was given the gift of salvation and eternal life.
The legends of who gives the gifts (St. Nicholas, Father Christmas, Santa Clause, etc) may vary or where the gifts are placed (under the tree, in boots or shoes, in stockings, etc) may also vary depending on country and culture.
Francis of Assisi is credited with creating the first nativity scene in 1223. He set it up in a cave near Greccio, Italy in an attempt to help people to redirect their focus on celebrating Christ's birth rather than the various pagan traditions of the winter solstice and gift-giving. His scene was comprised of real animals and people wearing costumes depicting the various characters of the Christmas story.
The idea became an immensely popular one and within a hundred years each church was expected to have a live nativity scene. Eventually, statues took the place of the live actors and animals and the scenes in most churches became very elaborate. By the end of the 19th century, it was a common thing even outside of the church, as people began displaying them in their homes or places of business.
Gingerbread dates back to the 14th or 15th century when bakers would combine stale breadcrumbs, crushed almonds, rosewater, sugar, and ginger and press this mixture into a wooden mold. They would recreate various scenes or depictions of royalty and sell them. In the 16th century, breadcrumbs were replaced with flour and over the years many variations of the gingerbread recipe developed.
Queen Elizabeth is said to be the first to have these hard cookies decorated when at one dinner she passed out gingerbread cookies depicting each of the guest's presents. They were decorated and gilded with gold leaf.
Gingerbread houses were first made during the 16th century, a few centuries after gingerbread was invented. They were popularized by the fairy tale Hansel and Gretel written by the Brothers Grimm; and because gingerbread became a cookie that was baked specially for Christmas and Easter, throughout the years, gingerbread houses became a tradition that is connected with Christmas.
Kissing under the Mistletoe
Mistletoe was a symbol of love and friendship in Norse mythology. An old custom among servants in England used to be that if a young man passed under the mistletoe with a young lady, he could steal a kiss. An even older tradition was that merrymakers were told to pick a sprig of mistletoe and with each kiss, they were to pick a berry from the sprig, but once all the berries were plucked, there was to be no more kissing.
The peasant tradition of kissing under the mistletoe is thought to have been popularized by the first publication of Charles Dickens's A Christmas Carol in 1843 who's illustrations depict kissing under the mistletoe.
Chestnuts Roasting on an Open Fire
The famous song "A Christmas Song" opens up with the line, "Chestnuts roasting on an open fire, Jack Frost nipping at your nose" and makes us think of simpler times. About 60-70 years ago, buying chestnuts roasted on an open fire by street vendors and served in white paper cones was a common thing, and it still is in many European countries today.
What does this have to do with Christmas? Chestnuts release their nuts (or burs) around October and are harvested. If kept cool and dry, they can stay good and be roasted or cooked well into the middle of January, so that is why it was a common scene for Bob Wells to conjure up while writing his popular song, "The Christmas Song" in 1945.
The first Christmas card was sent to James I of England in 1611. It was rather large and more like a folded-up letter of congratulation than a card.
In the 1840s when people were trying to find a way to popularize the use of the post office among common folk in the UK, Sir Henry Cole and his artist friend, John Horsley, made up the first Christmas cards and sold them for 1 shilling apiece. About 1,000 of them were made and sold. With the arrival of trains in the 1840s, postal services became less expensive, more of the commonfolk could afford their services, and sending Christmas cards grew in popularity.
As legend would have it. Three girls in a village wanted to get married but they didn't have a dowry. St. Nicholas was traveling through the village and heard the villagers talking about these girls. Knowing that their father would not accept charity, he waited until dark and threw three bags of gold through their window. One of them fell into a stocking that had been drying out over the fireplace.
In the morning, the family was overjoyed. The girls were able to get married and lived happily ever after. Since that time, children have been hanging up a stocking over the fireplace for St. Nicholas to leave them gifts, and stockings were traditionally hung up on St. Nicholas Day (December 6th). In the early 19th century for some reason, it became more and more popular to hang them up on Christmas Eve.
Having turkey as the centerpiece for Christmas dinner is a tradition that hails back to the beginning of the 16th century. Henry VIII is the first English monarch to be credited with having Turkey for Christmas dinner. However, at that time only nobility could afford turkey because it had to be taken to market by foot and sold.
For many of the farmers that meant walking for days on end to sell their stock. Turkeys are large birds; they were expensive and not a meal for the common folk. We see this depicted in Charles Dicken's A Christmas Carol when Ebenezer Scrooge replaces the Cratchit family's goose with a turkey in the end because it was larger and had more meat.
However, with the arrival of the train, the cost of meat dropped, and by the end of the 19th century, it was quite common in England for most people to have turkey for Christmas along with pigs in a blanket (bacon-wrapped sausages), Brussel sprouts, mincemeat pies, and Christmas pudding (Fruitcake).
In the United States, because of the influence of many cultures of the world, there are a myriad other popular dishes to eat for Christmas, such as oysters, rutabaga, turnip or rice instead of mashed potatoes, pumpkin and pecan pie, ham pie and fluffy buttermilk biscuits. All in all, the point is that the family comes together to celebrate Christ's redemption of mankind.

Learning about the history of Christmas traditions is such a rich and exciting learning experience. It is important that we teach our children the history of our traditions. They need to understand the why behind what we do in order for it to become part of their future.
What is your favorite part of the history of Christmas?