With the holiday season upon us once again, homeschooling during December can become a little bit tricky. While this is a fun time of year, it's important to stay on track with learning this season. Holiday homeschooling is easier than you think.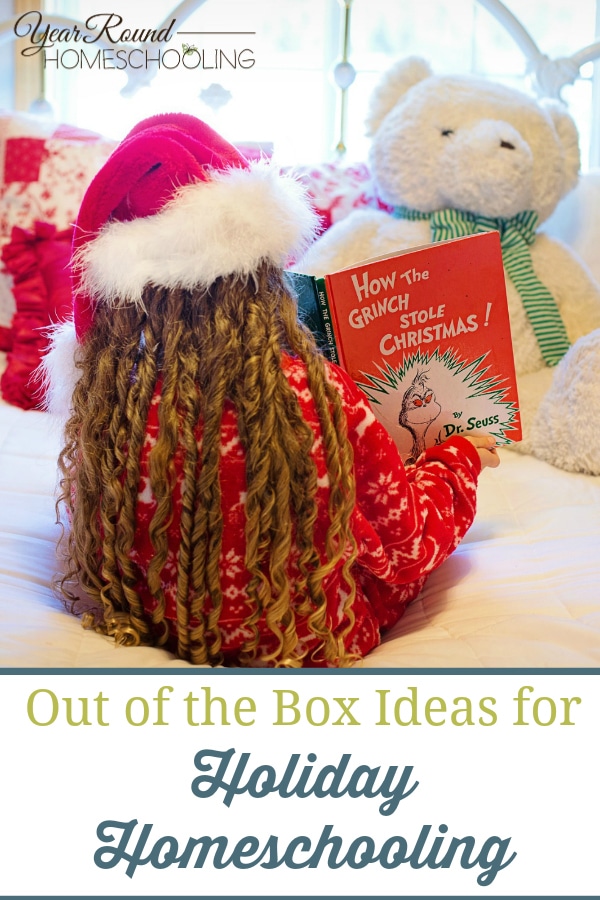 To get started you have to decide what type of change your homeschool needs for the holidays.
Some years we have put the books away and embraced learning outside of textbooks. Another year we plugged ahead and followed our normal homeschool schedule because of a month-long road trip.
Making holiday homeschooling fun is as easy as changing up your schedule, curriculum and/or resources!
6 Out of the Box Ideas for Fun Holiday Homeschooling
Use movies
Watching movies always feels like a treat to kids, so try learning while watching some great Christian homeschool movies. Whether you include a documentary to supplement one of your lessons or turn on an educational show series during some downtime, watching videos is an excellent way for your kids to absorb the information.
Read books
Reading aloud helps to strengthen your child's reading and speaking. Pick a holiday book like How The Grinch Stole Christmas or Over the River & Through the Wood and have some quality reading time. If you have multiple kids, they can take turns reading every other page, or pick a few books and each child can read one!
Write a play
The best way to keep homeschooling during the holidays is to let your kids have fun! Encourage them to explore new activities, like writing and performing their own holiday play. Whether they put their own twist on a classic or write something completely from scratch, your kids will get to practice their writing and performance skills, and they'll have a blast doing it!
Bake cookies
It's not the holiday season without baking cookies, right? Include your kids in the process and let them measure out the ingredients you need to make the dough and the frosting. If you don't already have a classic family recipe you love, try one of these 55 easy Christmas cookie recipes. Put on some of your favorite holiday tunes and dance around the kitchen while you wait for the cookies to be done. The best part about this activity is eating the yummy treats with a glass of cold milk afterward!
Learn about the history of the holiday
Not everyone around the world, or even the country, celebrates the same holiday. Take some time to teach your kids about holidays other than Christmas. Let them do some research on the other holidays out there and how they are celebrated. You can set up crafts related to the other holidays, and even watch a movie revolving around whichever holiday interests your child the most.
Make gifts
The holiday season is a great time to get crafty with your kids! Encourage them to come up with ideas for gifts that they can make for their family and friends. This is an amazing opportunity to make Christmas more meaningful for your kids and their gift recipients. After all, this is the season of giving and what better way to give this Christmas than to spend time making a gift for those you love.
Learning throughout the holidays can be a lot of fun! I encourage you to try one of these out of the box ideas for holiday homeschooling!
How will you teach your children this holiday season?