Preparing for the holidays looks different for everyone. For some, it is a big gathering with family and friends, while others keep it small and intimate. Whichever category you find yourself in, this Holiday Prep Challenge will be helpful to you, as a busy homeschool mom.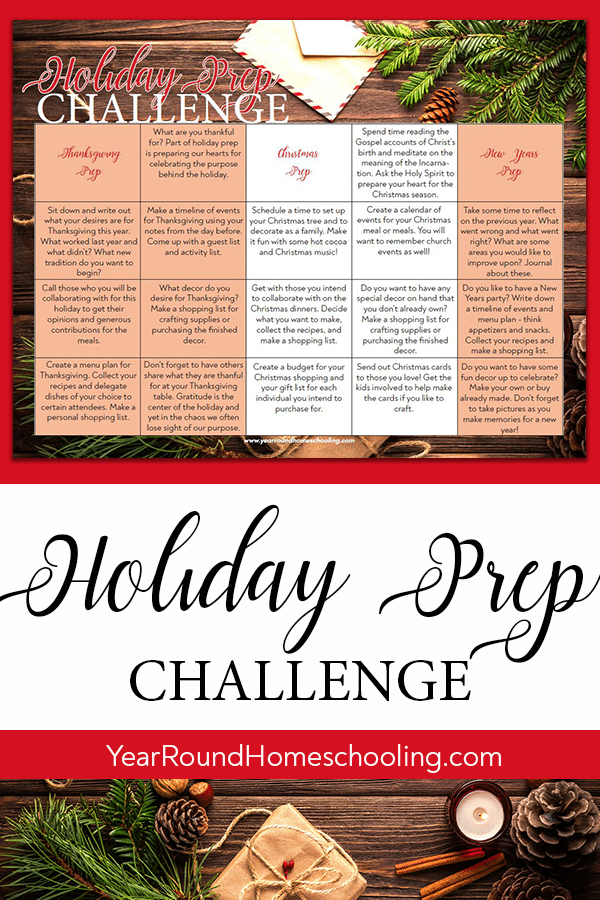 I love the holidays. Thanksgiving is my mom's favorite holiday. Christmas is mine.
New Year's day is my second favorite holiday. It offers a fresh start. New beginnings.
Every day is a gift from God. The chaos of everyday life sometimes causes us to forget that.
The holidays are a perfect time to choose to slow down and focus on what really matters. Faith and family.
All too often this is the exact opposite of what actually happens. The hustle and bustle take over and we lose sight of the true meaning of the holidays.
Make this year different. The choice is yours.
Do you want to be exhausted going into the New Year? Wouldn't a peaceful spirit be a greater gift — to you and your family?
This Holiday Prep Challenge Calendar will help you prepare for upcoming holidays by planning, meditation and more.
For even more monthly challenges to use throughout the coming year, be sure to check out my store page here.