I grew up playing games with my family all the time. It is a tradition that I carried on with my own children. Often, we played games as part of their education because learning should be fun! This Educational Game Challenge is a great resource to change things up in your homeschool.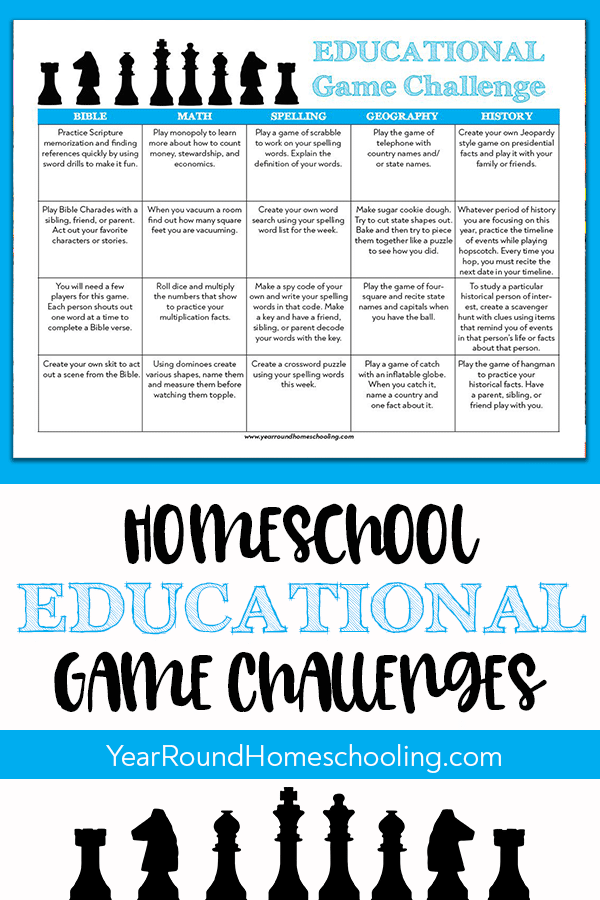 Learning should involve experiences. Children learn more (and better!) when they're given the opportunity to experience what you're trying to teach them.
While learning can't always be fun and games, educational games are a wonderful way to get your children engaged in their education.
I truly believe that every single game kids play has an educational aspect. Even video games.
There will be days when you can tell you (or your kids) need a break from the "normal". It happens to everyone — even the "best" homeschool moms!
On those days, I usually made it a game day. They ended up not only being full of laughter, but they built relationships and taught my children while they were having fun.
This Educational Games Challenge Calendar features game ideas that will help with Math, Spelling, Geography, History and Bible!
For even more monthly challenges to use throughout the coming year, be sure to check out my store page here.