Exploring new places is fun for everyone! That's why field trips are great additions to your homeschooling journey. This Alaska Field Trip Guide will help you find just the right field trips for your family.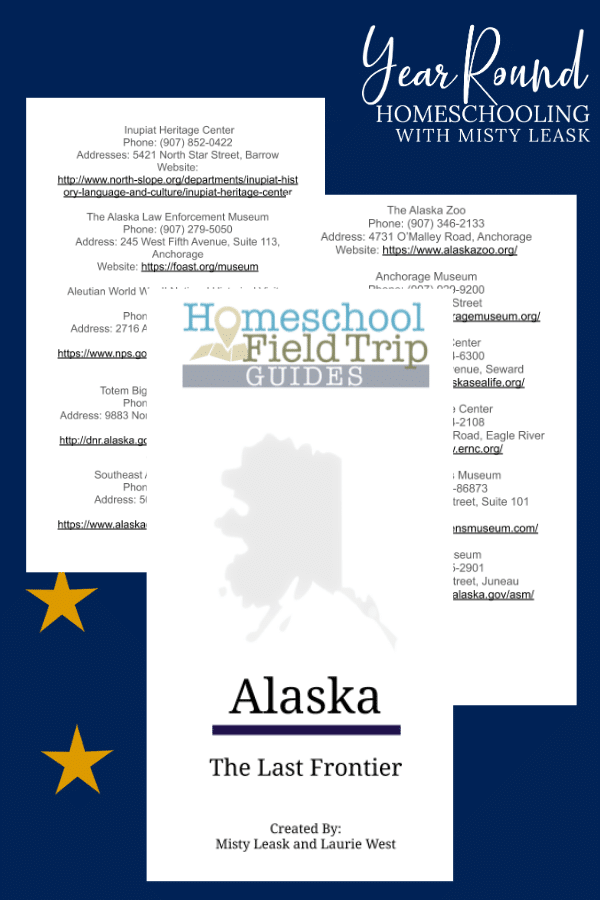 Finding new places to explore is the best part of planning a road trip. I don't often have time to stop on my road trips, but someday I hope to be able to travel at my own pace and enjoy seeing places I've discovered.
Where would you go if you were able to visit Alaska? First, I would head out on a kayak trip to see things up close and personal. Then I would catch a cruise to photograph the amazing ocean wildlife.
Before you head out or start to virtually explore the state of Alaska, make sure your kids have learned all about 'The Last Frontier'. This Alaska State Study is a great place to start! There are also notebooking pages, a coloring pack and an Alaska Road Trip Adventure Journal that are fun additions to a study of the state of Alaska.
Inside this Alaska Field Trip Guide, you'll find 20+ field trips in Alaska as well as their contact information, phone number and clickable website address.
I've tried to include something for everyone in this guide. Options include museums, outdoor locations, hands-on activities, historical places and much more.
If you're unable to get out and explore Alaska, these virtual field trip options might be a great resource for you.