Are you ready for the upcoming homeschool year? If not, don't worry! This Homeschool Curriculum Shopping Pack will help make researching and shopping for curriculum organized and easy!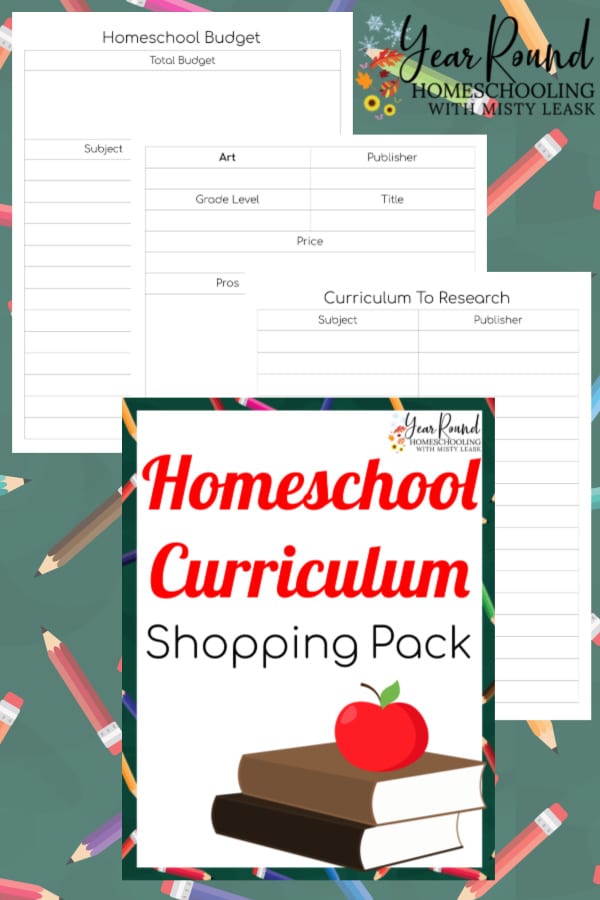 I love to shop for homeschool curriculum. Options excite me, but I know that not all homeschool moms feel the same way. Too many options can make heads spin.
The key to shopping for homeschool curriculum without feeling overloaded is to make (and take!) time to research.
Sometimes I spend a summer day at the library researching while my kids are at home with my husband. Other years I've stayed up way past my bedtime throughout the year reading reviews online.
Whether you do your curriculum research all at once or throughout the year is up to you.
Keep in mind that even the newest, most beautiful curriculum will not work for some families. Don't make an impulse purchase or select a curriculum just because it worked well for someone else.
Your child's learning styles, your homeschool method and style are important to consider as you research resources for each homeschool year.
You can get ready for each new homeschooling year in an organized way ensuring that you stay on budget, research the curriculum you've seen (or been told about) throughout the year and find the right resources for your family using this shopping pack!