There is very little that I would change about our homeschooling journey if I had it to do over again. I 'm thankful to have raised intelligent, independent learners that can teach themselves. The one thing that I would do differently is because over the years I've learned that literature is better than textbooks.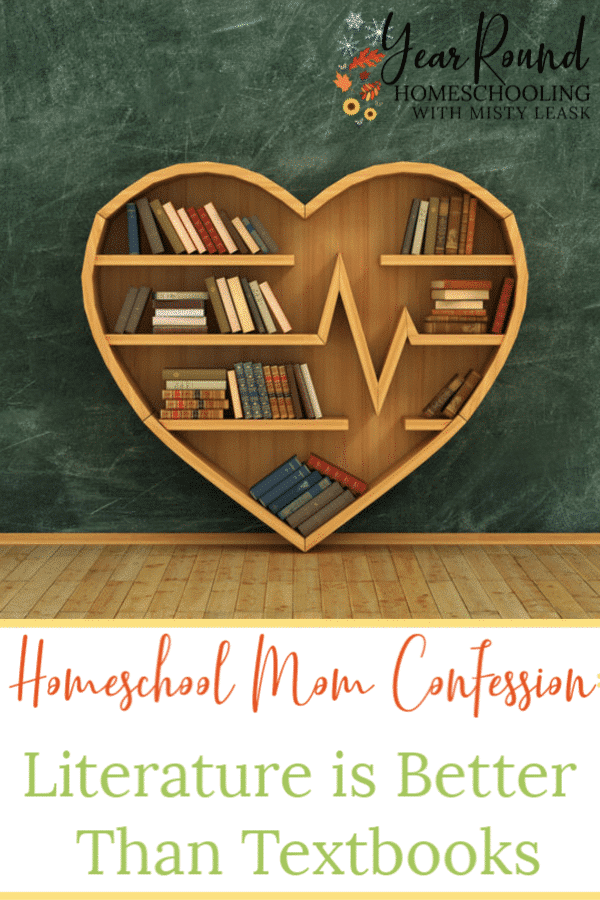 Throughout our homeschooling journey, I've changed curricula several times. The only exception to that is our English/Language Arts, I only use and recommend Rod and Staff for that subject.
As homeschool moms, we strive to find the best resources for our children to use. Textbooks are the path that many of us end up going because after all, isn't that is how you teach school?
My confession for you today is this….
Textbooks aren't the best teachers.
They get the job done for the most part – especially if what you're looking for is simply to be able to report that your children have completed a particular subject.
However, you miss the joy of the learning journey if you solely use textbooks. They are often dry and boring. Children "learn" by reading a lesson or chapter and then answer questions correctly to hopefully get a good grade.
While grades do provide a way to gauge how your children are doing in school, good grades don't equal success any more than lower grades equal failure.
Throughout my years as a homeschool mom, I've learned that literature not only can teach any subject your children need to learn but that it is so much better at doing so!
By studying literature children are not taught just one subject. They are learning many at once which gives them a more balanced education!
When you give children the chance to learn by reading literature, you give them the opportunity to discover that school can come to life.
They begin to see that education isn't just about doing school, but that learning is about life itself.
While my children are reading literature I enjoy having conversations with them regarding what they've been reading. This allows us to discuss important topics that might not have come up without the use of literature in our homeschool.
As my children have become teenagers it has been a great joy to see all the years of learning through literature come to fruition. They're able to have educated conversations, in-depth discussions and share their opinions and beliefs well.
It is such a blessing to not have to use questions and answers to gauge what my children are learning when using literature. I only wish I had realized this sooner.
When using literature in our homeschool our conversations reveal what they're learning. What better way to homeschool your child than by building relationships, teaching them to think for themselves and hold intelligent conversations?
If you or your children are tired of using textbooks or other resources that rely solely on the use of answering questions properly, I encourage you to try utilizing literature as your homeschool curriculum.
The best place you can start is with Beautiful Feet Books. They are hands down my absolute favorite homeschool curriculum publisher.
Their teacher's guides do include question and answers, but I use them and the literary analysis as conversation starters with my children. I don't want them to just write down the answers, I want them to share what they've learned with me. The quality of literature they offer is second to none and you won't find any twaddle included in any of their curricula.
The only exceptions that I have for using literature for your homeschool curriculum is for Math and English. I do not recommend teaching them solely through the use of literature. These require daily practice that literature can not provide sufficiently.
Literature makes a learning journey a beautiful experience. What book will you start with?