It is important that you instill a love for reading in your children at an early age. Creating a homeschool reading nook for preschoolers gives them a cozy space of their own to snuggle in to with their favorite picture books.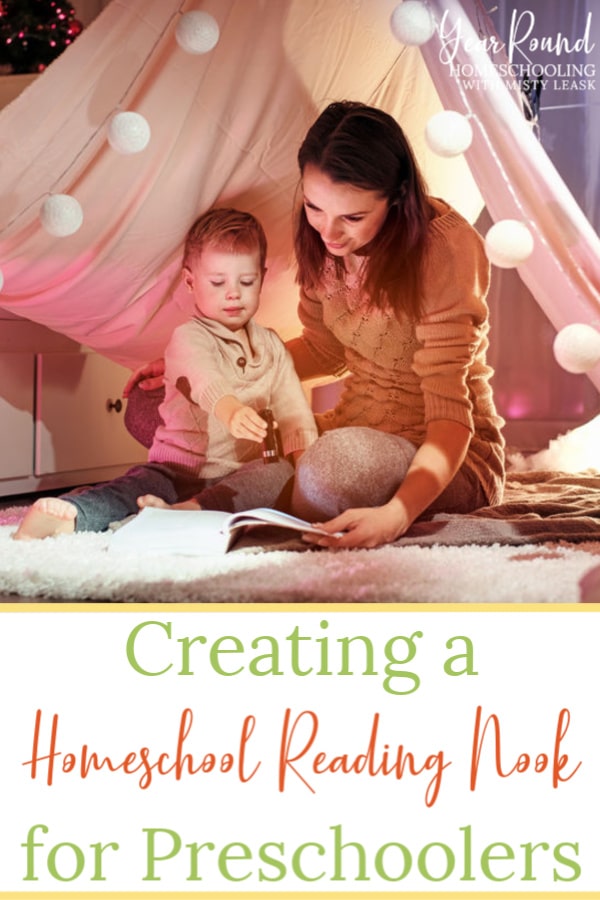 The more you target your reading nook to preschoolers, the more your little ones will eagerly snuggle up on their own and with you to read book after book together. Creating a reading nook for your preschoolers isn't hard, doesn't require an interior designer and you don't have to spend a dime!
How to Set Up a Homeschool Reading Nook for Preschoolers
Choose Colorful and Comfortable Rugs and Carpets
You may already have an area rug in your home that you can pull into your preschooler's reading nook to define the space. Look around your house and see what you can use to bring comfort to this new space.
If you're considering buying a new rug or carpet, your choices may include rugs sporting the alphabet, numbers, animals, shapes, maps and more. Remember to consider size, color, and comfort level when determining which carpet or rug will work best for your family.
Carpets and rugs can add some color to the area, while also providing ample seating for your little ones to gather around and listen to a favorite story. You could add pillows that children can lean against which will further compel your preschoolers to curl up with their own books.
Do you have daily read aloud time in your homeschool? Try using carpet squares, or simply a favorite blanket, for your preschool children to sit on during reading time. Carpet squares are a nice option, as they are easily stored away when not in use. A small blanket will work just as well if you do not have the funds for or the interest in purchasing and storing carpet squares.
Carpet squares and small blankets also come with the benefit of portability. By choosing these options, your children gain an opportunity to set up and clean up throughout their day, which helps to encourage independence at an early age. Often times stores that sell carpet will have outdated carpet samples that they are either giving away or sell for a few dollars.
Provide Fun Seating Options
Rugs and carpets are both great choices for any reading area within your home. However, there are other interesting seating options available to you as you plan how to arrange your reading nook.
Bean bag chairs add color and comfort to the room, and they provide a comfy spot for kids to curl up and read. If the space you've chosen for your reading nook affords you the room, you may decide to add a fun piece like this Bagimal bean bag chair to your space. Large, bright floor pillows also offer a bit of adventure for small children.
Little ones love to climb under and onto furniture to play and read. Why not speak to their natural bent toward adventure by adding a reading cube or a window seat to your reading nook? Keep a comfy throw and some favorite stuffed animals nearby for snuggle time.
Create Beautiful Book Displays
How you choose to display books can encourage your children to spend significant time in their reading nook. Keep in mind the things that delight young children as you plan how to place the books you will keep in this space.
Encourage your children to select a book to enjoy by using Pick-a-book stands. These allow beautiful book covers to be seen first by your children. The bold photos and drawings will catch your little ones' eyes. They are sure to be intrigued by the idea of the storyline of the books that they see through the book covers.
Baskets are a unique storage option for books. Children will quickly notice books stored in baskets, as they are closer to their eye level. Little hands can more easily grasp baskets and take a look at what's inside.
Portable bookcases are a good option for homeschool families that need mobile storage and display options. Changing the location of your children's bookcases can be beneficial to keep their interest in reading. When books show up in new places, it can make them more exciting!
There are so many ways to create an exciting space where your children will discover a love for adventure through books. Be sure to add a dash of your own love for teaching and the wonder of words, and your reading nook is sure to be a success!
Share your tips for setting up a reading nook for preschoolers in the comments below!