I am a planner. I love to fill a calendar with field trip ideas, detailed lesson plans, experiment details, craft projects and more!
While there is nothing wrong with planning, there were many things wrong with my plans. Once I had our homeschool year, including field trips and projects planned, I could not handle changing our schedule. Once a lesson or project hit my notebook it was etched in stone. It had to be done. This caused turmoil in my marriage and in our family…my homeschool lesson plans were too much.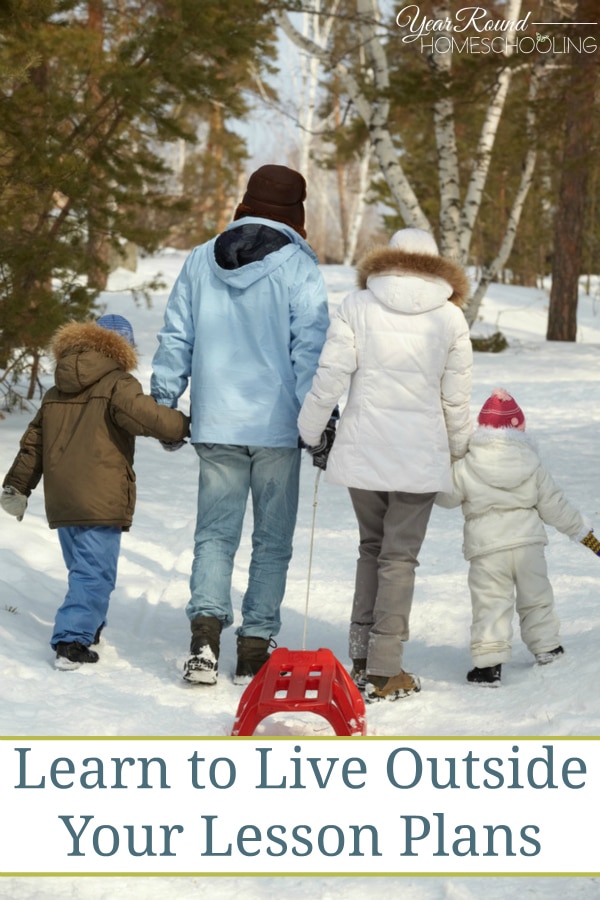 Throughout the last year I have been on a journey to learn to live unplanned. I knew that part of the reason our homeschool days seemed so long was because I couldn't handle not finishing our daily homeschool plans. My husband tends to make last minute plans for our family and if I had plans made for the day it caused me to stress. Something had to change. I had to change. 
After spending the last year learning to live unplanned I realized some very important truths. Truths that I need to share with you, to encourage you to live outside of your lesson plans, for your sake and for your family's sake.
My days were full of so many plans that I was failing to live my life. I was only living what I had planned. My to do lists were completed, the kids' school was finished (no matter how long it took, everything on the lesson plan got done), cooking, cleaning, bath, bedtime and then I'd wake up and repeat.
Learning to live life as a homeschool mom outside of my lesson plans was not easy at all. Yet, it was necessary because our homeschool had become school at home. Moving to a child led homeschooling method was a big step on the journey to learning to live outside my plans.
Now, when we sit down to study what my kids asked to learn about, the light is back in their eyes. Their love for learning is beginning to return. No amount of planning is worth giving up the excitement on their faces as they learn and discover new things on their own each day!
[Tweet " Living a life fully planned isn't truly living."]
A new year has just begun and it's full of amazing opportunities to truly live life! As each new day dawns take a moment to remember that each day is a gift, another chance to fully live. 
As homeschool moms, we do need to have some plans in place for our children's education. Yet, we must leave room to live today and be ready to push the original plans for the day to the side to make time for the here and now.
What is happening today might never happen again. You could even miss your child learning something new outside of your lesson plans, all by themselves! Learning doesn't just happen because of lessons plans, learning is a part of every day life. 
A plan can be changed, but a lost moment (or day!) is gone forever. 
So, before you begin to put pen to paper, (or type on your keyboard), make sure that you don't over plan your homeschool days. Remember that an eraser, white out or the backspace key are always available when your plans need to be changed.
Plans will fade, but memories will last a lifetime.
    How do you ensure that you're able to live your life outside of your lesson plans?