Homeschooling truly is a privilege, not everyone has the opportunity to homeschool their children. As homeschool moms we need to remember how blessed we truly are to have this opportunity. There are many parents that would love to be able to homeschool, but for many different reasons they are unable to do so. Sometimes it is hard to remember what a blessing it is to homeschool our children when we have long homeschool days and our kids seem uninterested in their own education.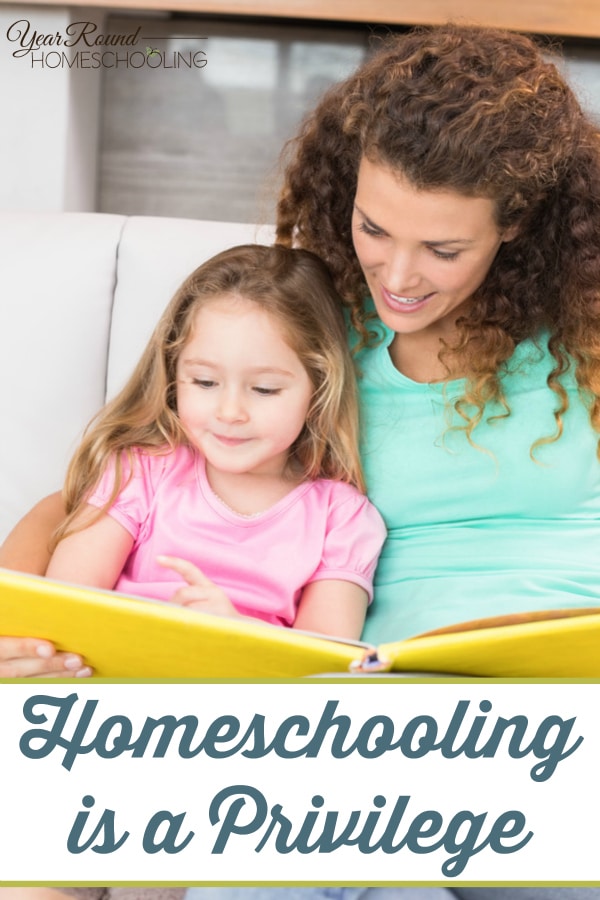 When my children were young I worked full time outside the home and there were many times that I missed seeing my children do things for the first time, I missed out on memories that I would never get the opportunity to be a part of. I dreaded getting up each day and dropping my children off at daycare and a few years later, at private school each day. I longed for the day when I could stay home with my little blessings and teach them myself.
One memory that I knew I wanted to have with both of my children was that I wanted to teach them to read. I wanted to have the memory of hearing them read their first word…first book myself. I didn't want to hear all about it from someone else. What a blessing it was to have this dream come true! Once I heard my children read for the first time I knew that I wanted to be the one to teach them and see them learn as long as I possibly could!
I know first hand what a privilege it is to be a homeschool mom. Even though there are days when I question how I could possibly teach them more than I have already (especially as we're nearing high school!), I can't imagine not being the one to teach them. I may not know it all, (I am not a mathematician for sure!) but I know that God will enable me to teach my children all they need to know and am thankful that He has provided many amazing homeschool curriculum companies that will help my children and I along the way!
The next time that you find yourself wondering what you were thinking beginning this "crazy" homeschool journey, take a moment and count yourself blessed to have the privilege and opportunity to stay home with your children and homeschool them each day. Remind yourself that there are countless parents around the world that would love to have the choice to homeschool their children as you do.
Not only is it a privilege for you to homeschool your children, it is also a privilege for your children to BE homeschooled. Our attitude toward homeschooling is often duplicated by our children. If you find that your children aren't truly thankful for homeschooling, start by looking at yourself. What does your attitude about/towards homeschooling say to your children? Do you struggle/complain about having to take time out of your days to homeschool them?
After looking at your own attitude in regards to homeschooling, if you find that you've been a bad example towards your children, make sure that you take time to apologize and remind your children of the true blessing that homeschooling is for your family. It's ok to admit that you're wrong to your kids, they need to know that adults make mistakes too, but they also need to see that adults take steps to make things right.
When your homeschool begins to seems like a chore or another thing on your to-do list, take time to say a prayer, play with your kids and just have fun. These simple things will help you remember why you chose to homeschool and why it really matters.
What is the biggest benefit that homeschooling gives your family?