The middle of January has arrived. Winter began less than a month ago and spring is over 2 months away. The long winter days can make for long homeschool days and long homeschool days can make a homeschool mom's heart weary. If she's not careful, the weariness in her heart will cause her to wonder why she chose to homeschool, she'll crawl back into bed and wish away the difficulties of the day, only to find no rest for her weary heart.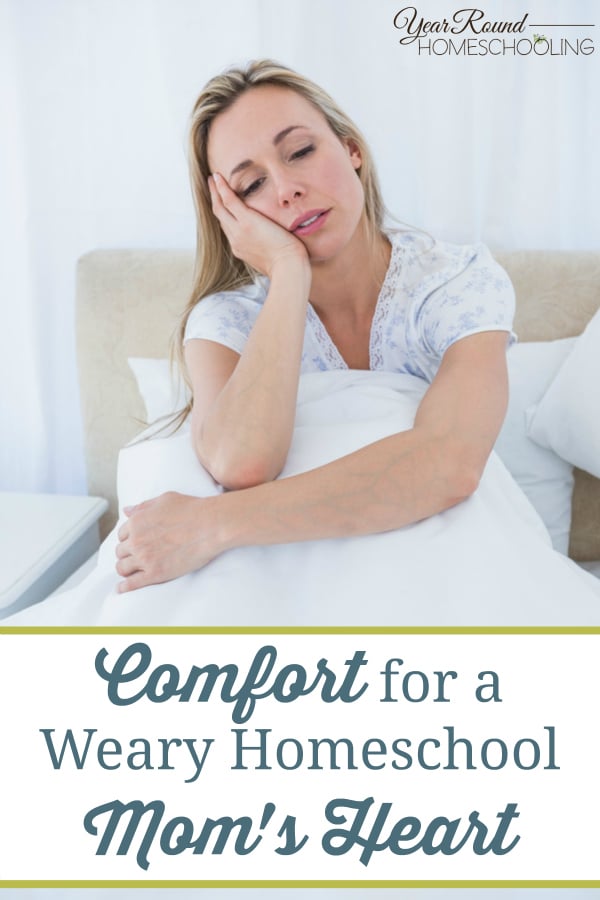 When a homeschool mom's heart becomes weary, it can be nearly impossible to push on and get school done. It requires an amazing amount of determination to continue homeschooling your children when your heart is not in it. Yet, countless homeschool moms continue to push on and educate their children because it's what they need to do. Their children's education is their responsibility, so their weary heart gets pushed to the side to focus on homeschooling.
Eventually, a weary homeschool mom's heart will not be able to be pushed to the side. It will require attention or it will begin to break. 
The truth is that you can only push on for so long. You can't do it forever. You will break if you try.
If this sounds like you, you are not alone. There are many homeschool moms whose hearts are weary just like yours. I am one of them. Last week I was the mom who crawled back into bed wishing away the difficulties of my days and I found no rest for my heart. I tried to push on the next day and I could not. I was at the same place once again. My heart was beginning to break. 
Memories are at stake. I do not want allow my homeschool journey to be filled with memories of regret. I want to look back on our family's homeschool journey and smile because of the countless good times, I do not want to only remember the overwhelming times.
There is hope. I can not continue with a weary heart and neither can you. We have to begin making choices that include what's best for us. Our children's education matters greatly, but so does our health and our hearts.
As homeschool moms we have to learn to give ourselves grace. Often, we are too hard on ourselves, we expect to be everything to everyone and get everything done that needs to be done perfectly. The truth is, we simply can't. We must learn to accept this truth and be willing to slow down in order to take care of our family, our homes and ourselves.
When a homeschool mom's heart begins to grow weary that means that something needs to change, that could mean that our homeschool schedule needs an adjustment, our children's education needs to focus on character building vs. academics or maybe our homeschooling method needs to be changed. It's important that we take time to figure out what has been causing our hearts to grow weary and make changes to our homeschools to keep that from continuing to happen.
There will be difficult days throughout our homeschool journey and any journey will cause us to grow weary from time to time. It is important at these times that we take time to remember why we are on this journey. Why did we begin it? What is the goal for the end of our journey? When we stop to remember the why and the purpose for our journey, often we will find ourselves renewed and ready to refocus.
What do you do to keep your heart from becoming weary throughout your homeschool journey?