I haven't always been a homeschool mom. I haven't always been a stay at home mom either. I've worked outside my home full time, 40+ hours a week and my kids were raised by other people when they were little ones. My son went to private school for his 1st grade year and everything I had taught him in Kindergarten was lost by the time I brought him home for 2nd grade. When I took him out of private school I knew that I wouldn't be putting either of my children back in school ever, unless God directed otherwise.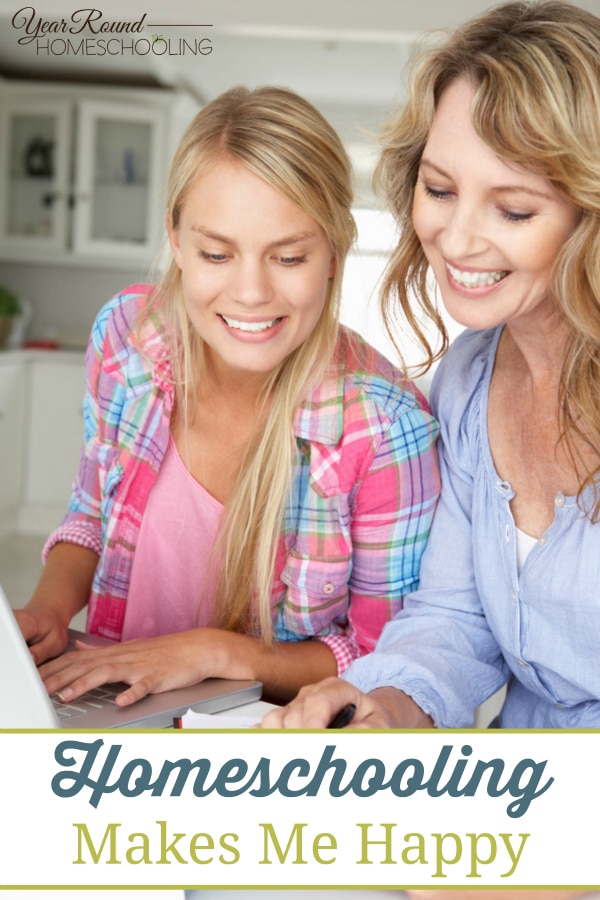 The years that I worked and my children went to daycare/school every day, were not happy times for me. My days were insanely long and my time with my little blessings was never enough, nor was it quality time together. I am thankful that God blessed me with the work that I needed to provide for my little ones, but the years I lost with my little blessings still bring a bit of sadness to my face when I recall them.
I've been exceptionally blessed to be a stay at home, homeschool mom for the last 6 years. These have been the happiest 6 years of my life as a mother because I've been able to have my children home with me almost every day. I haven't missed countless firsts or learning experiences that I could have if I were not a homeschool mom. For these things I am most grateful to be able to stay at home with my little blessings.
Homeschooling makes me happy because I get to see my children experience learning first hand, I don't have to hear about it when they get home from a long day at school. I can't imagine not being able to see the lightbulb go on in their head the moment a difficult concept is finally understood nor can I imagine not seeing the light in their eyes when they have a new idea of what they'd like to add to the day's lesson plan. These are experiences and memories that I wouldn't trade for the world.
I wouldn't be telling you the truth if I said that homeschooling always makes me happy. There are long homeschool days when I just want to put the books away never to take them out again. At times I wonder why we have to learn so much throughout our K-12 education when so little of it is actually a part of life. Yet, I am reminded that I can not see the future from the present. I do not know what lies ahead for my little blessings and their education is my responsibility, a responsibility that I am thankful to have.
My children love to learn, but I know that homeschooling gives them the opportunities they need to have that love for learning. They need the freedom to explore, rest, read, and discover at their own pace and in their own ways. Homeschooling makes me happy because it provides my children with everything they need to love learning.
Why does homeschooling make you happy?