Sometimes finding peace in the midst of our homeschool days and our other responsibilities is almost impossible, but as homeschool moms we need to make sure that we are able to find time for peaceful moments for ourselves. All too often we get so busy staying caught up with lesson planning, grading, cooking, cleaning, etc. that we forget to slow down long enough to take care of ourselves. If we continue pushing on we will find ourselves run down and we will end up in bed ill, which is not good for anyone.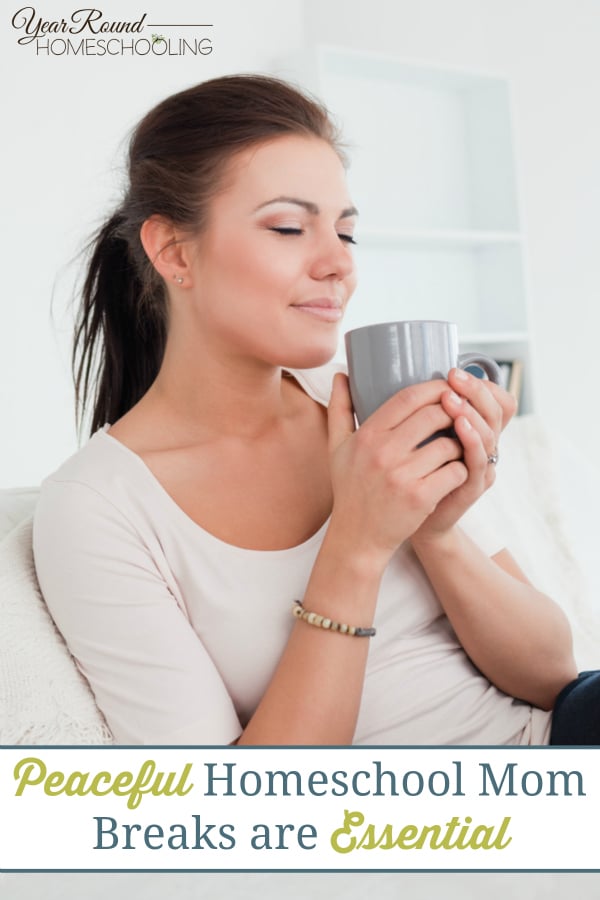 Peace is an important part of our daily lives and when we push ourselves (and our families!) too hard, peace will not be found in our homes. Discord becomes a resident in our homes when we do not embrace peace in our lives throughout each day. If we, as homeschool moms, fail to have lives filled with peace, neither our homes or our families will be peaceful. We have to be the example, we must learn to take peaceful homeschool mom breaks so that our children will learn how essential peace truly is for everyone.
I don't always take the time that I should to find peace throughout my busy days, but I am slowing learning just how important it is that I do make time for peaceful homeschool mom breaks. When my days seems to be too long or my patience is running on empty, I know that it's time to take a step away from whatever I'm doing and find a bit of peace again. There are days when I don't complete my to-do lists because I realize I need a break from a daily schedule, other days a simple peaceful homeschool mom break is all I need to get my day back on track.
When I realize that I am in need of peace, I take a moment to stop and think about what I need most in that moment. Sometimes I need silence for a little while and other times I need to relax. What type of peaceful homeschool mom break that I take depends on what I need that moment.
A few of my favorite peaceful homeschool mom breaks are; taking a walk alone, a hot shower or bath, listening to my favorite music on my headset, yoga, writing, sipping hot tea while reading a book, laying down for 30 min-1 hr and I've even gone to bed right after I say goodnight to the kids at times. 
Taking time for ourselves is not only beneficial to us, but also to our families. While we may believe that we are taking away from them by doing so, that is not the truth. When we take care of ourselves, we are taking steps to ensure that we are giving our families our very best!
So, the next time you're feeling stressed or like you're about to lose your cool, take a minute and think about what you need most in that moment and then find a way to get what you need as soon as possible. If you aren't able to have a peaceful homeschool mom break that moment, put away (or walk away) from whatever you were doing before and find something simple to do. Whether it is watching a movie with your kids, setting up a quiet reading hour or nap time for everyone, step away from the task at hand until you're able to find a bit of peace for yourself.
Learning how to find peace for yourself is essential to us and to our families. Our best can not come without peace and rest.
How do you find peace for yourself in the midst of busy homeschool mom days?
If you're in need of a bit of fun, check out a few of my favorite fun homeschool mom break ideas here!