Everyone recognizes the symbols of Valentine's Day — hearts, lace, flowers, candy, and all those good things. Do you know the history behind those symbols? Are you looking for a way to teach your children about the historic significance of Valentine's Day and why we should remember it? Want some hands-on crafts and activities for your kids to make Valentine's Day meaningful and educational? Lapbooks are a great place to start!
Lapbooks for Valentine's Day
Learn about Early Church History
The story behind the real Bishop Valentine is worth learning about in your homeschool studies. It is a great story of a strong Christian who believed in standing up for love and marriage in spite of the dangers from the Roman authorities.
Amanda Bennett, well-known for her great unit studies, offers a Valentine's Day 1-week unit study and lapbook in her Download N Go series. We did this lapbook last year and it was great. Everything you need is included, even the clickable links to learn more from internet resources. It's easy to follow along each day and just print the lapbook components and put them together as you go. After you complete this lapbook, your children will understand why we commemorate Valentine's Day as more than just a time to exchange cards.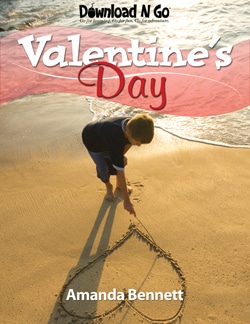 Symbols, Celebrations, and Traditions
Most kids enjoy making homemade Valentines to share with their friends and family. While you're busy with the fun of making cards, why not include a lapbook in your arts and crafts so they can learn about the symbols and traditions of Valentine's Day?
Here are a few that we have used and liked in our homeschool:
A Journey Through Learning express lapbook requires only one file folder and can easily be put together in 1-3 days. It's perfect for beginners or just a fun project for a special day. At only $1, it's easy on the budget, too.
They also offer more detailed Valentine's Day lapbooks for further study.
In the Hands of a Child has a very thorough study of Valentine's Day with their lapbook and study guide. Everything you need to complete the lapbook is included, along with a list of suggested outside reading.
Knowledge Box Central not only offers a Valentine's Day lapbook, but also a live class on Currclick to show you how to put the lapbook together and for kids to participate with each other.
Have you ever used a lapbook in your Valentine's Day Studies?