Welcome the coming of the spring season using these refreshing spring music studies and resources!
So I have scoured the internet and gathered some fun spring music studies, printables and activities that you can do in your homeschool for little or no money and with very little preparation.
Springtime is all about rain, sunshine, gardening, bugs, insects and several fun holidays. Each of those is so easy to add in some fun music with your regular homeschooling, which makes spring one of my favorite seasons for music.
My favorite find is this fun Pancake Songs for Pancake Day. Pancake Day is traditionally the Tuesday before Lent begins.
Spring Music Studies and Resources
St. Patrick's Day
Saint Patrick's Day Songs for Kids | The Pleasantest Thing
Two Leprechaun Songs | Let's Play Music
FREE St. Patrick's Day Color by Note printable | Teachers Pay Teachers
"Tom, Tom the Leprechaun" song | Deborah Oakes
St. Patrick's Day Rhythm Activity | Teachers Pay Teachers
St. Patrick's Day Composition Activity | Learn Me Music
Insects, Bugs & Animals
"Spring is Here!" | The Classroom Creative
All the Little Ducks Go Upside Down | Let's Play Music
Insect Action Cards (great for movement) | The Chaos and the Clutter
Five Garden Snails | Early Learning HQ
Stop Bugging Me Game | Made for Music Teachers
Rain, Rainbows and Spring
8 Spring Songs for Kids | Let's Play Music
Rainy Day Nursery Rhymes | Let's Play Music
Rain Songs | Preschool Express
Rain Sticks | Happy Hooligans
Five Pretty Flowers & Finger Puppets | First School
Easter
Five Little Bunnies | Lil Country Kindergarten
Egg Shakers | Coffee Cups and Crayons
Easter Activity Sound Game | A Mom with a Lesson Plan
"Five Little Bunnies" | Let's Play Music
"5 Baby Chicks" Songs & Chants | Teaching Mama
Easter Rhythms | Made For Music Teachers
The Easter Bunny Song | Let's Play Music
Rhythm Game for Easter | Let's Play Music
Earth Day
We're Going Green | YouTube
Earth Day Song | Fantastic Fun and Learning
Songs for Earth Day | Let's Play Music
Earth Day Songs | CRM Preschool
Reduce, Reuse, Recycle | Teach It With Class
Happy Earth Day Songs | Teachers.Net Gazette
Cinco de Mayo
Plastic Egg Maracas | Free N Fun Easter
Toilet Paper Roll Maracas | Education.com
Homemade Castanets | Education.com
Paper Plate Tambourines | Kix Cereal
Cinco de Mayo Songs for Preschoolers | Preschool Education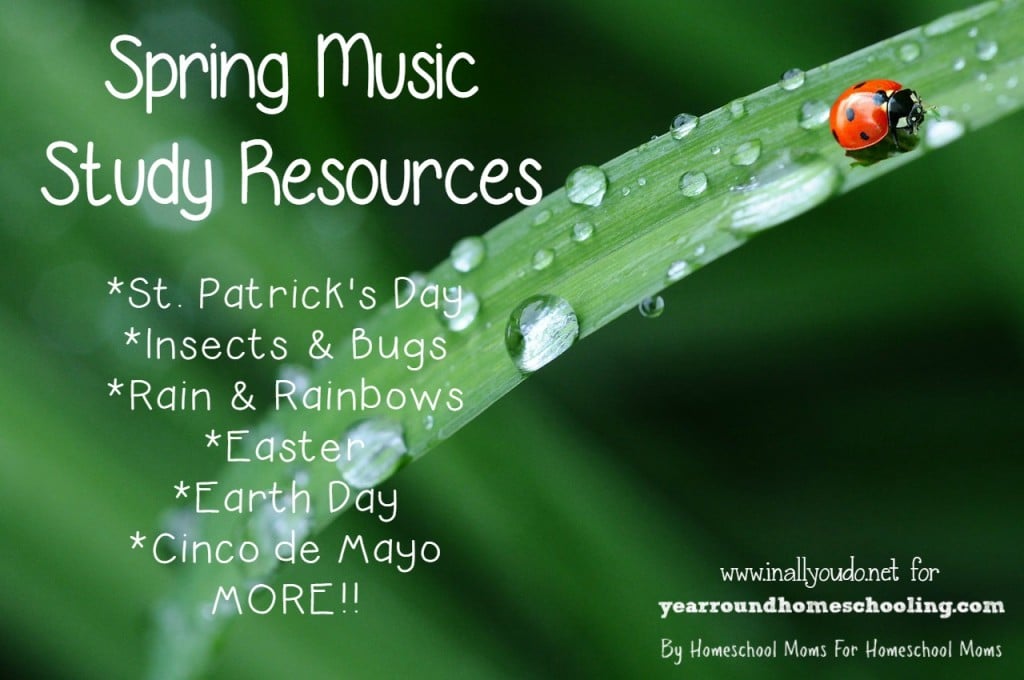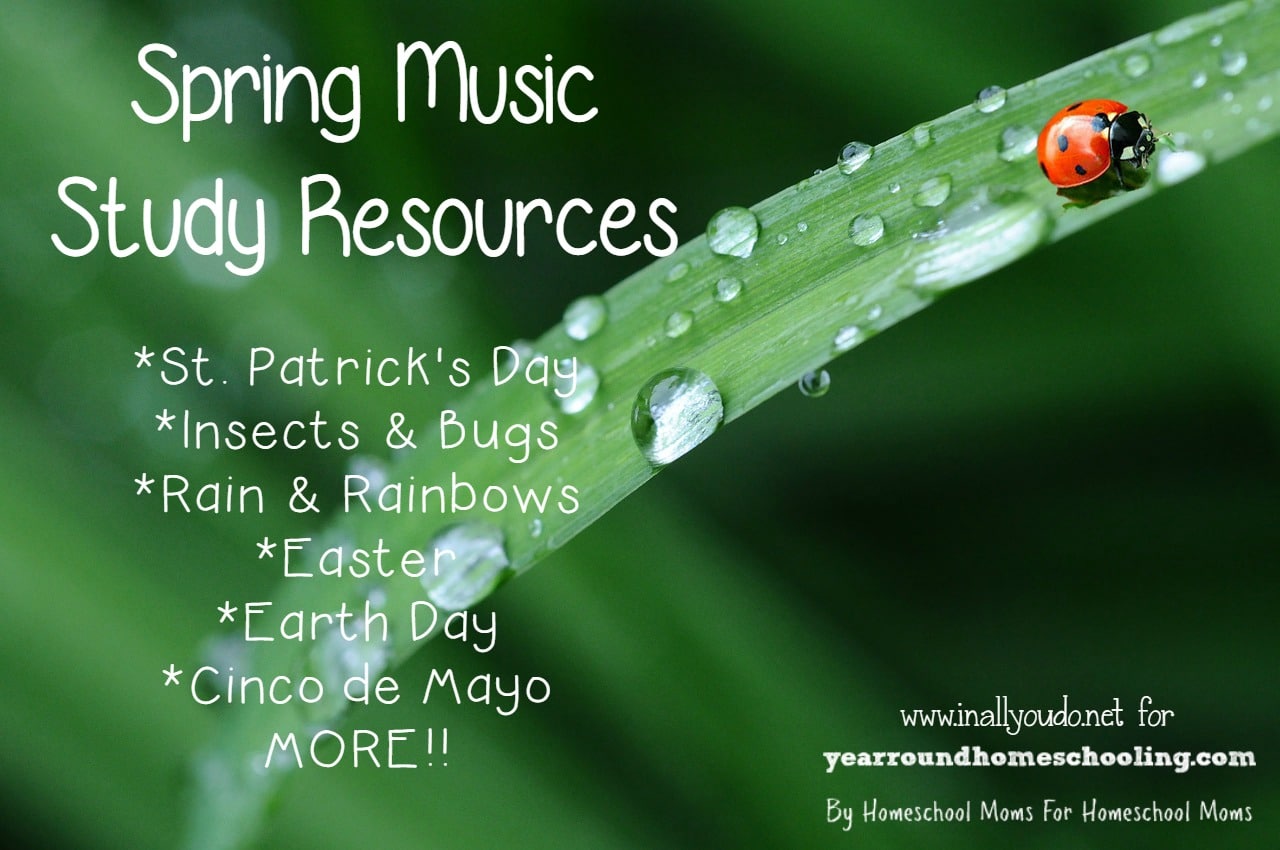 Older kids might enjoy doing fun composer studies or notebooking pages for the composers who were born in March.
Some composers you might want to study are:
Antonio Vivaldi – Four Seasons
Stephen Sondheim – Into the Woods, Send in the Clowns
Andrew Lloyd Webber – Cats, Phantom of the Opera
You could also do some fun song studies with movement and actions relating to the holidays in March.
As you can see, there are so many opportunities to add music into your homeschool studies during the Spring! There are so many options, themes and fun songs and activities that you could literally do a new one each day!
How will you celebrate spring with music?