Fall is quickly approaching! If you're interested in the unit study approach to homeschooling, it's a great time of year to do a Leaves Unit Study with your kids! With the activities in this unit, you can cover science, art, language, and reading – all while discussing seasonal leaves!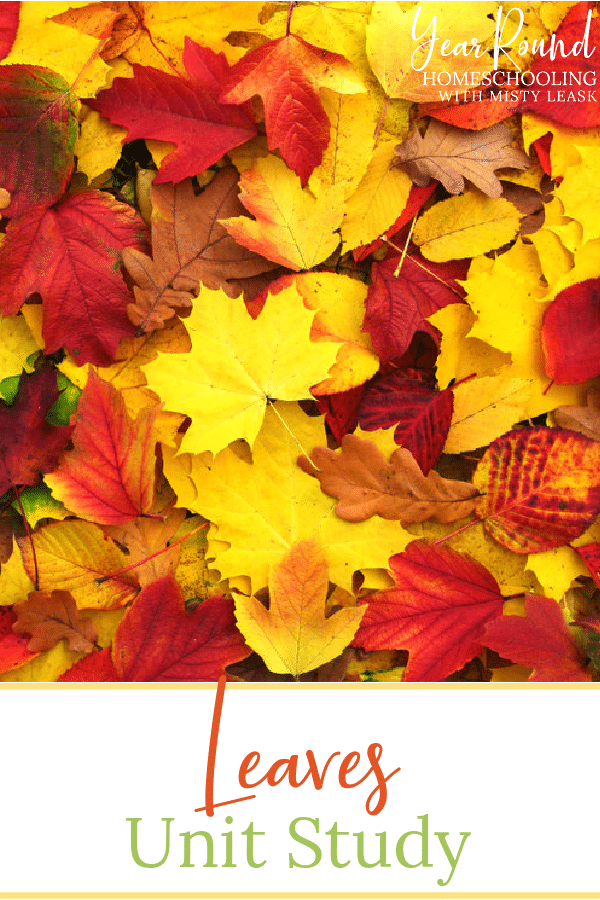 I should add that these are just recommendations. The great thing about unit studies is that you can customize them to your kids' interests. If your children don't care for these activities, feel free to swap them out for others!
Why Do Leaves Change Color?
Watch the following Discovery News video with your kids and then discuss the questions below.

What colors do carotenoids produce? (

ANSWER

: yellow, brown, and orange)

What colors do anthocyanins make? (

ANSWER

: red and blue)

Why do trees stop producing chlorophyll during fall? (

ANSWER

: Because they receive less sunlight, which is what they need to replenish chlorophyll levels.)

Do the tree's leaves actually "change" colors? (

ANSWER

: No. The other colors were hidden under the green chlorophyll the entire time. They just become visible when the chlorophyll runs out.)

What happens to the leaves as the fall goes on? (

ANSWER

: The pigments break down and eventually the leaves die and fall off the tree.)

What could happen to leaf colors as the global climate gets warmer? (

ANSWER

: The leaves' colors could develop later and later. Eventually, they may not develop at all.)
Printable Leaf Unit Study Activities
Our free printable Leaf Unit Study pack can give you even more opportunities for learning! In the pack, you'll find the following:
Leaf-themed writing prompts

Leaf coloring pages

Leaf matching activity

Seasonal tree flashcards
Don't forget to grab the free set of Leaf Identification Flashcards from Look! We're Learning! to complete your leaf unit study!
Books about Leaves
To cover your reading lessons, try the following children's books about leaves:
Unit studies are lots of fun and great for times when you need to put the bookwork away or when your kids want to learn about a specific time or topic. Follow our Pinterest board below to keep up with the unit studies we share over there!
Get crafty with leaves.
The best way to really get to know leaves is to really handle them up close and personal. Go for a nature walk on a nice fall day and collect leaves along the way. Use these leaves to make fall crafts. You can preserve them by pressing, dipping in melted wax, or smashing between sheets of contact paper. You can even laminate your fall leaves to preserve them.
With your preserved leaves you can make banners for Thanksgiving dinner, window clings, or attach to sticks for a fun fall replacement to flower arrangements. Pinterest is packed with fall leaf craft ideas to keep the kids busy for hours.
Use leaf rubbing with paper and crayons to make a copy of the leaves you find in your nature journals and look up information on the trees they are from to fill in your nature journals.
Follow Misty Leask's board Homeschool: Unit Studies on Pinterest.