I love being out in nature. The only exception is the wintertime because it is simply too cold for me to enjoy living in Maine. So, in the winter you'll find me enjoying the snow from inside my home with the curtains open so I can see outside. I do love the beauty of winter, as long as I can stay warm while doing so. My love for the outdoors has driven me to add something new to our homeschool – year round nature journaling!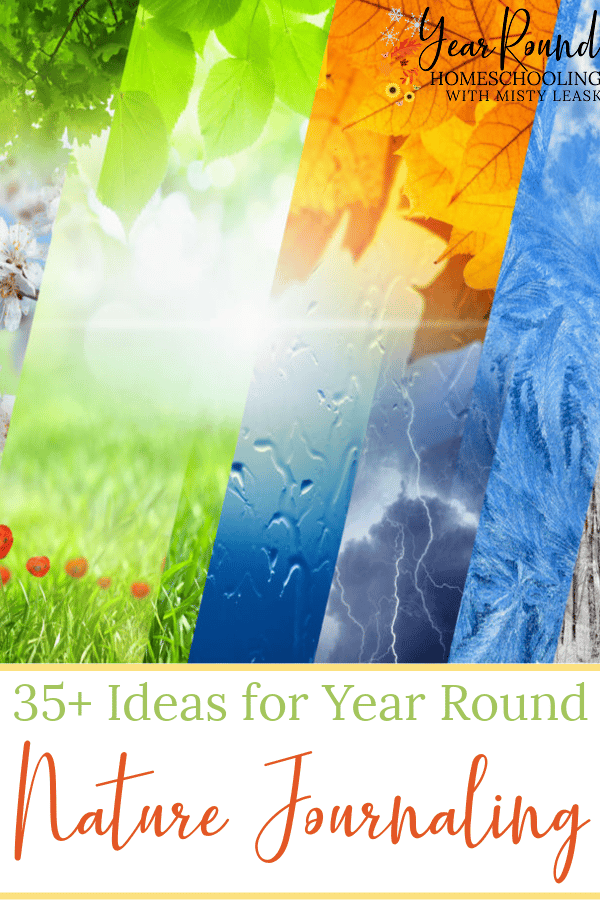 I've wanted to incorporate more of the Charlotte Mason homeschooling style into our homeschool journey for several years. So, this fall I'm really looking forward to studying nature with my daughter. We'll be using The Handbook of Nature Study and The Laws Guide to Nature Drawing and Journaling to help us with our year round nature journaling.
We spend a lot of time outside exploring the North Woods of Maine, but we don't always take time to "stop and smell the roses". I'm excited to slow down life a bit and not only enjoy nature but learn more about it by doing so. This is just one of my favorite benefits of using nature journaling as part of our homeschooling!
As year round homeschoolers it will be easy to study nature at the appropriate time. To help us get started with nature journaling, I put together a list of year round nature journaling ideas organized by the appropriate season (where applicable).
35+ Year Round Nature Journaling Ideas
Winter Nature Journaling Ideas
Spring Nature Journaling Ideas
Summer Nature Journaling Ideas
Fall Nature Journaling Ideas
The world we live in is an amazing place. There is so much that we take for granted as we move from task to task each day. It is my hope that by taking the time to study nature with my children that we will be grateful and take better care of the gifts God has given us.
This nature journaling ideas list is by no means exhaustive, it is merely a springboard to encourage both you and me to get outside and explore the outdoors with our children throughout the year. I would love to hear all about your family's nature journaling, so please share your tips, resources and ideas with me in the comments or send me an email!
What is your favorite nature journaling idea for each season?