There were many reasons that I decided to design a middle school health curriculum. However, one of the main reasons was because we were moving towards a more digitally based homeschool.
I believe that digital homeschooling resources helps children become independent learners by teaching them responsibility. It also easily integrates computer skills into their daily homeschool routine. In addition to these benefits, it is essential that my children are able to continue with their lessons when our family business calls me away for a period of time.
When my children were younger we used a specific health curriculum, but I couldn't find one that covered topics that were important to the middle school age that I felt were appropriate for my children. It was because of the lack of middle school health curriculum that fit our digitally based homeschool that I created, "Living Healthy: A Middle School Health Curriculum".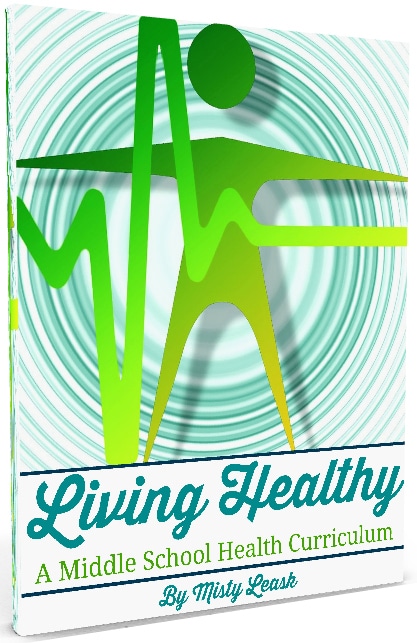 My middle school health curriculum is designed much like my Beach Unit Study. Every week your student will complete their health lesson using videos, printables, games and more inside this curriculum. After they've completed the weekly lesson, there are printable question and answer pages that apply to that week's lessons.
As children are maturing into young adults I believe that it is important for parents to keep communication open, so the weekly questions often will give you a window into your child's mind which will help you continue the conversation at a later time.
Health topics in the young adult years are at times sensitive in nature, so your children may not feel comfortable just asking questions. It is my hope that, Living Healthy: A Middle School Health Curriculum, will not only be helpful for your homeschool journey but that it will also encourage conversation and growth between you and your child.
As this is a digital curriculum that includes You Tube videos and other internet sites, I highly encourage you as the parent to go through the videos and links prior to assigning them to your children. I gauged this curriculum based on what I was comfortable with my children (ages 11 and 13) learning about for middle school health. However, that does not mean that your children are ready for some of the content/topics included, only you know what is appropriate for your children.
I've divided the curriculum into 6 units; Personal Hygiene, Nutrition, Fitness, Puberty, Emotions and Safety. Each unit is divided into either 3 or 4 weekly lessons. For those of you that like to have all the information upfront, the lessons are listed below.
Personal Hygiene
The Importance of Personal Hygiene
The Basics of Skin and Hair Care
Basics of Oral and Ear Care
The Basics of Nasal and Nail Care
Nutrition
Carbs, Fat and Cholesterol
Protein and Minerals
Calories and Vitamins
Healthy Food and Meal Planning
Fitness
The Importance of Fitness
Exercise 101
Making Fitness Fun
Indoor and Outdoor Activities
Puberty
Getting Ready for Puberty
Here Come the Changes
Body Odor and Acne Management
Emotions
Recognizing Emotions
Processing Emotions
Emotional Responses
Safety
Outdoor Safety
Stranger Awareness Education
Online Safety
First Aid