These free math apps are a great option for helping your child learn math without spending any of your homeschooling budget.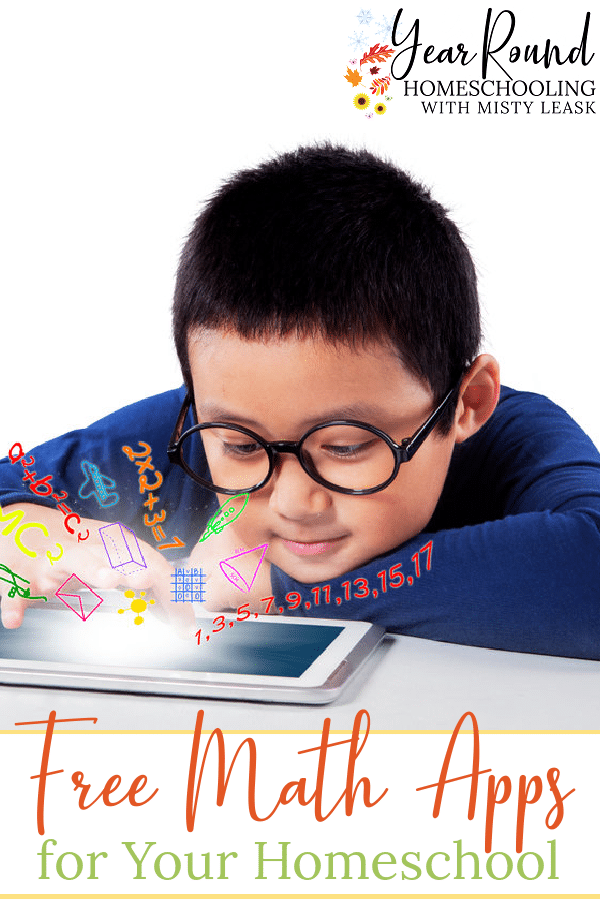 Technology is a great tool for your child's education. One great way to use technology in teaching your child math is to take advantage of an online math tutor or use math apps to help make math fun and exciting for kids, help them grasp difficult concepts, and simply find a love of learning that will serve them well in adulthood.
6 Free Math Apps for Kids
Prodigy Game is available on iOS, Android, and on the web making it a great option no matter what device you have on hand. For grades 1-8 Prodigy will tests your child's skills, inform you of what your child's strengths and weaknesses are, and help to engage your child with interactive lessons
This interactive app adapts to your child's level with interactive lessons. For homeschoolers, the resources from CK12 help make teaching your child affordable with their full range of digital textbooks, apps, and lessons. This free app covered math along with a full range of core subjects. This is available on Android, iOS, Windows, and web-based platforms. Your child will enjoy a full range of video lessons, practical experiments, flashcards
Photomath is free on both Android and iOS platforms. This app lets you scan your math problems then uses its AI technology to teach your child how to solve the math problem with step by step instructions. This is a great study tool and if you don't let your kids use it you can still use this app to teach you how to solve the problem so you can better walk your child through it. Never feel lost when your child needs help with math again. This is a must-have for everyone with a child learning math.
This free app is only available online but will work on any device with internet access. Khan Academy is a full curriculum using video lessons, interactive quizzes, and offers parents full reports. Khan Academy started with math but now offers a full range of core subjects you can use in your homeschool.
Geometry Pad is a fully interactive program available on Android and iOS. This app helps to explain geometry concepts in an engaging way that helps your child learn easier and brings their Geometry lessons to life. Use this app to take the stress and confusion many kids experience with geometry away.
This collection of free math apps is packed with options for everyone including:
Math vocabulary cards

Number pieces

Whiteboard app

Money pieces

Number rack

Math clock

Fractions

Geoboard

Number frames

Pattern shapes

Number line

Partial Product Finder
Mathi learning center apps are available as web apps and in the iOS app store for use on Apple devices. These apps are a great option for families that want to move away from traditional worksheets while giving their children the chance to use repetition to help them remember what they are learning.