Kick-off your new homeschool year with fun ideas to celebrate holidays with this September homeschool planning pack!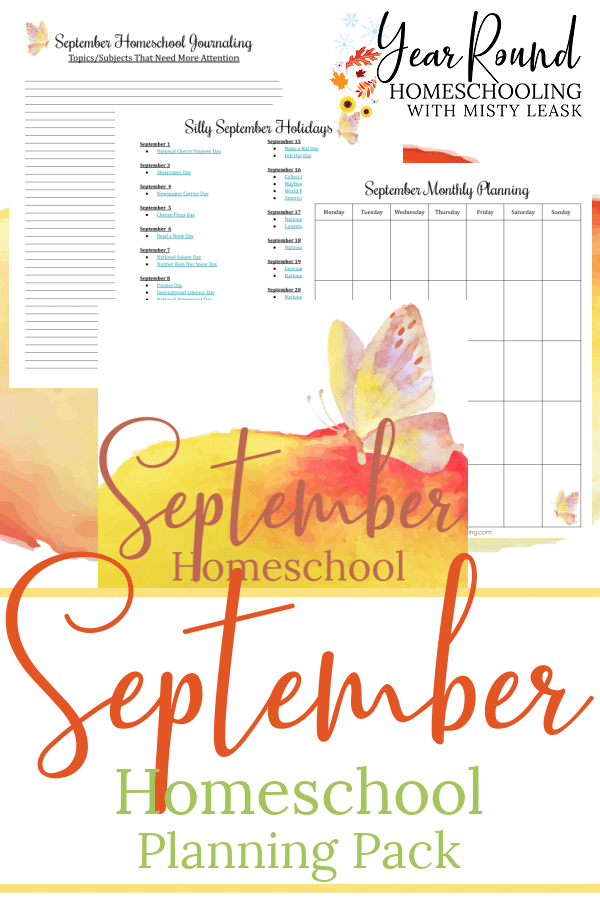 Don't get bogged down at the beginning of the year with all of your lesson plans and textbooks. This homeschool planning pack will help you incorporate fun activities to encourage your children to love learning!
It is so easy to get super focused on the textbooks, curriculum and lesson plans. After all, you've likely spent hours upon hours researching, purchasing and planning this homeschool year.
What I know to be true, after homeschooling my kids from K-12, is that my plans often have to make way for my children's interests.
Why? The key to loving learning and becoming lifelong learners is having the actual desire to learn. 9 times out of 10 that doesn't happen when lessons are all planned out.
Homeschooling requires flexibility for many, many reasons. Life doesn't follow a plan. No matter how hard we try.
The sooner we learn to embrace living life one day at a time, the better. After all, tomorrow isn't promised. All we have is this moment.
What do you want to do with your kids today? Check boxes because you "have" to or watch your child's eyes light up when you ask them what they want to do for school today?
Many of you aren't quite ready to let go of your child's education. That is ok. I remember being there.
Take one step at a time. Add one fun activity a day. Ask your kids what they want to do for school once a week.
Before you know it, you just might be ready to embrace the freedom that comes with letting go of formal lesson plans.
Inside this September Homeschool Planning Pack, you'll find fun holiday learning resources, weekly and monthly planning pages and homeschool journaling pages for you! This resource will make planning homeschool days in September easy for you and fun for your kids.