We're having a great summer, especially learning in our garden. I knew this would be fun, but we're just having a ball. Since you cannot grow a garden without math, we've been enjoying some living math as we plant, observe, and harvest our crops. Our latest activity included counting, estimation, and measuring and I'm here to teach you how to do it too! Here in the South, we have a long growing season. If you have a long growing season, you can enjoy this activity in your garden; but if not, a trip to the grocery is a-okay. Either way, living math is happening and that is the point of it all.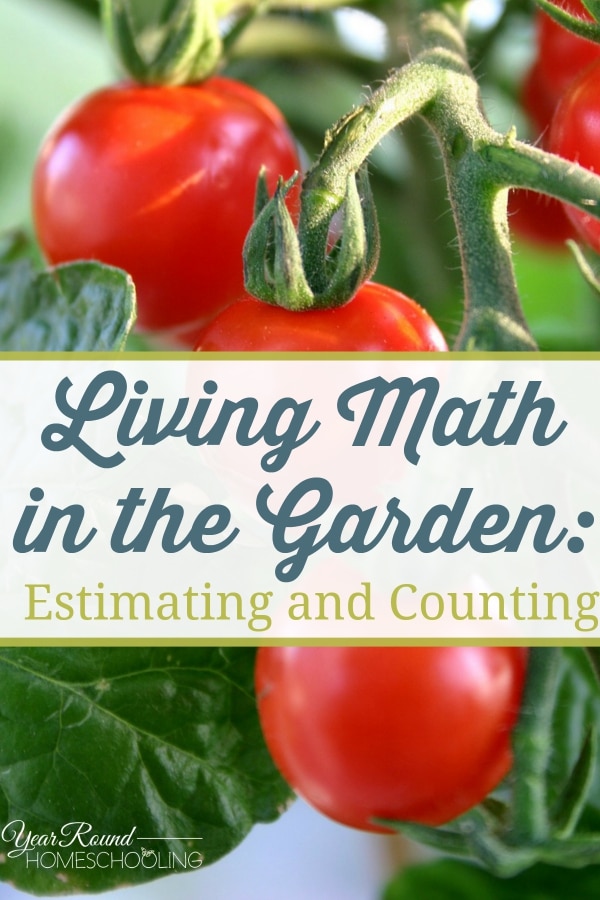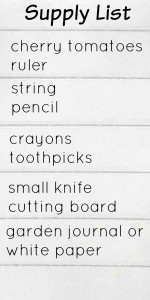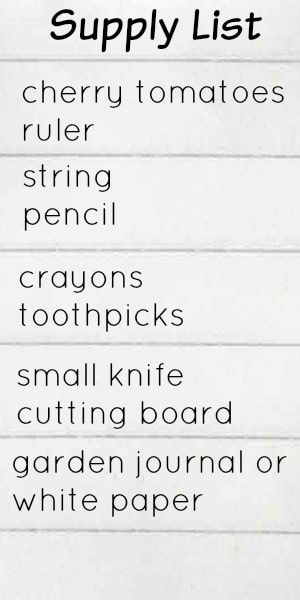 Purchase a pack of cherry tomatoes or pick them from your garden. (If you're picking from your garden, it can be any tomato variety.)
Pass out 2-3 cherry tomatoes to each student. (Add a few extra as a snack if they enjoy cherry tomatoes.)
Ask your students, How many seeds do they think are inside each tomato? Does each tomato have the same amount of seeds?
Have your students cut 2-3 pieces of string (or yarn/twine) in 6-inch cuts using a ruler as a guide. (Older students can estimate or eyeball it.)
Demonstrate how to measure the size (or circumference) of the tomato using string and estimate in inches.
Allow students to measure the remaining tomatoes on their own. They will choose one to record in their garden/nature journal, or on a white sheet of paper. It should look like this:

Have your students draw the whole tomato and color it. Record their seed estimation under their drawn tomato, like so: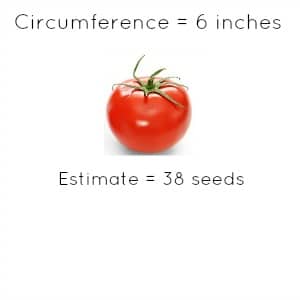 Assist your students in slicing the tomato in half. Have them draw a picture of one half tomato, include the seeds, just like this: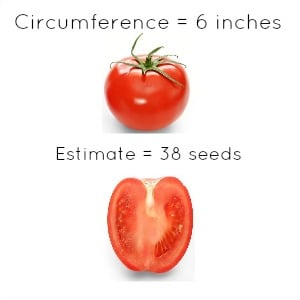 Have your student use their toothpick to dissect and count their seeds. Then have them record the actual number below their illustration.
Remember to discuss different ways of counting by large numbers, for example, by 2s or 5s or 10s; whatever seems reasonable for the size tomato they have.
Allow students to compare their data with each other.
Who has the smallest tomato in size? The largest? Who has the most seeds? The least?
Then ask them to explain if (and how) the size of the tomato helps them estimate the amount of seeds. Older students may average all the estimations.
By the end of the lesson, your students will have participated in a mathematical discussion, added a completed journal entry in their garden/nature journal, practiced estimation, counting, measuring and worked together with either you (the teacher) and/or other students/siblings.
Have fun!