Not every one of my children loves art class. It's true. My 5 year old son hates getting messy. He has all kinds of issues with different textures. He prefers to keep himself tidy. My daughter is 3 and she loves to color. On everything. Walls. Tables. Paper. Bright colors; shiny glitter pens and markers. My oldest son is 9. He is my "gifted" child. Very creative. He can disappear with paper and his art box for hours. Legos, pipe cleaners…he just loves to create. Always has.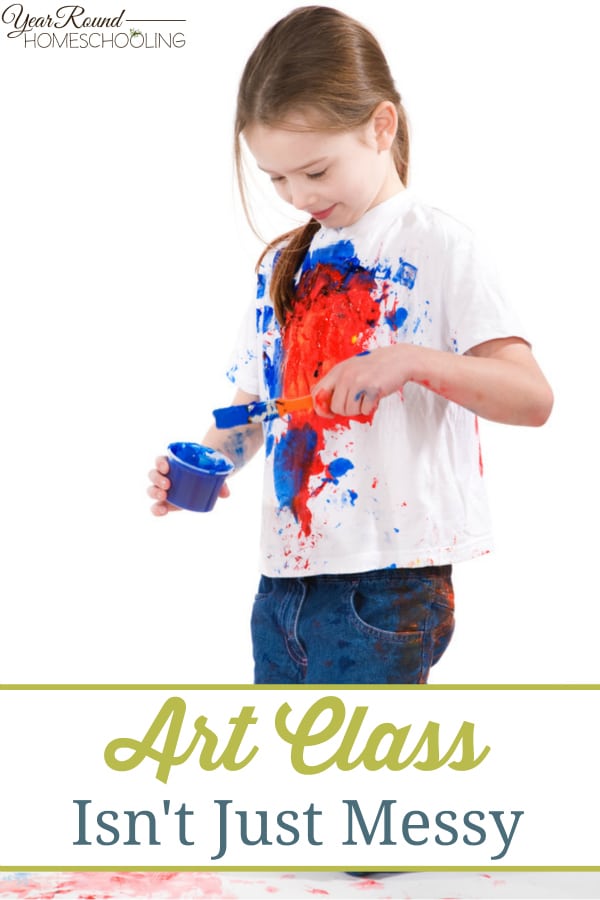 Art Class Isn't Just Messy
What about appreciation? What about creativity? How do we encourage it in each of our children? How do we make time for it for that matter?
If you are anything like me your days are already pretty full; with the various ages and stages, personalities and interests, time is quite relevant.
I grew up with frequent trips to the art museum. We attended gallery nights, art and craft sessions. If there was a creative opportunity, we were a part of it. I learned all about the famous artists; the various methods, materials and the history. I have so many memories of my mother and I spending hours going from one exhibit to the next; studying the details, closely observing and comparing the abstract and the cubism, focusing closely on the color and shading and the lights and the texture. So, I always expected my children would love, and be in awe, of the art museum when I took them there myself, as if it was some kind of inherited thing.
Let's face it, when given time and the resources, our kids are quite curious and that leads to great creativity when we let it. I admit to being a neat freak – which is impossible in this house – so I am sure you can imagine how some days momma just cannot handle a mess. Yet, I am learning to let it go, to embrace their creative joy, to focus myself not on the mess but on a story or creative project of my own. I am slowly learning to enjoy their creativity all the more. Still, I won't lie. It has been a process.
We started out with cleaning house. We now have a drawer or two dedicated to nothing but craft materials. I am talking about basic craft supplies, containers for mixing things up (to make your own paints and play dough), and of course, some of my own creative supplies for knitting, sewing, and crocheting. Everything we need is all right there. Some things we find get used less, or not at all, and other things, like pipe cleaners and googly eyes, our kids love and use all the time.
Your art supply list may be completely different from someone else's and that's okay! What matters is that you present and make accessible, those tools, to your children, as often as possible, so that they have the time and freedom to do what kids do best. Create!
But what about the mess?
I know. It has always been the biggest issue for me when it comes to allowing those creative juices to flow in our house. Especially with a nice newly built kitchen.
Truthfully, we all need to accept the mess. Try to look the other way when you see those scarps of paper all over the floor, paint drops all over the table and chair and the clutter all over the counters. Look aside. Look beyond. Our children need to know that the mess can be cleaned up. They need to see our excitement and sincere enthusiasm for their creations. A mess can be cleaned up. When the day is done, when projects are complete, or time has run out, gather everyone together and everyone can have their own part in the process. Take time to clean up, sweep and do a quick mop if you must. Have the kids move those supplies and any unfinished projects to their place. You can sing together while you do this or discuss the projects and the inspiration behind them.
What about time?
My kids are still pretty little. My oldest is 9 and we have a baby on the way in April. So, how is that going to look for us? How will we find the time when there is so much to do each day?
I am already "planning" (I use this term loosely) for the coming baby. At least once a week or so I insist on all of us getting together to color, draw or paint a bit. We have a wonderful white board and chalk board for this very purpose. When the weather is right we even move it outdoors for them. Right now my oldest and my youngest choose to do some form of a craft every day and we gently encourage our middle child to join in. I have to make sure to make time for my children to explore these interests each day.
Art Study & Resource Ideas
If your kids are interested in the Victorian Era, your children can do a silhouette drawing of one another. All you need is a lamp in a dark room, some pencils and paper. Sketching a shadow can be such fun!
If you are studying the vikings, why not build a viking ship out of clay, or paper mache or popsicle sticks?
If you are learning about the printing press, here is a neat idea for trying it for yourself. Sounds like some crazy and messy fun to me!
Of course there are lots of great resources you can purchase, or check out from your local library.
Some of our favorite books are full of not just crafts, but fun things to learn along the way.
Global Art: Activities, Projects and Inventions from Around the World
Science Arts: Discovering Science through Art Experiments
Come Look With Me (this is an excellent and fun series for kids!)
If you prefer online resources here are some great ones to get you started:
Crafty Crow – A children's craft collective. So many goodies here!
Garden of Praise – Art Appreciation for Kids; lessons included
Southern Hodgepodge – Lots of tutorials and some great free ebooks too!
Here We Are Together – This is fun! Crafts to go with a specific book/topic
Quirky Mommas – The name says it all. SO many fun, fun things to do here! There is never ending fun for everyone!
What about those local opportunities? Your community can be such a great blessing!
We had such fun watching how marbles are made. It's a local glass blowing shop that offers even classes to our community! We also have a few local pottery studios, and some weavers too. Talk about a way to inspire our children to various methods of creativity.
Artisans are eager and excited to share and teach our children their talent! Community resources might be advertised at your local library, or trade schools, in the newspaper, and of course, the phone book. We have a local arts guild as well that keeps track of the artistic happenings in our area too.
I remember long ago, the city we lived in had so many amazing, local artists. None of them were really well known, but they had such talent for sculpting and painting. How much joy it brought to them, for someone to be interested in hearing their story, in seeing how they created the things they did!
Certainly the opportunities and inspiration for art is everywhere! Take time to discover how to incorporate art into your homeschool and watch your children's creativity come shining through!
What do your children enjoy doing in art class?