While most of you may not recognize the name, Leroy Anderson, you will most definitely recognize one of his most famous pieces, The Sleigh Ride. If you haven't heard this song at a high school Christmas concert or in a movie, its probably because you're avoiding Christmas. It is one of the most widely sung and played Christmas tunes for choirs and orchestras – and also one of my favorites.  Read more about Leroy Anderson in this month's composer study!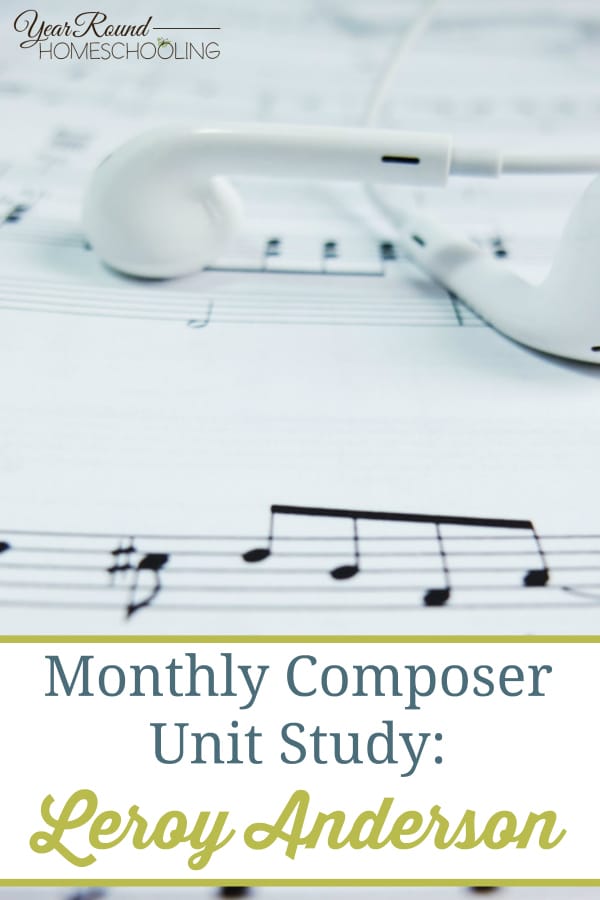 Included in this pack:
Poster Page
Bio Pages
Word Search
Coloring Pages
Copywork (early manuscript, manuscript and cursive)
Notebooking Pages
Timeline worksheet
If you want more notebooking pages, don't miss these. They will work perfectly to study any composer as you go through the month of June. I've also gathered some great resources you can use while you're studying Leroy Anderson next month.
Check out these compositions by Anderson. It takes a few clicks to get to the actual songs, but keep going – it's worth it!!
This YouTube recording includes nearly two hours 0f a variety of music by Leroy Anderson. This would be great to play softly while you're reading about him or doing other work, as a fun and easy way to introduce it to the kids. You can also listen to some of his famous compositions, such as Sleigh Ride and The Syncopated Clock.
BOOKS
I searched and searched for bibliographies and books about Leroy Anderson, to no avail. However, that doesn't mean you cannot find a plethera of bibliographical information about him online. It is possible that no books are written about him, because he is a modern composer and only died in the last 45 years – but there are quite a few websites with great information about him, including one his family continues to maintain.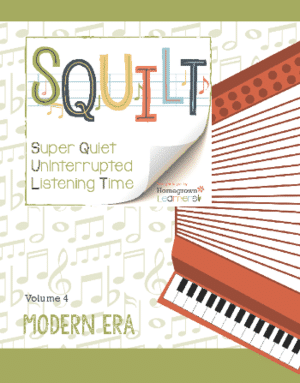 SQUILT is another fantastic way to introduce kids to music and help them fall in love with the classics. Although this volume doesn't cover Leroy Anderson, it does cover Scott Joplin, Stravinsky, Gershwin and more, which you can learn more about in the Modern Era: Volume 4.
Are you ready to get started? Download the monthly composer printable pack below.
These Composer Studies have been a huge hit with you all!! I am so glad you're enjoying them! If you ever think of anyone you would like to see, please feel free to Contact Us and let us know.
Want more ideas? Follow my Homeschool: Music board on Pinterest!!
Follow In All You Do's board Homeschool: Music on Pinterest.