The Moon. The Earth's nightlight. We look to the night sky to behold its beauty. Children dream of what space might be like when it rises in the night. Moon notebooking pages provide your children the opportunity to share their dreams, research and stories inspired by the Moon itself.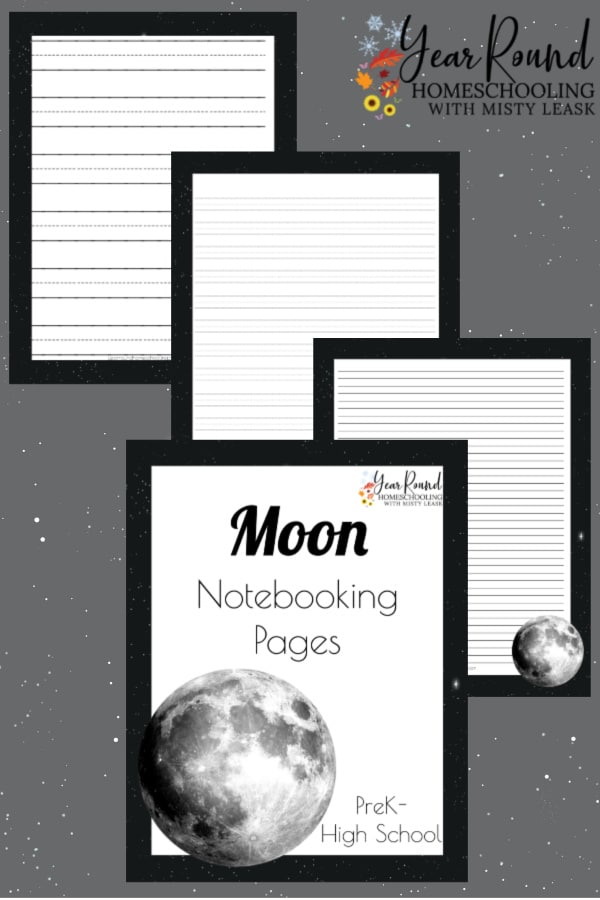 Man has been interested in the Moon for what seems like forever. We dreamed of setting foot on it and we did. That dream brought forth more dreams to see the rest of the universe.
The future ahead is bright and ready for dreams to come true. Perhaps, one of your little ones will place their footprints on the Moon one day?
As homeschoolers, we have the opportunity to allow our children to dream big! Space is the perfect topic for dreaming!
Getting started with a Moon study doesn't have to require a lot of work from you, in fact, I've already organized everything you'll need! My Moon Unit Study features a lesson, videos, online articles, literature options, art and craft projects and much more!
You can pick and choose which you'd like to use, designing the perfect Moon study for your homeschool.
These Moon Notebooking Pages are an additional resource that your children can use to share what they've learned, complete research, write stories and much more!
This pack of Moon Notebooking Pages includes fun moon-themed lined pages for all your students from Preschool through High School.