While reading a history textbook is often dry and boring. Bringing a specific person and event from history to life is more enjoyable. Your tweens and teens will enjoy this Middle and High School Morse Code Unit STudy.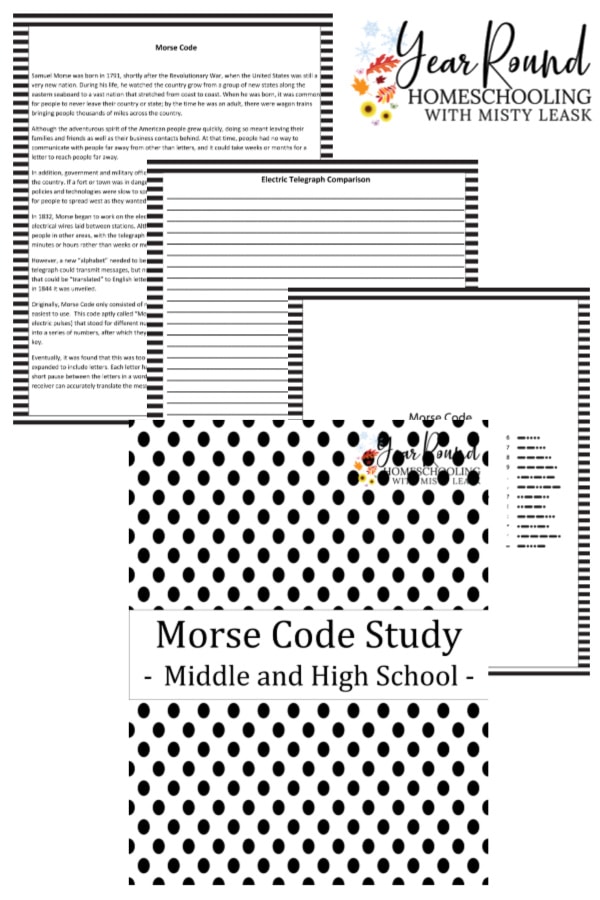 Learning about the history of Morse Code and its inventor is a fun history study for your students.
While Morse Code isn't widely used today, it still is an essential part of history. Through its invention, the means of communication were greatly advanced.
When I was growing up, I remember my friends and I created our own secret code for writing notes to each other.
It was a fun way to share secrets that we didn't want anyone else to know.
Since Morse Code isn't used by many today, your tweens and teens can use this "secret code" to write messages of their own.
Who knows, maybe Morse Code will make a comeback and it will be a useful tool for them to have.
You no longer have to know Morse Code to participate in Ham Radio, but I'm sure that there are still those that do use it should your children be interested.
Through this Middle and High School Morse Code Unit Study, they will learn the history of Morse Code, the electric telegraph, the inventor and much more!
I also have a Morse Code Unit Study for your younger students.