As another year is coming to a close, I'm thankful for the new year preparations that God walks me through every new year.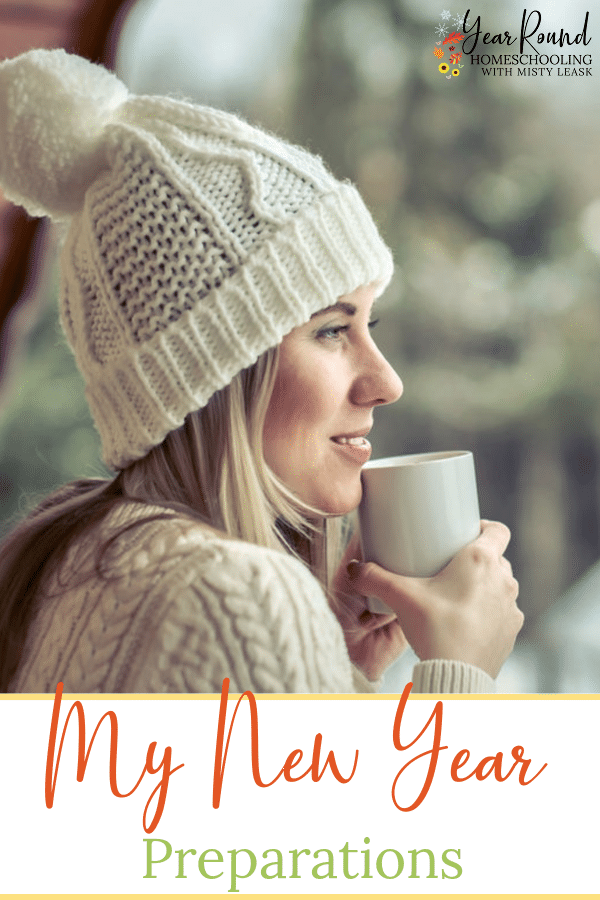 It always amazes me how quickly an entire calendar year flies by, especially as I watch my children grow as teenagers. It seems like only yesterday they were babies in my arms.
When my children were younger I was so busy focusing on caring for them that I did not take care of myself as I should have. Several years ago as a new year was approaching I felt God leading me to take steps to ensure that I was growing personally and spiritually all year long.
When I first began preparing myself for a new year, I didn't know what God specifically had in mind. I knew that I was mentally, emotionally, physically and spiritually exhausted. Yet, I wasn't sure how He would enable me to focus more on myself without neglecting my husband, children, home or homeschool.
As each new year approaches, I often find myself in the same place. Exhausted. I've come to realize that preparing myself for the new year is just what I need to move beyond the exhaustion. The steps that God calls me to take as a new year approaches refresh me by giving me new focus, inspiration, peace and rest.
For me, one of the biggest blessings I receive by preparing for the new year is that I'm able to let go of the things that didn't go as planned or how I wanted throughout the last year. I don't have to carry any guilt or disappointment into the new year. Because God is moving me beyond the past and into the future by providing me with direction for a new year!
My 3 New Year Preparations
Word of the Year
Choosing a word of the year was the calling God laid on my heart the first year I began to prepare for a new year. He kept bringing a specific word to mind over and over again. Whispering it my heart in such a way that I knew that He wanted it to be my focus all year long. As each new year approaches God gives me a new word. I spend the year concentrating on that word personally, as a wife, mother and a homeschool mom as well.
It is amazing to me how that after a year passes I see how God used the words from previous years to prepare me for the one I am in currently. A few years ago my word was unplanned. It was not an easy year for me because I thrived on being an OCD, over-the-top planner. Yet, as we headed into our third year of having a family business, I knew that had God not taught me how to live life unplanned that we would not be able to run our family business successfully.
Books to Read
I often read more teacher's manuals and textbooks than anything else. I've learned that it is very important for me to read books that encourage, teach and inspire me to grow as a woman, wife and mom. So, throughout the year I rotate books that focus on my life not only as a Christian woman but also as a wife and mom. I also make sure to take time to read books just for fun, typically by looking for recommendations from my favorite Christian Fiction Facebook group and free books from Amazon to read on my Kindle.
Scripture of the Year
A few years ago I felt God directing me to choose a specific passage of scripture for the upcoming new year. I was anxious to see how God used it in my life throughout the year. My plan was to not only memorize the scripture but also write it out weekly and study the passage in depth. While this isn't something I do every year, it is something that has helped me prepare for a new year in the past.
Preparing for a new year doesn't always look the same from one year to the next. Some years I've spent a week or two praying and seeking the Lord's direction. Other times I've found that I don't have that much time to reflect and prepare and God simply speaks to my heart. In the past, He even used an email from a colleague. I've learned not to question the Lord when He speaks to me or places something in my path. Sometimes it seems so small at the time. However, looking back I see how God took what seemed small to me and used it mightily in me throughout the year.
Preparing myself for a new year has become one of my favorite times. I can see how God is working in me year after year. It encourages me to continually grow into the woman, wife and mother that He created me to be.
How do you prepare for a new year?