For years I promised myself that I would get organized over the holiday break. I would get all my lesson planning done, my entire house organized, and magically my kids' behavior would fall into line. When that didn't happen (and I mean seriously, when WILL that ever happen?), I promised myself that in the summer I would be an organizing machine. I would have an entire year of school organized in a couple of weeks. My kids would be so in awe of what I accomplished that they would anticipate my every educational desire and do it. What seemed like a long summer slipped away in a sea of sun and fun and I was left with the same disorganized mess.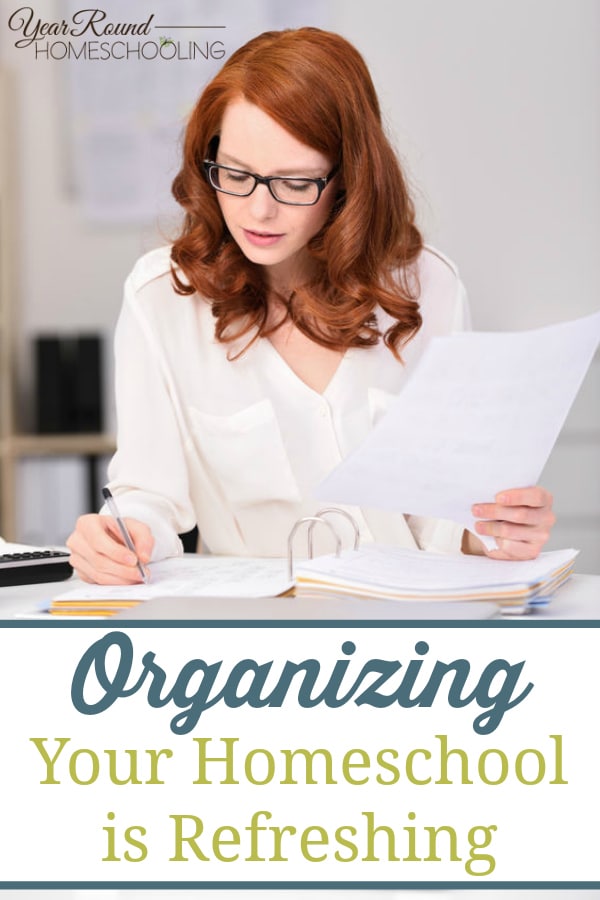 What's worse than looking around and seeing stacks of unfiled papers, unused curriculum, and unsorted stuff is thinking that it is all my fault. I felt like a hot, disorganized mess and thought that I was probably doing my children a disservice by homeschooling them. Have you felt that way? Do you feel that way now?
The Real Reason We Struggle to Get and Stay Organized
For so many years, I suffered needlessly in believing I was fatally flawed when it came to organization. It was depressing! But I wasn't the problem; my approach was.
There is so much involved in homeschool organization. It goes far beyond choosing curriculum, lesson planning, and record keeping. It includes areas like:
Personal time
Church service
Holidays
Meal planning
Chores
Those are just a few of the things I wanted to organize. No wonder I couldn't do it all during a break — even a long summer break. When I found FLYLady, I realized that I needed two things I didn't have: 1) consistent routines, and 2) a willingness to work in small bits of time. Instead, every day was different. I did things willy nilly because I had the freedom to live that way. After all, I was a homeschooler! I had no set schedule. I got organized when I felt like it. Well, surprise, surprise, I usually didn't feel like it. One of the reasons I rarely felt like it is related to the second thing I didn't have: I didn't feel like organizing unless I had a long stretch of time to work on it. I honestly dreamed that my husband would take the children on a two-week vacation, allowing me to focus on organizing. What's ridiculous about this is not just that this would never happen, but my belief that I could organize everything in my life in just two weeks' time.
Fortunately, FLYLady convinced me that I could only have the organized home of my dreams by creating routines. Having a morning and evening routine of good habits has made me happier and definitely made my family happier. I also learned that I could accomplish a lot in short time periods. I set a timer for 15 minutes and cleaned and organized. For the most dreaded tasks, I set my timer for 5 minutes. It really seemed like a miracle how quickly I got things in order, working just five minutes at a time.
How to Get Your Homeschool Organized and Have a Refreshing New Year
I got my home more organized than it had ever been with the power of routines and a timer. Yet, I still had a problem. I still kept trying to organize my homeschool over breaks. It just didn't happen. When it didn't, I was frustrated with myself, my husband, and my kids. After years of this occurring, I finally realized that I needed a plan — a plan that would help me organize my home all year long. A plan would help me feel better about myself, my family, and my homeschool. It would prevent depression and burnout. It would help me maintain my homeschool commitment.
I started by making a list of every area of my life that I wanted to organize — and not just rooms of my house. There are great resources for doing that, but nothing for helping me to organize my homeschool life. Once I had a list, I assigned each area to a week of the year. Then I broke that area down into 15-minutes missions. Then I made 15 minutes of organizing part of my morning routine. I set my timer and went for it.
You can go through this same process, but if you'd rather have everything done for you, I wrote The Organized Homeschool Life just for homeschool moms like you! You can organize every area of your homeschool life in 15 minutes a day or by working an hour a week. You can complete the missions in any order you choose or you can use the included calendars to guide you. When we make a 15-minute organizing task part of our routine, we can experience the sanity we crave. An orderly home and routine will refresh you. The disorganization and chaos that used to characterize my life will crush you. It will threaten your homeschool and your happiness. I'm so passionate about homeschool moms getting organized that I want to offer you a discount on The Organized Homeschool Life. Use code YEARROUND to save 20%.
The good news is you don't have to be born organized to have this be your year to be organized. You can have a refreshing new year by beginning today! Set a timer for 15 minutes and organize the area of your homeschool life that makes you the craziest. Then do the same thing tomorrow. Your children may surprise you by wanting to participate.
What area of your homeschool life are you going to work on organizing today?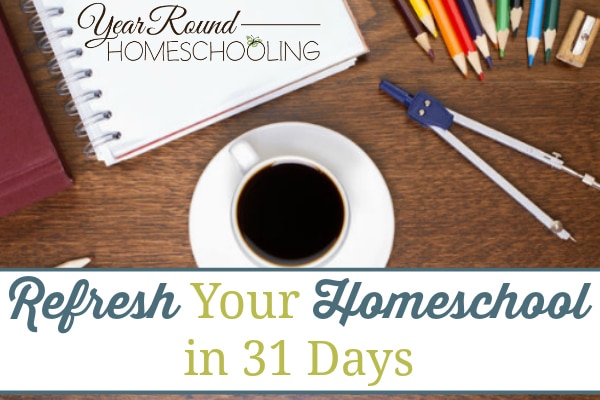 ---
Dr. Melanie Wilson is a Christian psychologist turned homeschooling mother of six. She blogs at Psychowith6, hosts the Homeschool Sanity Show podcast and is the author of The Organized Homeschool Life and Grammar Galaxy language arts curriculum. Connect with her on Facebook.