When it comes to planning a year round homeschool year, it can seem overwhelming. How could you possibly create a schedule or plan out all of the lessons you'll want and need over the course of the next 365 days? What happens if your children don't progress as quickly as you expect or if you decide to change curriculum mid-year?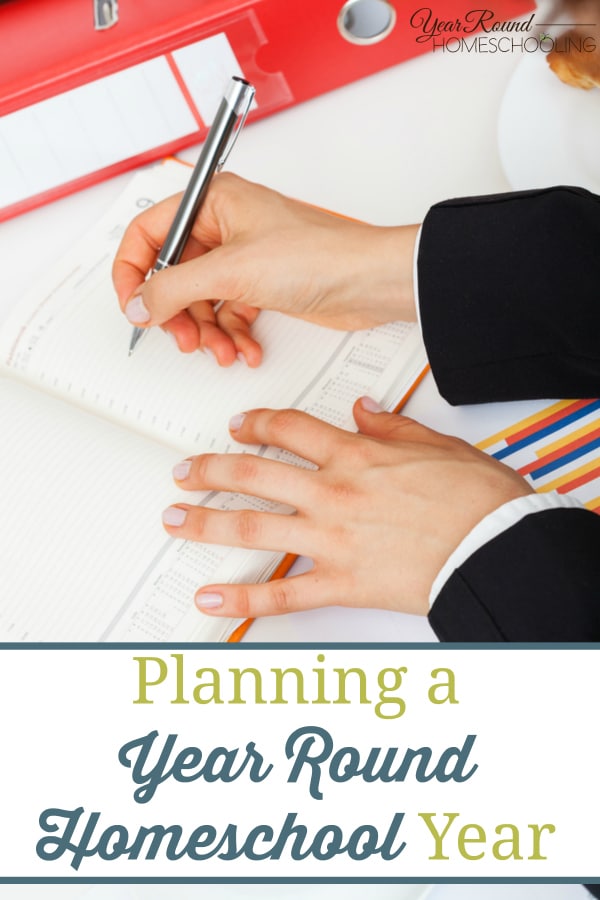 Planning a year round homeschool year is very different from following a typical 9 month school schedule. With a limited 9 month school schedule you must be more diligent to stick to your plans and have very little flexibility for taking breaks. As a year round homeschooler planning is much simpler, less detailed and easier for homeschool moms.
Year round homeschooling provides homeschool moms the ability to make brief outlines and plans for their homeschool year. Instead of having to plan out in detail what lessons and projects that you'll need to complete on a weekly, monthly and/or quarterly basis in order to stay on track, as a year round homeschooler you have the choice to merely outline the subjects and topics you want to cover and adjust them on the timely basis that works best for you.
[Tweet "As a year round homeschooler planning is much simpler…easier for homeschool moms. #YRHTips"]
Homeschool planning takes time and each homeschool mom must decide what planning method works best for her. Following a year round homeschooling schedule allows busy homeschool moms the opportunity to simply and briefly list the plans for their homeschool year and work through them as the year progresses. As year round homeschoolers there is no need to stick to a stringent schedule because you have double the amount of days for the typical state homeschool day requirement.
Year round homeschooling does not have to be overwhelming, you do not have to take on planning the entire year. In the midst of life changes, kid changes and more, planning for an entire year does not make sense most of the time.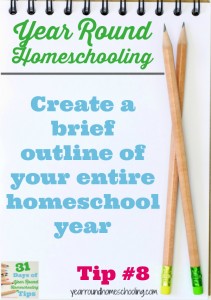 If you're new to year round homeschooling, start by choosing one topic or subject to plan, homeschool through it and then make simple plans/goals for the next subject, teach through it, etc. Your homeschool is yours, there is no right way or wrong way to plan it. Find the year round homeschooling planning method that works for you and stick with it until it doesn't work anymore.
Homeschooling is supposed to work with your family not against it, if the schedule you're using isn't working, change it up, make your plans work for you!

You can find the rest of the Year Round Homeschooling Tips from this 31 day series here.
Are you looking for more tips beside what is being shared in the 31 Days of Homeschooling Tips for Moms?
I would love to invite you the community inspired by this series, as we strive to inspire, encourage and empower our readers in everything homeschooling.