Following a year round homeschooling schedule not only allows you to be flexible, but it requires that you be flexible. There will come times throughout your homeschool year that you or your children will need a break from school. It can be difficult to actually take those breaks when you have a concrete plan in place. Yet, this is one of the biggest benefits to following a year round homeschooling schedule.
When you are utilizing all 365 days of the year for your homeschool schedule, figuring out a schedule that works for you and your children can be challenging. There are many ways to plan out your year round homeschooling year, some people follow a 3 weeks on and 1 week off plan, while others find that homeschooling for a quarter of the year with 1 month off works best for them.
It will take time to figure out what specific homeschool schedule works for you. Don't give up on year round homeschooling if what you thought would be the "perfect" schedule doesn't work for you. I recommend trying it for 2 months consistently and if it doesn't seem to be working for you, then change things up and try something else.
I've been a year round homeschooler for going on 5 years and the schedule that we've used for the last 4 years no longer is working for our family. We recently purchased a family business that requires a lot of work during a couple months of the year that we have been using for homeschooling, so next year we will be changing our year round homeschooling schedule to fit the needs of our family business. These types of changes will come up throughout our homeschooling journeys, we must learn to be flexible in order to give our children the best education possible.
[Tweet "Flexibility is a homeschool mom's best friend. #YRHTips"]
By following a year round homeschooling schedule it allows us to work with any changes that may come our way, because we can put homeschooling off during a move, while dealing with family matters, working around a self-employed parent, to work with a family business schedule and many other things that may show up during our homeschooling journey.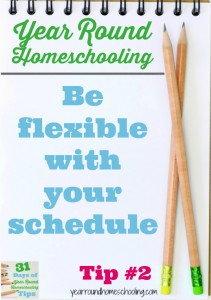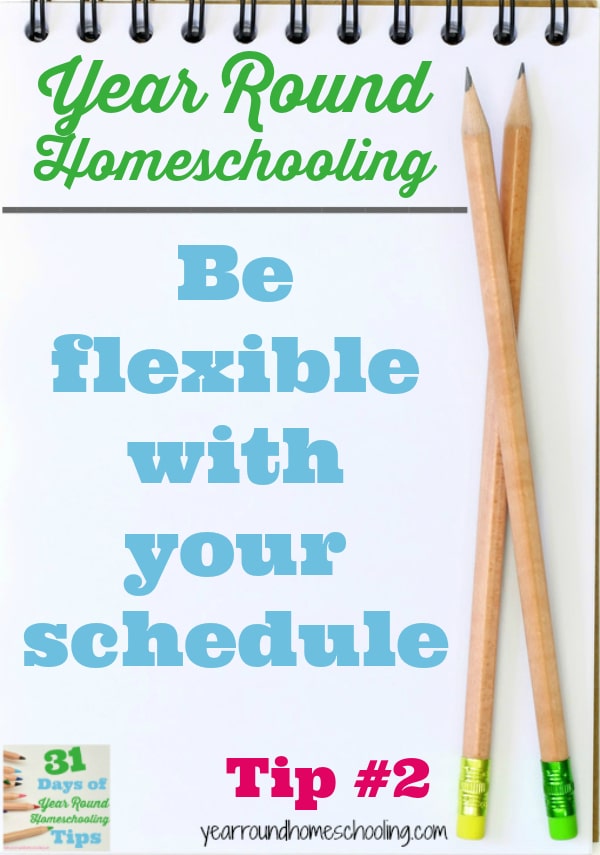 Flexibility is a homeschool mom's best friend. It's something that we need in order to successfully homeschool our children, run our homes and be the wife and mother we need to be. Year round homeschooling provides the flexibility we need to ensure that we are balancing all of our roles correctly and consistently throughout the year.

You can find the rest of the Year Round Homeschooling Tips from this 31 day series here.