Hi! In this post I will be telling you about why I like middle school homeschooling! I have 13 points, each is different. My mom runs this blog, Year-Round Homeschooling, and she asked me to write this post for her middle school homeschooling series. I hope you enjoy it!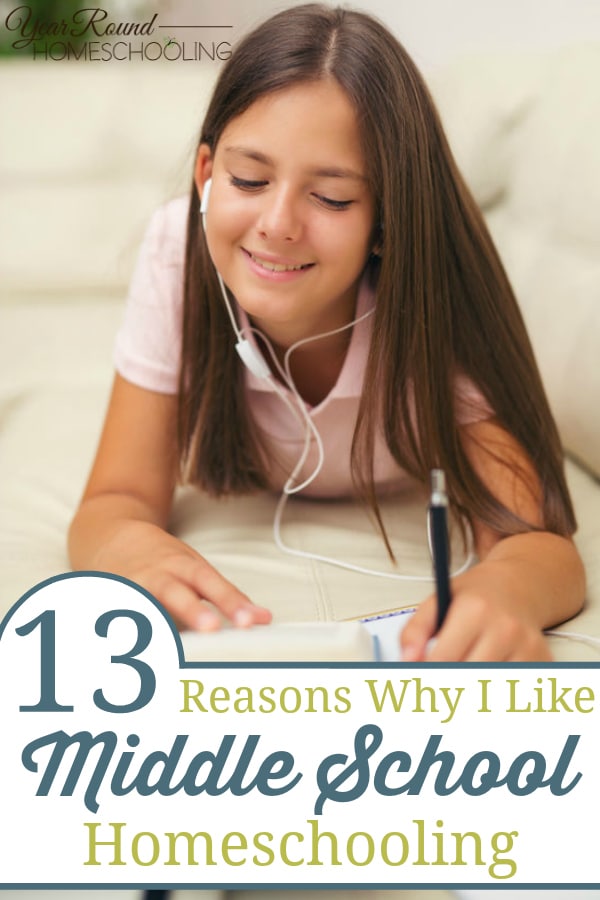 1. My mom is my teacher!
Most teachers are normally  strangers; mine is my mom! She helps me when I confused and/or stumped.
2. I can do school at home.
While most kids do their schoolwork at school, I do school at home, with my family.
3. I don't have homework.
When kids come home from school, they bring homework. Even when they are on vacation, they really aren't! They must do homework STILL! Thankfully I don't, I finish my school for the day, and then, I'm done!
4. I can do school anywhere.
While other kids must sit in wooden or plastic desks, I can sit anywhere! Plastic or wooden desks are often uncomfortable! However because I am homeschooled, I can sit anywhere in my house (or outside if it's summer)! From my bed, to the couch. Which means I am super comfy and cozy.
5. I have fun doing school and learning.
Some kids dislike school, or hate it, I enjoy it! I have fun at home snuggling on the couch to read my English or Literature. I also enjoy learning! My schoolwork isn't easy, but it's fun and I enjoy doing it.
6. I get to choose my books!
I can't choose the books for subjects like Math, Penmanship or English. Though I can choose books for Writing, Literature, Bible, Art, History, and Science.
7. Sometimes, Dad will teach us!
When there are days Mom is sick, Dad will take us outside and teach us about the fish he catches or the vehicle he is working on. We learn about things we wouldn't learn about from textbooks.
8. We can start school any time we want!
Most kids must be up at the crack of dawn, but we don't have to! If we sleep in, it's okay! We start school, whenever we feel like it!
9. We own our school books.
Public schoolers must use their school's books, but we have our own. We buy our own books or use ones that our family has used! We have new ones, or ones that mean a lot to us, because they have been passed down in the family.
10. We don't have a principal.
When public schoolers get in trouble they go to the principal. We don't have a principal, we rarely get in trouble, and when we do Mom or Dad just talk to us.
11. We don't have more then one classroom.
Public schoolers finish their subject, then they must move on to another room. When we finish a subject, we just grab the next! No moving to another room.
12. We don't have multiple teachers.
Kids who go to public school have more than one teacher, one for each subject. We have one teacher: Mom. (She rocks!)
13. We have more time with our family.
Public schoolers must stay in school until a certain time, we don't have to. When we finish all the subjects on our list we're done for the day and can spend tons of time with our family!
Do you know what your middle schoolers love most about homeschooling?
_______________________
A. Leask is a homeschool middle school student who loves animals and wants to be a Veterinarian when she grows up. She has two pet bunnies, Luna and Cinnamon. Writing is a favorite pastime of hers, both on the computer and pen and paper.