In the midst of Chemistry and Shakespeare, state standards and high school transcripts, it's hard to think of adding one more thing to your homeschooled teen's agenda. It's easy to obsess over science and math curricula, literature courses, and music lessons– all in an effort to give your kids the best home education possible. It's hard, though, to squeeze one more thing into an already full schedule. Especially if that one more thing is a volunteer opportunity that seemingly has no reward.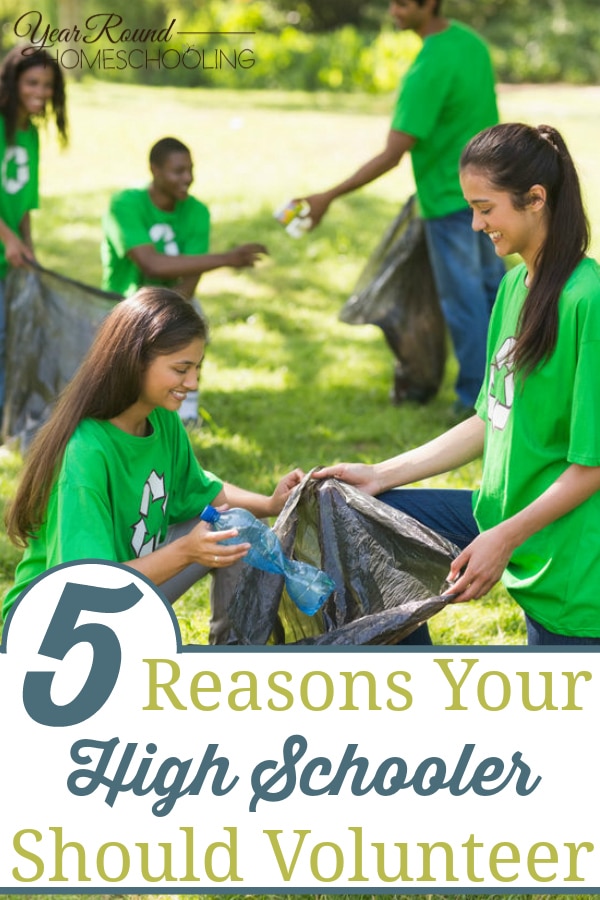 Volunteer opportunities are not hard to come by. Community agencies and non-profit organizations are always looking for a few good workers willing to give of themselves to further the organization's mission. These opportunities seem to come with long hours and little flexibility. Add in even less tangible compensation and it seems like a no-win proposition. However, nothing could be further from the truth.
Why Your Homeschooled Teen Should Volunteer
Volunteerism strengthens their relationships.
Teens who volunteer together stick together. There's nothing like bonding over physical labor or emotional moments to cement a friendship.
Volunteerism widens their worldview.
Teens who volunteer see the world through a new set of lenses. They meet new people, gain a different perspective, and obtain unique experiences.
Volunteerism lengthens their applications.
When a high school student starts applying to colleges, they will be asked about their volunteer experiences. This question is also on many scholarship applications. Colleges and universities are looking for students with diverse experiences.
Volunteerism deepens their future dreams and aspirations.
Teens who are given the opportunity to volunteer in their field of interest get to experiment with it. They can try it on and see if it's a good fit for them. If it's not, they can easily try something else. If it is a good fit, they're one step closer to pursuing their dreams.
Volunteerism heightens their high school experience.
Homeschooling throughout high school has it's own unique challenges. Not only is it hard to find a science lab partner or prom date, it's also hard to find ways to be involved outside of home. Volunteerism gives teens the social outlet so many crave.
For an opportunity that on the surface seems like there is no reward, volunteerism has much to offer. Time given to community agencies or non-profit organizations will strengthen, widen, lengthen, deepen, and heighten your homeschool student's teen years. They will be challenged beyond textbooks and learn lessons they can't offer.
Consider reaching out to your local community agencies and local non-profit organizations to learn which opportunities are available. Let your teen help decide what they want to volunteer for. They may not appreciate adding one more thing to their schedule, but they may thank you later for the memories they make.
What volunteer opportunities have your high schoolers enjoyed the most?