Sometimes as a homeschool mom we all make the statement "remind me why". I started homeschooling my children because, when my oldest child turned 5, I could not see the sense in putting her into school for 7 hours per day, 5 days per week. I was blessed to have a friend tell me about homeschooling. She invited me to her church to hear her pastor speak about homeschooling, and even let me visit her house and see all her books. (The books are what sold me.) I wasn't quite sure what I was doing when I started, but I loved having my children home with me. I still do. I know this is what God has called me to do.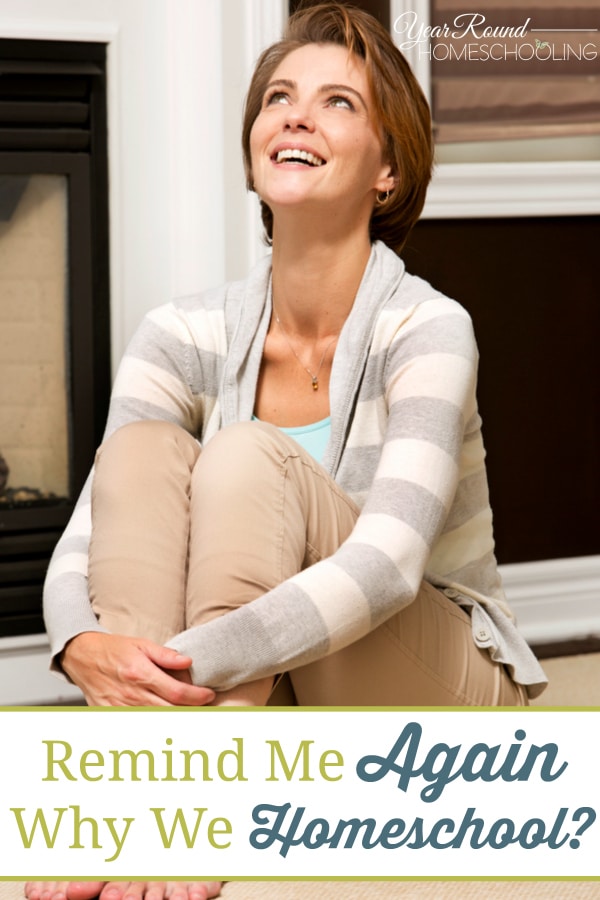 Remind Me Again Why We Homeschool?
There comes a time during every school year, though, when I wonder if I haven't messed everything up and ruined my children for life. Ten years into this homeschooling gig, and my children still think math does not have to be done daily (it does). Have we done enough formal grammar? If they can't remember to do their chores, will they ever be successful adults? They can't seem to remember to feed the dog–will they remember to feed their own children someday? Yes, these are the thoughts that run through my head, and lead me to wonder if I should just call the big yellow bus and have it come take them to school TOMORROW. Surely, the paperwork can wait. They have to take them, right?
We all need encouragement and renewal. Here are some practical things, I hope, you can do to refresh yourself when the going gets tough.
First of all, if you have access to a homeschool conference, I highly recommend attending. I love the Charlotte Mason Institute conference, and also really enjoyed the NCHE conference last year. Look and see what's in your area. Attend sessions that speak to what you're going through. If you just don't know who to see, I can highly recommend Andrew Kern from CiRCE, Diana Waring, and Andrew Pudewa from the Institute for Excellence in Writing.
The next best thing to attending a conference is listening to some encouraging audio recordings from them. I highly, highly recommend talks from CiRCE. They have an incredible Audio Library you can access for free, as well as audio downloads for purchase. Most homeschool conferences sell audio recordings of their talks, as well, so it's worth checking to see what's available. IEW has some too.
There are (naturally) some wonderfully encouraging books you can read. Here are a few I can recommend to you:
Most of all, pray. God gives wisdom to all who ask, and peace to His children. My stress level increases dramatically, and indeed, everything suffers, when I neglect my relationship with God.
What do you find encourages and refreshes you throughout your homeschooling journey?