Get started reading through the book of Romans with your kids and add in this Romans Kids' Bible Activity Pack for fun learning activities.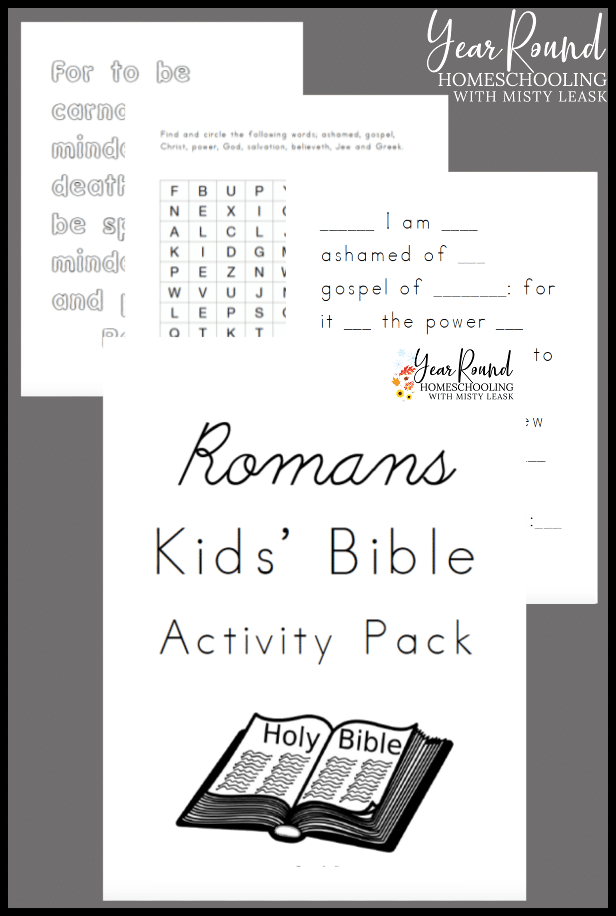 One thing that you can never do too much with your kids is studying the Bible.
There is much waiting for our children once they leave our home that we can't protect them from.
However, we can prepare them to know how to protect themselves by building a strong relationship with the Lord and using His word to guide and direct them.
There are countless Bible studies out there for you to use with your children, yet, I believe wholeheartedly that the best thing you can use is the Bible itself.
Children need to be taught how to read and understand the Scriptures and sometimes Bible studies don't do that.
That's why I started creating my kids' Bible activity packs for you to use in conjunction with your family or homeschool Bible study time.
It is my hope and prayer that both you and your children spend time reading, learning and growing in the Lord together!
Inside this Romans Kids' Bible Activity Pack, you'll find over 175 fun pages including; penmanship pages, memorization games, word searches and more!
I didn't design this Bible activity pack to be used alone for your Bible classes but to aid in the memorization and love of God's Word. Please ensure that you take time to read through the books of the Bible with your children as you utilize these Bible activity packs in your home and homeschools.
For even more Bible printables to use throughout the coming year, be sure to check out my store page here.