This Spelling Challenge is full of ideas and activities to make practicing spelling words more fun for everyone — both you and your kids!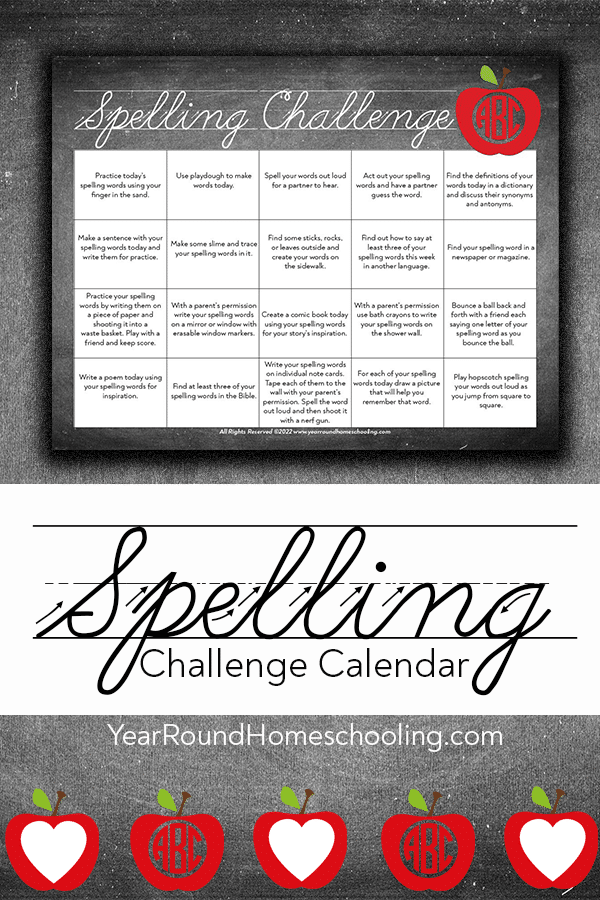 I've always believed that children should enjoy learning, so I worked hard to find ways to make our homeschool days as fun as possible.
Some subjects and classes were more challenging to make fun than others, but spelling wasn't one of them.
My kids are just barely 2 years apart, so we did most of our classes/lessons together.
Spelling lists were a competition between the two of them from the time they were young.
How do your kids respond to practicing their spelling words?
While spelling might not come naturally to your children, that doesn't mean that they can't enjoy learning to spell well.
Making spelling more enjoyable for your kids is easy by using the fun activities included in this month-long spelling challenge!
Kids will use playdough, sticks and stones, newspapers and more to work on their spelling skills as part of this challenge calendar.
In addition to this spelling challenge, your kids might enjoy the following spelling and vocabulary worksheets as well.
You'll find more fun monthly challenges to use throughout the coming year, be sure to check out my store page here.