Taking vacations as a family is an important part of our children's growing up years. They need the opportunity to spend time together with the entire family, unplugged and undistracted. Sadly, vacations are becoming harder for the average family due to the struggling economy, both parents working and for many other reasons.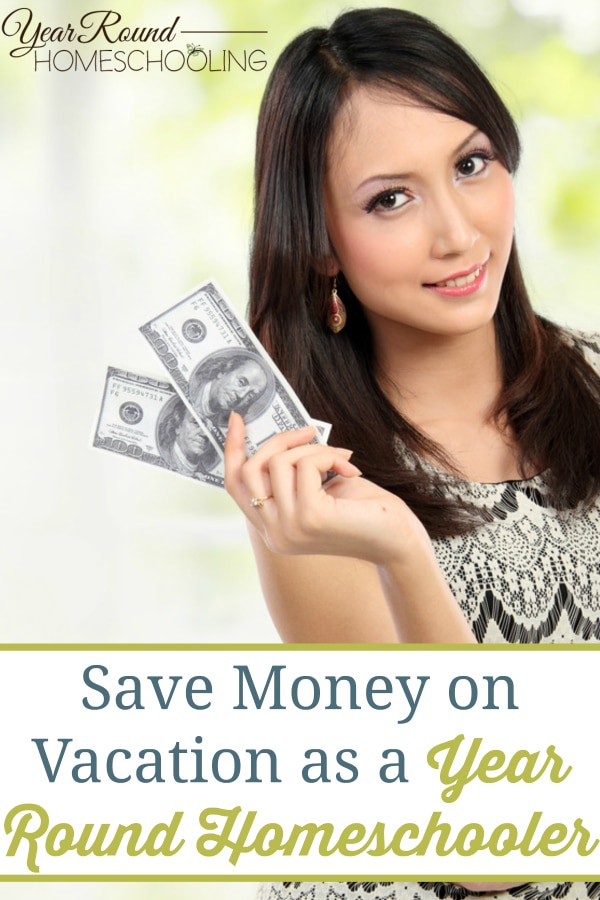 As year round homeschoolers, we have the ability to actually save money on vacation. 
Most vacation destinations have in season and off season rates. For homeschoolers that follow the 9 month school schedule, their vacations tend to end up during the in season, while year round homeschoolers can take their vacation anytime throughout the calendar year!
When you sit down to plan out your year round homeschooling schedule, take time to select your family's vacation location and research their in and off season rates, transportation fares (if needed), lodging rates, etc. Once you've completed your research tally up the totals for both in and off season, the savings will likely astound you!
Sometimes, we think that taking a family vacation means we have to look into going to Disney©, Legoland®, on cruises, etc. While these are wonderful vacation options, they are some of the more expensive ones whether you're looking at in or off season rates. Just because you can't afford to take your family on one of these vacations does not mean that your family vacation won't be magical or unmemorable.
Some of the most memorable family vacations happen when you're simply spending time together rather than being entertained.
A few of my favorite family vacations growing up include; visiting the Redwood Forest in California, traveling back home to Texas and visiting caves/caverns, historic monuments, etc. on the way and visiting Plymouth Plantation. My kids have enjoyed Gettysburg, the Museum of the Ablemarle (Free!), a day trip to Jay Peak (no hotel cost), Lancaster, PA., hiking close to home (FREE!), Sea World© and local zoos.
[Tweet "As year round homeschoolers, we have the ability to actually save money on vacation. #YRHTips "]
I fear that as parents we try to either make up for vacations we DIDN'T have when growing up or keep up with the vacations we DID have growing up. Where you go on your family vacation is NOT important. What is important is making memories together and not going into debt in order to go on vacation.
A well planned year round homeschooler's family vacation can not only save them money, but it can allow them the opportunity to take more than one a year if they want to!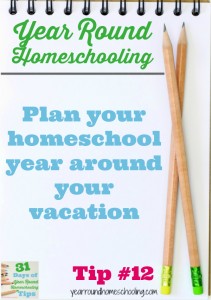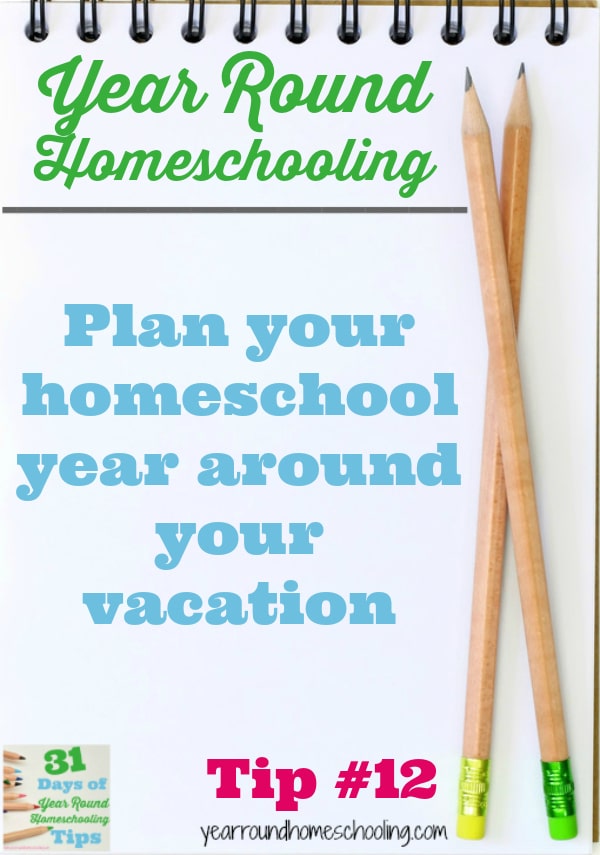 Taking a family vacation is a wonderful way to create unity in your home, to strengthen your relationship with each other and to add fun to your lives! Don't miss out on the amazing memories that your family will hold close to their hearts throughout their lives by neglecting family vacations.

You can find the rest of the Year Round Homeschooling Tips from this 31 day series here.
Are you looking for more tips beside what is being shared in the 31 Days of Homeschooling Tips for Moms?
I would love to invite you the community inspired by this series, as we strive to inspire, encourage and empower our readers in everything homeschooling.