Whether the weather outside is frightful or not, this Snow Fun Pack will keep your kids busy learning on long winter days.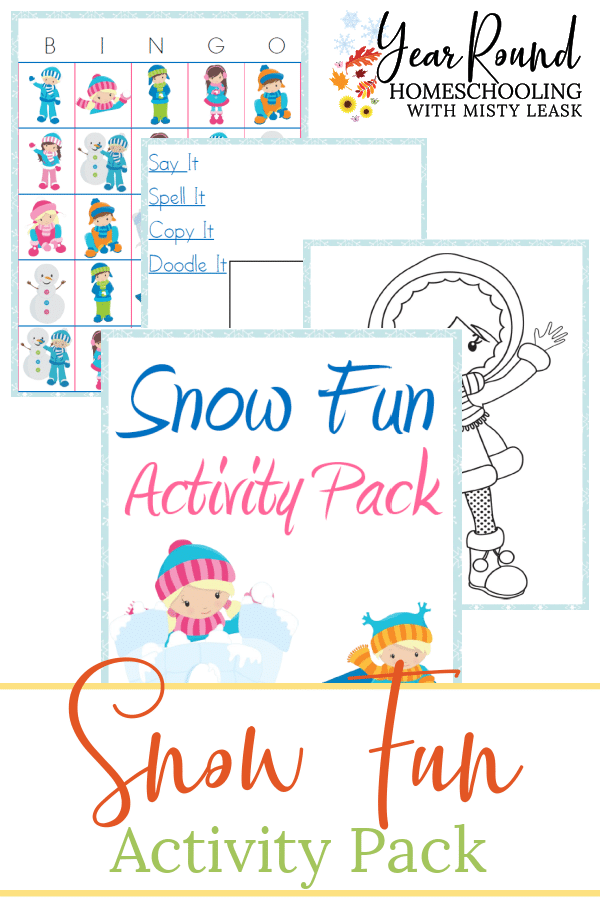 My children grew up in Maine, so they've dealt with power outages, blizzards, Nor'Easters and ice storms every year.
Sometimes the winter weather provides countless hours of fun. Other times, the cold is just too much to bear.
The long days of winter can be a struggle for kids and moms alike. However, if you're creative and plan ahead, they can be lots of fun.
A few of our favorite winter activities include snowball fights, quiet reading time, snow fort building, family game day/night, ice fishing, cooking/baking time, snowmobiling, movie marathons, and skiing.
Unlike some, I actually enjoy the short days of winter. The early evening causes me to slow down and not feel like I have to keep pushing.
For me, the hardest part of winter is losing power. For those of us in New England, sometimes that happens for days.
48 hours without power is about the time when our family has had enough of winter.
Whether you enjoy the short daylight hours of the winter season or not, finding ways to keep your kids busy learning and having fun is important.
Thankfully, homeschooling isn't something that you have to do on your own. There are countless educational winter activity ideas and resources that others have created and shared.
Including this Snow Fun Pack! Inside you'll find over 275 pages including Penmanship and Notebooking Pages for PreK through Middle School, spelling and vocabulary worksheets, matching games, bingo cards and coloring pages!