Spring is finally here! Let the spring cleaning begin! Not sure where to start? Need a challenge to keep you moving? This Spring Cleaning Challenge is just what you need to get you and your kids moving!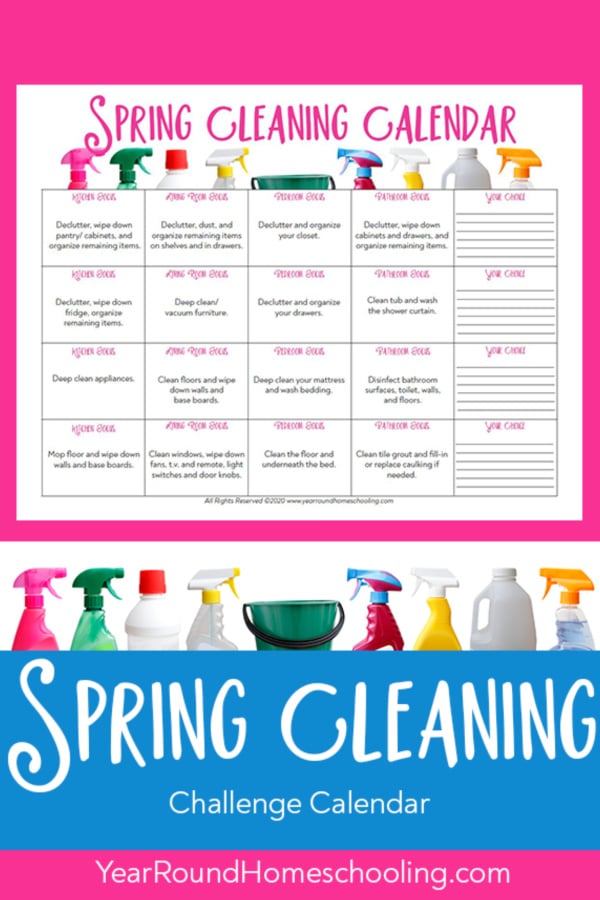 When springtime finally arrives, one of my favorite things to do is clean! The winter months are long here in the North Woods of Maine and clutter seems to pile up more.
My kids have always helped me clean, from the time they were toddlers. They started by matching socks and now they can clean an entire house on their own, without supervision!
What I love most about this month's homeschool mom challenge is that you can easily get your kids to help and pitch in. After all, those kitchen cupboards, you didn't make a mess of the snacks yourself, did you? The bathroom cabinet didn't become disheveled on its own, did it?
Inside this Spring Cleaning Challenge Calendar, you'll find daily tasks to complete in your kitchen, bathroom, bedroom, living room and one day of the week you get to choose what cleaning project you want to focus on!
For even more monthly challenges to use throughout the coming year, be sure to check out my store page here.