Spring is such a beautiful time of year! When March rolls around, my kids know that the first thing I'm going to notice is the blue sky. After the long days of winter, the blue skies of March are a welcome change! These Spring Lego Task Cards are a fun way to celebrate creativity in the springtime.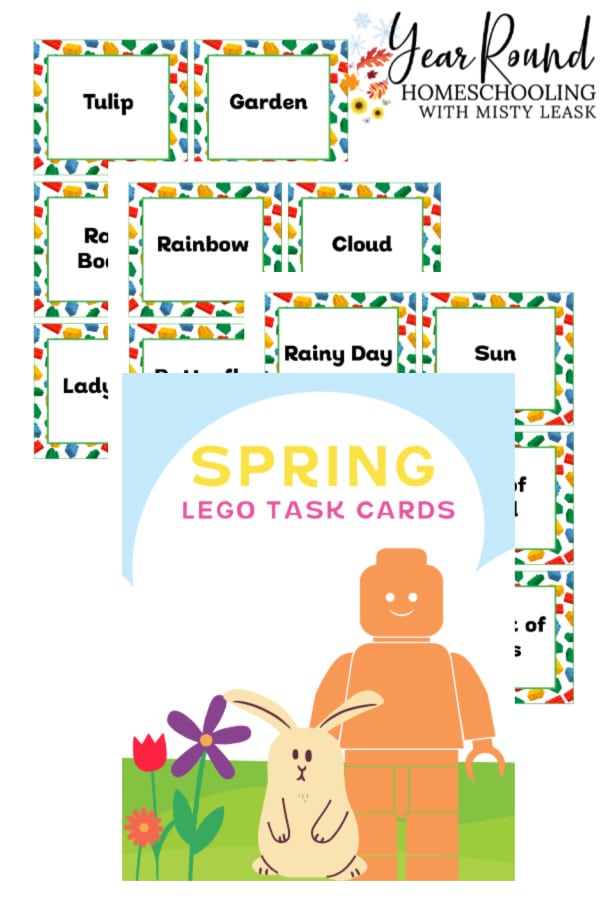 Spring often pushes me outside to take in the fresh air and sunlight. It is the perfect time of year to head out and explore the North Woods of Maine. Waterfalls abound in the area and the spring runoff puts them at their best!
However, with spring also comes mud season, which can make for a mess. That means there are days when we stay inside, open the curtains and have fun together as a family. Each member of the family writes an activity on a slip of paper, which then gets put into a hat and we take turns doing what everyone wants throughout the day. Usually, I incorporate tidying the house up at the same time by alternating a cleaning task with a fun activity.
Inside this Spring Lego Task Cards Pack, you'll find 24 unique spring-themed tasks that your kids will create using their favorite Lego® bricks. A few of the creations include tulips, spider web, kite, rabbit and a baseball diamond.
Looking for more seasonal resources to use in your homeschool? Check out all my seasonal printables here.