Learning about the states of matter is a fun science study. Understanding the process is highly experience-based, so including experiments is important to your children's education. This States of Matter Unit Study is a great resource to start with.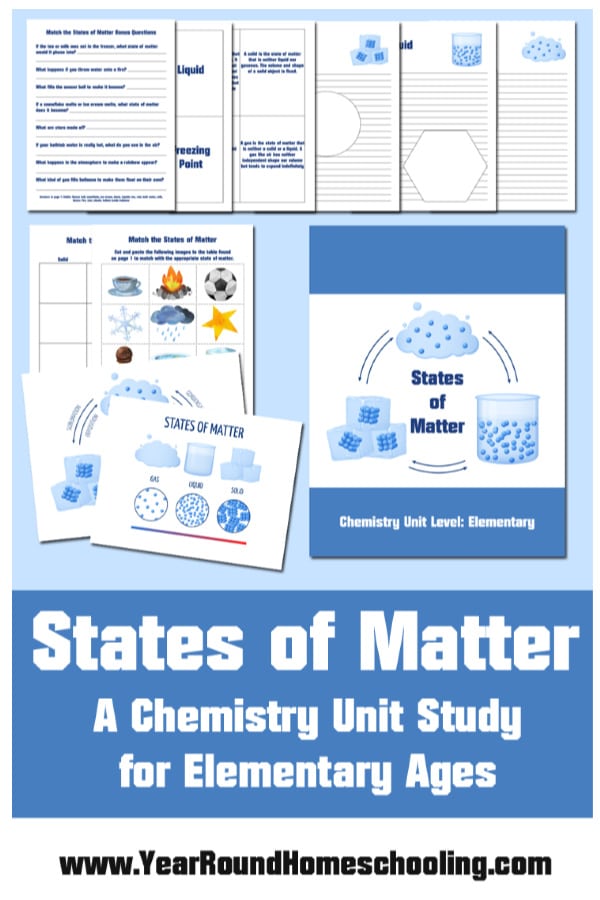 Do your children know the difference between gas, liquids and solids? Do they understand how they work together though are separate?
While chemistry is often a high school science, the states of matter are a chemistry study that elementary students will enjoy.
Chemistry was by far my least favorite science subject growing up. However, experiments and hands-on activities helped me understand what I was being taught.
My children have not enjoyed the study of chemistry either. That is why I recommend and utilize as many experiments and hands-on learning activities as possible.
The study of the states of matter provides countless opportunities for hands-on learning fun. Over the years, my children and I have enjoyed completing several of the experiments in this book. Many of which would be perfect for your study of the states of matter!
Your students will need to research, experiment and record their findings as part of this elementary chemistry, States of Matter Unit Study. They'll also learn new vocabulary words along the way.