Summer days are full of inspiration for the written word. The shade of a tree or the shore of the sea beckon to the scratch of a pen. A Summer Writing Challenge is a perfect way to fill the long days of summer.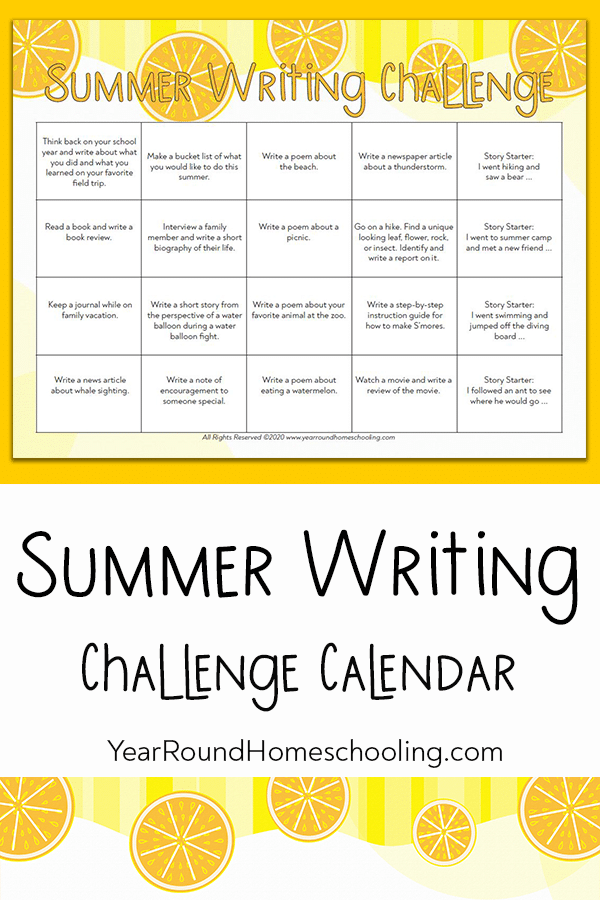 Even students that enjoy writing will have days where inspiration fails. Sometimes, we try too hard. Other times, we just need a break from the normal.
Writing challenges are great activities for both your students that love to write and those that are reluctant to do so.
I've found with my reluctant writer that having a prompt to start him off helps tremendously. He's even truly enjoyed writing a few things over the years by using them.
My daughter, who loves to write, also enjoys writing prompts. They encourage her to think outside the box, about things that she might not have thought of herself.
This Summer Writing Challenge Calendar will have your kids write a newspaper article, create a bucket list, complete interviews, write poems and much more!
You could even make this a family challenge! Have everyone complete the challenge and then share what they've written at dinner!
For even more monthly challenges to use throughout the coming year, be sure to check out my store page here.