Teaching your kids how to find their way through the Bible is essential. This Sword Drill Challenge can help teach and test their Scripture skills!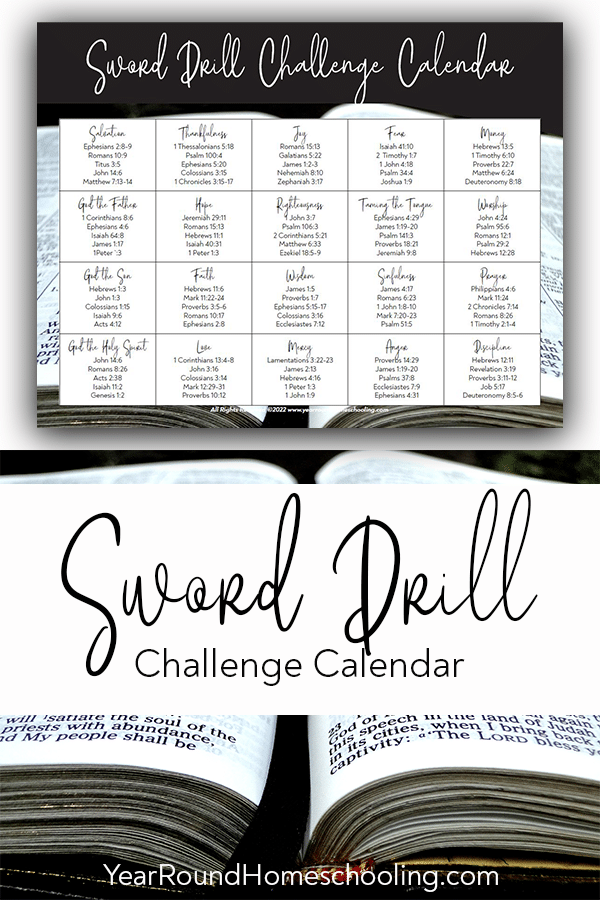 Some of my fondest memories from my childhood days in Sunday School include Sword Drills.
I loved racing to get to the teacher's selected Scripture first. You might say I have a competitive nature and that I like to win.
Both of my children have enjoyed participating in Sword Drills throughout their childhood as well.
While Sword Drills are typically a game used at church, I often included them in our homeschool Bible class as well.
In order for our children to love Scripture, we need to ensure that we're teaching them how to use it.
The first step? Finding their way through the books of the Bible.
The best way I've found to do that is through Sword Drills. It makes learning the books of the Bible a bit more fun.
Another way my children learned their books of the Bible was through Awana at church.
They utilized fun songs that taught both the Old Testament and New Testament books of the Bible.
This Sword Drill Challenge gives you 20 different topics with 5 Scriptures for kids to race to find.
A bonus idea? Use the topics to plan your homeschool Bible class for a month!
You'll find more fun monthly challenges to use throughout the coming year, be sure to check out my store page here.