Entertainment. There are many forms of entertainment; books, sports (events and participation), exploring, art, nature, history, music, movies… I'm sure that you could come up with many forms of entertainment than I have listed above, but I bet we can agree that children love to be entertained. How would you like to take the entertainment of movies and make it educational, but not just any movies, musicals?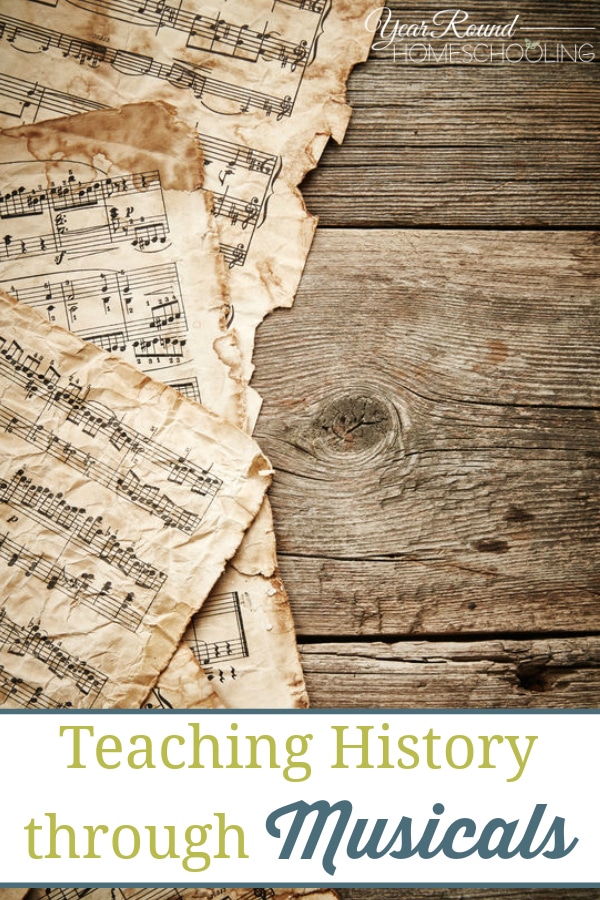 Beside the obvious study of the different genres of music, it may surprise you that many musicals have their basis in some historic events. There are a large number of topics that have been covered by musicals, from the pograms of Russia to the drafting of Elvis into the army.
How to Teach History Through Musicals
Fiddler on the Roof
This is one of my favorite musicals. It focuses on a Jewish family with daughters. There are so many topics that could be taught through this movie.
Topics to Study from the musical, Fiddler on the Roof
Oppression of the Jews and the pograms carried out by Russia in that oppression
Judaism and how its laws govern their lives
Changes throughout society regarding women
Prejudice and reverse prejudice
Inventions
Immigration and refugees
Geography
Mathematics (ex: Jews killed and oppressed, refugees immigrated, etc.)
Dairy farming
As you can see, you can use a musical to spring board to a wealth of topics. I happen to really enjoy musicals, so, I could say one of my favorite many times. So, I will just leave it as the list that follows are musicals I enjoy.
Oklahoma
This musical is set at a time when the state of Oklahoma was recently settled. There was literally a race for free land! Did you know that there were strained relationships between farmers and ranchers? There were also problems that arose due to the diverse purposes of the settlers at this time.
Topics to Study from the musical, Oklahoma
Farmers/Ranchers and they problems they faced
Forms of transportation
Settlement of Oklahoma
Ballet
Agriculture
Cattle/Sheep Raising
Community
Peddlers/Salesmen
Morals/Behavior
The Newsies
There was a time in our not so distant past when children were used and abused as part of the labor force. The Newsies focuses on a specific occurrence of this abuse.
Newspaper delivery sales were done primarily by children in the 19th century. Many were orphans, and it was their only livelihood. In July 1899, Pulitzer and Hearst proposed charging the children 1/10 of a cent more per paper. That doesn't sound like much to us now, but to those children it was literally their life on the line. There is so much to discover and learn about history through this musical!
Topics to Study from the musical, The Newsies
Orphans
Newspapers
Strikes and their impact on families
Dance
Child Labor
Cost of Food at that time and what 1/10 of a cent meant to those children
Unions
Railroads
Pulitzer and Hearst
Law Enforcement
Oliver
Oliver is movie based on the book by Charles Dickens and it addresses the topic of orphans as well. Many of Dickens' writings were to bring awareness to society of the plight of the poor and orphans. This movie is set in England and follows the life of Oliver Twist, an orphan.
Topics to Study from the musical, Oliver
Child Abuse (taking advantage of their plight)
Organized Crime
Work Houses
Orphans/Orphanages
Slavery
Social Awareness
Criminal elements in society
Seven Brides for Seven Brothers
This movie is full of fun, laughter, music, dance and conflict. One of the consequences of our countries Manifest Destiny Policy is exhibited in this movie…a shortage of women.
Topics to Study from the musical, Seven Brides for Seven Brothers
Manifest Destiny Policy
Mail Order Brides
Trapping/Hunting
Weather (Avalanches, snow, etc.)
Name Study
Barn Raising
Sabine Women (Roman Mythology)
Compare and contrast the movie plot with the myth
The Unsinkable Molly Brown
Have you ever heard of the unsinkable Molly Brown? She was a famous lady in her day. Molly survived the St. Verain 100 year flood in Colorado as a child and the sinking of the Titanic as an adult!
Topics to Study from the musical, The Unsinkable Molly Brown
Floods (Including the St. Verain flood)
Icebergs
Ships
Sinking of the Titanic
Gold
Mining
Bye Bye Birdie
Elvis Presley starred in a number of musicals, but did you know that there was one based on a specific time in his life? Bye Bye Birdie is a musical comedy based on Elvis being drafted into the Army. His fans were frantic about him being in the Army.
Topics to Study from the musical, Bye Bye Birdie
Elvis Presley
The Draft
The media's impact on people
Fan Clubs
Rock and Roll Music (1950s)
Television's impact on society

Changes from 1958 to present day

Did Elvis expect special treatment?

Compare to current day celebrities and their attitude towards military service
West Side Story
West Side Story was the modern day adaptation of Romeo and Juliet of its time. Prejudice and feuds are boundless in time.
Topics to Study from the musical, West Side Story
Compare and contrast Shakespeare's "Romeo and Juliet" to "West Side Story"
Family Feuds
Gangs
Discrimination
Not all movies are all precise in their historic accuracy. They use artistic license, so as part of your studies make sure to compare and contrast the movie vs. historic fact. This will teach your children to ensure that they question what they read, watch and hear, teaching them to recognize fact vs. fiction.
It is my desire that this fosters your family movie night, musical enjoyment and piques your children's interest in a diverse arena of topics. There are many more musicals that can be enjoyed and used as a platform to study history and other topics. Let this list be the start of an amazing journey of teaching history through musicals!
God's blessings on your journey,
<3 Misty's Mom <3