**Please note resources mentioned in this post may have been received for free or I may have received monetary compensation to write this post. However, the reviews are my personal opinion. For more information, please see my disclosure page.*
Homeschooling isn't a journey that a parent one day just wakes up and decides to begin. Every homeschool family has a reason (or reasons) for beginning to homeschool their children. It isn't a decision to make on a whim, without serious consideration. Honestly, a homeschool journey needs to be covered in prayer from the moment you begin considering it through your child's high school graduation.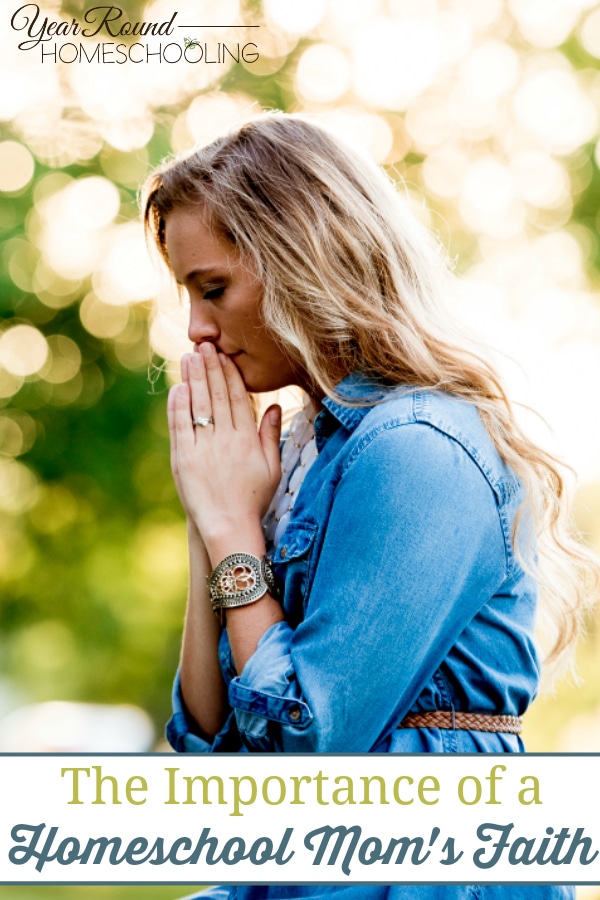 The journey of a homeschool family is not a cake walk. There will be times when you have to press on through difficult subjects, learning struggles and student-teacher disagreements. Some days you'll want to throw in the towel and will even contemplate putting your children on the next yellow bus that passes by. A homeschool mom's faith is absolutely necessary to her family's homeschool journey.
A homeschool mom's responsibilities are a heavy weight at times, after all her children's education is in her hands. She must be diligent to ensure that she is providing them with the necessary studies and activities that they need to thrive. Homeschooling requires moms to be at their best emotionally, spiritually and mentally. None of this would be possible without a homeschool mom's faith.
Due to the difficulties, struggles and long days of homeschooling, a homeschool mom's faith tends to suffer at times. It is not possible to maintain the strength needed to homeschool your children without taking time to increase and refresh your faith. A homeschool mom's faith requires spending time in God's word and prayer each day.
5 Ways to Strengthen a Homeschool Mom's Faith Every Day
When we take time to hide God's Word in our hearts it gives us the ability to be encouraged and refreshed in the midst of difficult homeschool moments without having to step away and pull out our Bibles or devotional. We can simply whisper a passage of Scripture to ourselves to remind ourselves that God is near.
My grandfather couldn't carry a tune in a bucket, but that didn't stop him from praising the Lord every day of his life through song. He used to tell me that God didn't say you had to sing well, He just said to make a joyful noise. I love music and I love to sing, probably more than my family would like me to. Yet, I find an amazing amount of strength, peace and joy when I listen to music that praises the Lord. On my most difficult days as a homeschool mom you're sure to find Mandisa or Toby Mac's music playing in my home.
I remember singing a song when I was a child that spoke of whispering prayers in the morning, at noon and in the evening to keep your heart in tune. As a homeschool mom it is essential that we do take moments throughout our busy days to whisper (or even cry out!) prayers to the Lord. All too often we do not share our thoughts, frustrations, struggles and pain with anyone, instead we just keep on keeping on. God desires a relationship with us…a relationship requires communication…prayer.
I truly believe that prayer is key to each step of the homeschooling journey. Whether you're just beginning to plan, shop for homeschool curriculum, make changes to your schedule, try out a new homeschooling method or are struggling with what your next step is, prayer is the answer.
As I'm coming up on a big step of our homeschooling journey next year (both my kids will be in high school the fall of 2019), I'm realizing more and more just how little time I have left with my kids. I want our last few years to be filled with wonderful memories, amazing lessons and quality time together.
So, I'm taking steps to strengthen my prayer life in ways I never have before. I know that I need to make some changes in myself and our homeschool journey. I'm just not sure what exactly. Thankfully I don't have to figure it out on my own…and neither do you for that matter.
I love The Prayerful Homeschooler and I am looking forward to using it over the summer during our relaxed homeschooling season.
As you go through this study there are 8 areas that you focus on through printable tools, activities and most important of all, prayer. This study truly is a gem, simple in its design, but exactly what my homeschool mom heart needs in this season.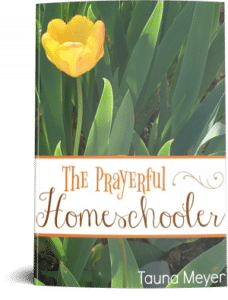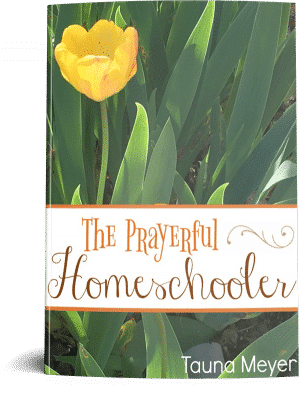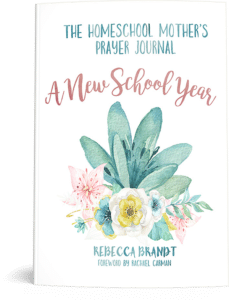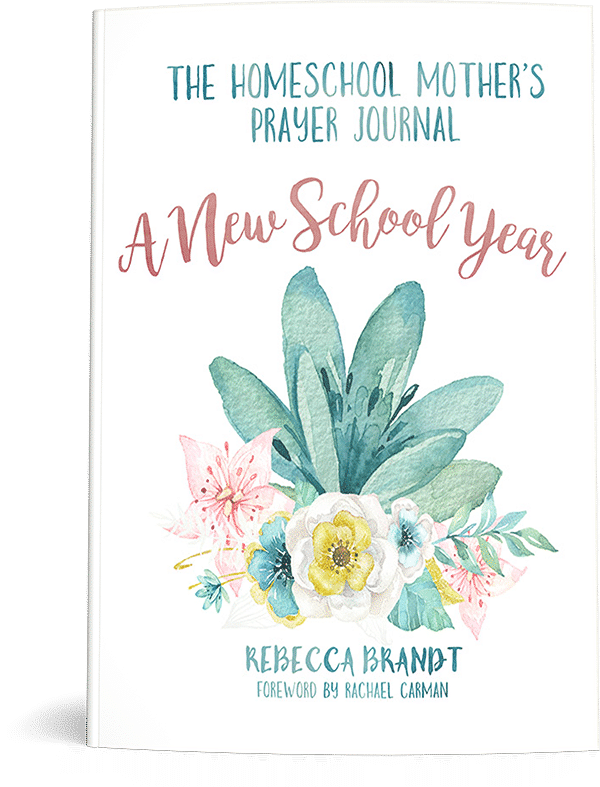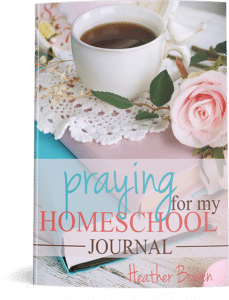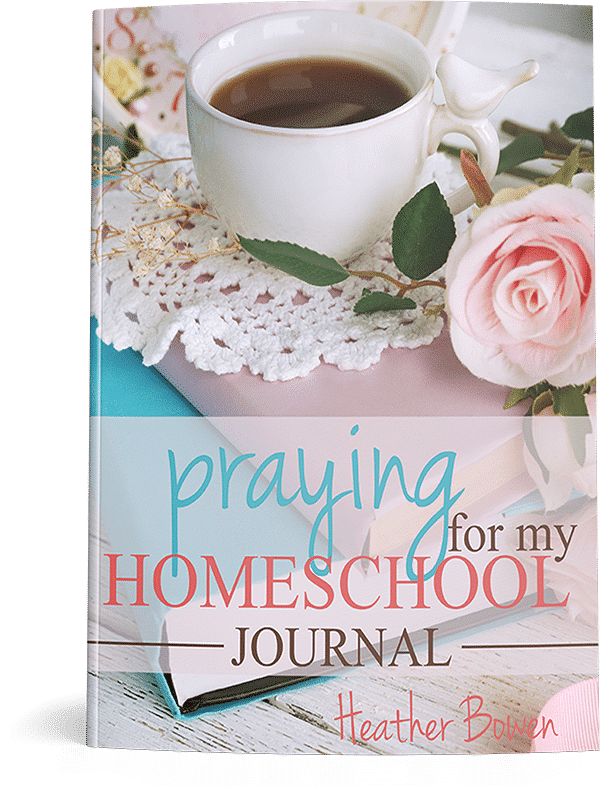 The Bible says to let your words be few, but that is hard for me. So, I'm trying to learn to speak less and write more. I find that most of my thoughts don't need to be said out loud to anyone specifically, so I've started journaling more. Sometimes I write about my day or share thoughts that I chose to keep to myself about my day, journaling has become a way that I pour out my heart to the Lord.
The days of a homeschool mom are long. There isn't really an early to bed, early to rise option for us. Instead, we often stay up late and get up early because we have so much to do. A wise homeschool mom once said that each day we have to choose which ball we're going to drop. We simply can't do it all. All too often, the ball we tend to drop is our daily devotions because it doesn't have to be done like dishes, cooking or laundry. Yet, spending time in God's Word must be something we do each day. We need to be reminded of God's promises, strengthened for the day ahead, receive peace for the storms we can't see brewing and be covered in the love of God when our hearts are broken by the ones we love the most.
I designed Beautiful Worship to deepen your Bible study and strengthen your faith. Our personal Bible study time needs to be part of our daily life. I know that life happens and there will be days when it is impossible – BUT this needs to be the exception, not the norm. We need to be not only be reading God's word, but studying it too! By doing so we will grow closer to the Lord, increase our faith, and our hearts will be encouraged and our souls comforted!
Inside Beautiful Worship you will find tools that will help you not only start reading and studying God's Word, but it will help you create a Bible Study time that you will look forward to each day!
Scripture Reading Plans – to learn how to study God's Word in new ways
Scripture Reading Plan Study Pages – to help you dig deeper as you read every book of the Bible
Prayer Selections – to comfort you when you can't find the words to pray
Prayer Writing Pages – to pour out your heart to the One who loves you the most
Hymn Study Selections – to deepen your walk with God (includes YT playlist!)
Hymn Study Pages – to aid in learning more about the words and author's behind hymns
Faith Writing Prompt Pages – to motivate you to leave behind a faith-filled legacy
Faith Journaling – to inspire you to write your story
and MUCH MORE (there are over 800 pages)!
Whether you're ready to start a new Bible Study routine, need help studying God's Word or desire to take your personal devotions to a deeper level, Beautiful Worship has everything you need!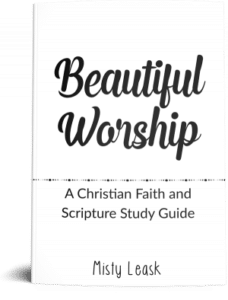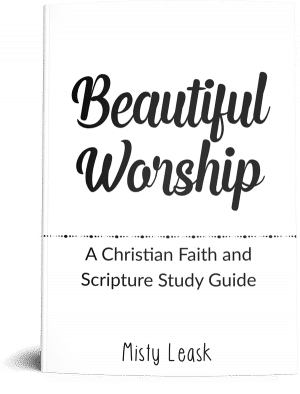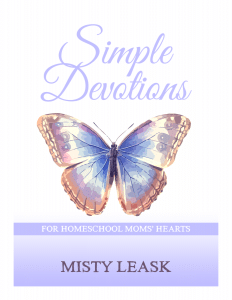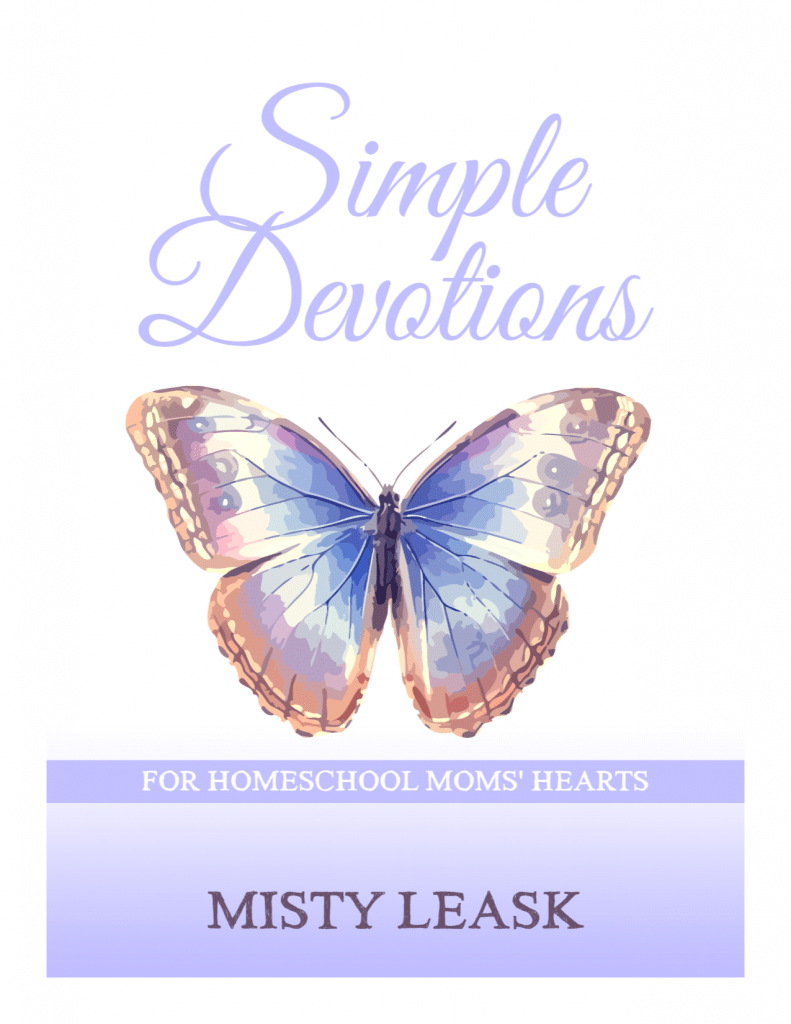 A homeschool mom's faith is essential for a successful homeschooling journey. We must ensure that it doesn't get lost along the way by taking time to strengthen it each and every day. It is important to remember that this isn't just for us, but for our children to see as well. They learn from what they see in us more than what we say. Our daily time with the Lord speaks louder than the words we speak.
How do you strengthen your homeschool mom faith each day?