**Please note resources mentioned in this post may have been received for free or I may have received monetary compensation to write this post. However, the reviews are my personal opinion. For more information, please see my disclosure page.*
Homeschool parents can find fine arts difficult to teach because they don't know where to start. Teaching music, art, dance or theatre can be intimidating especially if you aren't musically or artistically inclined. However, our children need to have a balanced education, so it is important that they have the opportunity to study fine arts as part of their homeschool journey.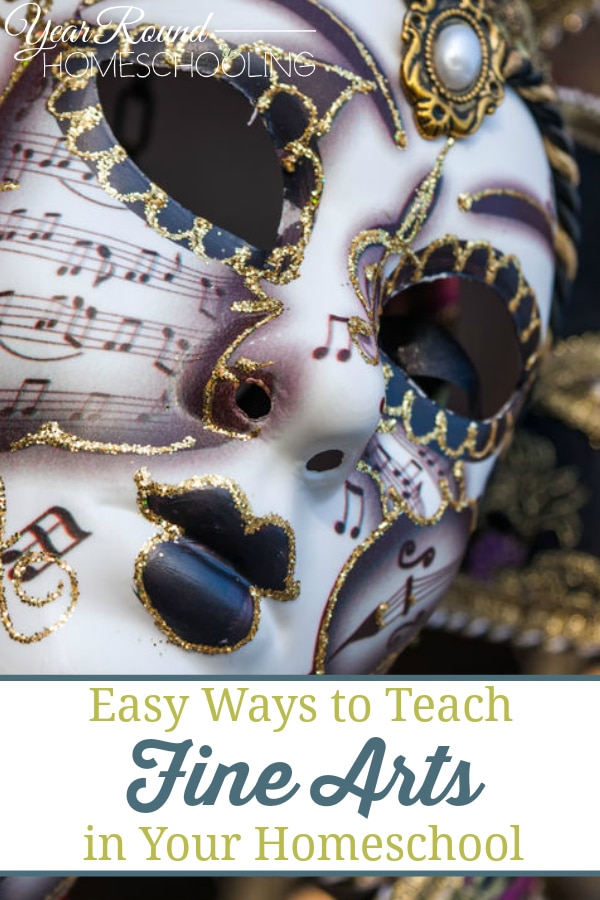 Teaching fine arts in your homeschool isn't as hard as it may seem. Oftentimes I've found that homeschool parents associate fine arts with private art or music classes. When it actually doesn't even have to include any type of private lessons at all.
There are some children that have no interest in the fine arts at all, while others would spend all day listening to music while creating art. These children could both be found in the same family. Then the challenge becomes how to teach fine arts to both of them.
The beauty of fine arts is that there are many topics that fall under the "fine arts" subject. That gives you a variety of options for teaching fine arts in your homeschool.
What is Fine Arts?
Fine arts is composed of three major categories; visual arts, media and performing arts.
Visual Arts includes painting, drawing, pottery, photography, ceramics, etc.
Media includes film making, graphic arts, animation, etc.
Performing arts includes dance, theatre, music, puppetry, etc.
Within each of these three major categories you can branch off into the study of its history, private classes, production, performances, ensembles, choirs, attendance, composition and much more!
How to Teach Fine Arts in Your Homeschool
This is the perfect way to include children that don't love fine arts and those that do.
Field trips options for the fine arts abound; a symphony, plays, recitals, art exhibits, museums, puppet shows, movies, pottery shows, photography studios and much more!

Online Courses
Fine arts is a great subject for musically and/or artistically challenged students to cover using online courses.
Intro to Shakespeare is a Charlotte Mason inspired, self paced online course designed for 2nd-7th graders, but easily adaptable for older students.

In this course students will learn about Shakespeare, study sonnets including memorization and dictation, study a composer and hymn and more!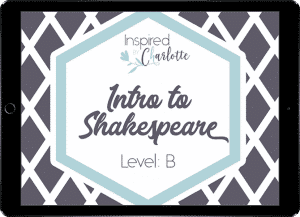 Hoffman Academy is a great online course option for your homeschool music class that we've used.

They have a membership where your students will have access to online learning games, song sheets, activity pages, Mp3 music files that accompany the over 180 free piano lessons online.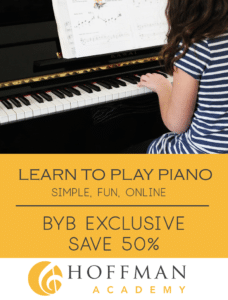 10 Weeks of Shakespeare is an introductory course for 7th-12th graders from Music in Our Homeschool

Throughout the course your students will learn about Shakespeare, the speech of his time, Elizabethan theatre and more. They'll watch videos, read Shakespeare's plays and literature, memorize speeches and at the end of the course they'll put on a play. Star Wars fans will enjoy this course as it includes Shakespeare's Star Wars!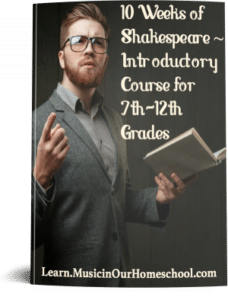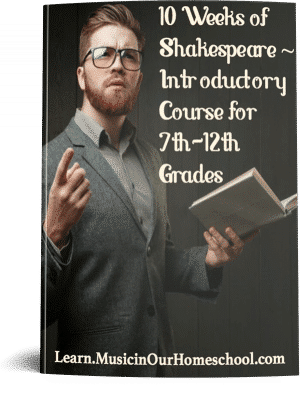 Techie Homeschool Mom has two online courses – Famous Artist Unit Study Vol. 1 and Famous Artist Unit Study Vol. 2

Through this course your children will learn about 10 famous artists including; Norman Rockwell, Andy Warhol, Bridget Riley, Fernando Botero and more. They'll watch videos, create projects using physical and digital online resources, read about the artists, learn about different art movements and much more! *Please note this course does contain nudity.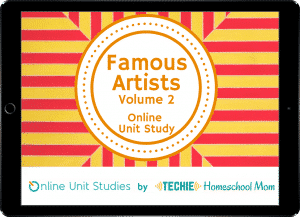 Enrichment Studies has a Renaissance Artists study (and LOTS MORE!) with coordinating Fine Art Pages.

This online course includes the study of 13 Renaissance artists and their work through links, quizzes, games and videos embedded on the lesson pages. *Please note this course does contain nudity.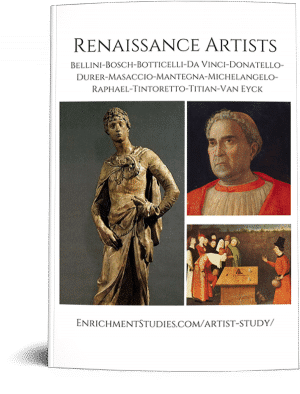 We've used Sparketh in the past for our homeschool art class and both my artistic and non-artistic children really enjoyed it.

This online video based art course features organized activities for beginners through advanced. Each activity includes step-by-step video instructions and material list.

Composer/Artist Studies
Composer studies provide students that love music to learn about their favorite composers. It is also a great option for musically challenged children to learn about the history of music and composers as well.
Psst…composer and artist studies can be used as a double credit for your high school students because it covers music and history!
Digital Homeschool Curriculum
The digital homeschool curriculum options for teaching fine arts abound!
Passionate Homeschooling has a Claude Monet Picture Study & Notebooking Pages.

This resource follows a Charlotte Mason homeschooling method, however, she includes instructions inside the curriculum to enable any homeschooler to teach their children. Inside you'll find a biography of Claude Monet, 23 full color artwork pages, additional resource list, artwork decorated lined notebooking pages and picture study questions for each piece of artwork. *This course is nudity free.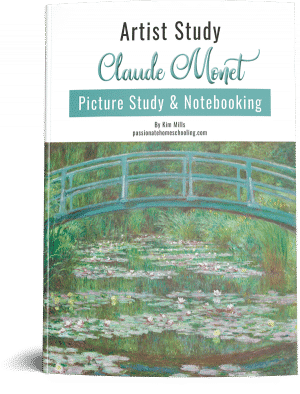 I love this Art History Through the Ages: Vol 2 by A Helping Hand Homeschool where your students will study Baroque and Rococo art. (She has more volumes coming too!)

Through this study your students will learn about the lives of 6 artists, study a few pieces of their art and record what they've learned using the included notebooking pages. There are additional study options available for those who would like to complete a timeline and history extensions. *This course is nudity free.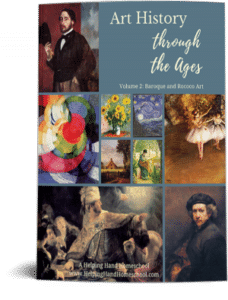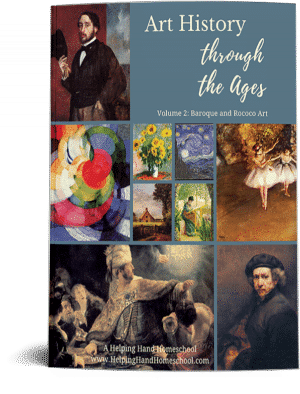 Music in Our Homeschool's 100 Classical Music Pieces Mini-Course is amazing!

Your students will listen to over 100 pieces of classical music from 5 different musical eras. There are printable composer flashcards and composer study pages included as well.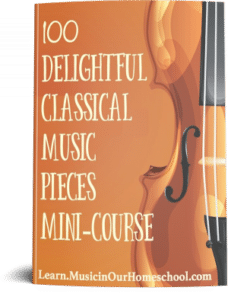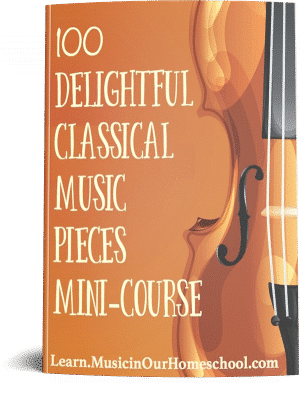 When students enter Middle and High School this is a good time to start having them complete research papers as part of your art and music (and science!) classes. Ensure that they utilize a variety of resources so that they have a thorough and balanced research paper.
Encylopedias
Biographies
Online Sources
Videos/Movies

Literature Studies
If your children love to read like mine do, having them complete literature studies about composers, plays, artists and photographers is a great way to complete or add variety your fine art classes.
Biographies
Autobiographies
Magazines
Online Sources
While homeschool co-ops aren't right for our family, if your family enjoys them you can find fine arts classes offered in some. This is especially helpful to homeschool parents that aren't confident teaching fine arts.
While private classes are not the only way for you to include fine arts in your homeschool, it does give your children the opportunity to learn from another teacher which can be beneficial.
I've found that with music classes my children listen to someone else much better than myself. So, my kids are currently taking private piano classes in addition to other fine arts resources we're using in our homeschool.
Teaching fine arts in your homeschool isn't as difficult as it may seem. It can be as educational (and fun!) for you as it is for your children even. I encourage you to consider what fine arts category your students would enjoy the most and try different methods of study to find the one that's right for your homeschool.
How do you teach fine arts in your homeschool?