Are you looking to make the transition to homeschooling fun over the summer this year? I love using summertime for homeschooling. There are so many ways to use the summer months for homeschooling and transitioning is just one of them.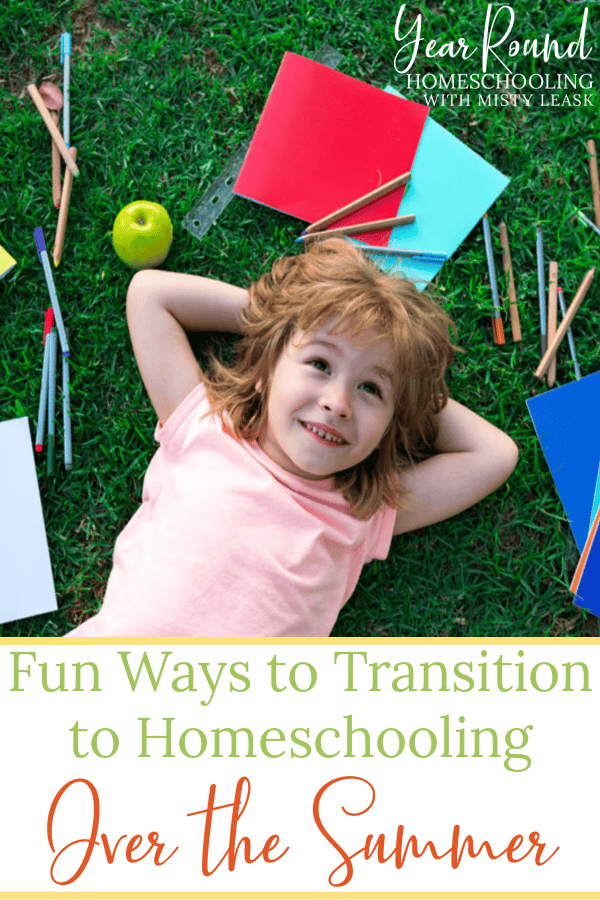 Summertime is the perfect time to dive in, do everything you never had time for, get a little messy and build a love of learning.
The trick to making the transition to homeschooling go well is to take the pressure off and make it fun so that your child wants nothing more than to wake up every day and ask what they get to do. From summer movie nights to trips to the zoo you can make this transitioning time fun for your child!
Why the summer is the perfect time to transition to homeschooling
Summer is a great time to transition into homeschooling as it provides with you and your child the freedom to explore without people asking you and/or your child why they aren't in school during the first few months of your homeschooling journey.
There are so many great learning opportunities in the summertime from trips to the beach to local festivals. Take this time to allow your child to discover a love of learning. It will make a big difference as you begin to transition to homeschooling.
How to Transition to Homeschooling Over the Summer and Have Fun
One mistake that many parents make is diving into homeschooling by teaching their kids in the same way they learned in school. This school-at-home approach is usually much more stressful and time-consuming than it is worth.
Deschooling is a period of time when you step away from formal education and focus on having fun, learning in real life, and simply letting your child explore their personal interests.
The summer is the perfect time for this because no one is watching what your child is doing no matter what state you live in. The summer is generally seen as a break from school and there are no expectations that deschooling may not meet.
Look for ways to encourage a love of learning
Over the summer you can make use of every day to help instill a love of learning in your child and make use of the great weather to do so outside. Here are some ways to make learning fun over the summer.
Field trips are a great way to learn hands-on and make memories with your child. Summers are full of great activities offered in the community aimed at keeping kids busy and out of trouble. These activities make a great field trip that can help instill a passion for learning and help your child learn that learning doesn't have to happen at a desk.
Summer is the perfect time for messy science projects that you wouldn't want to do indoors over the winter. Use the good weather as an opportunity to make learning fun and get a little messy. Everything from elephant toothpaste to bottle rockets can help make summer fun and exciting. This is also a great way to transition into homeschooling because your kids also have the privilege of asking their friends to join them for your summer science projects.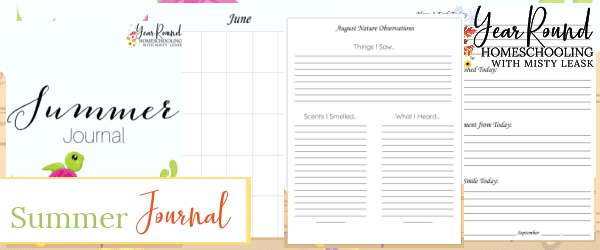 Science is not the only subject that can benefit from the opportunity to go outside where you can simply hose everything down to clean up. Gather the paints, the biodegradable glitter and all of the messy stuff you cringe when the kids bring out over the winter and let the kids explore art without worrying about the mess.
Exploring and trying new hobbies is easy over the summer. Everything tends to slow down in the summertime and communities open up programs and classes. This makes summer the perfect time to take advantage of these offerings to explore and find new hobbies that your child will have more time to enjoy. While you are homeschooling, you can use your child's new interests to help build a curriculum that will engage, entertain and educate them.
Ask your child what they want to learn about
Over the summer while you are transitioning to homeschooling, take this time to get to know your child and talk to them about what interests them. Find out what your child is passionate about and what they would like to learn about this year.
Then use that information to help build a homeschool curriculum that fits your child's needs and interests. This can help make the transition to homeschooling personal and get your child to dive in with full interest rather than hesitation, which is so common when transitioning to homeschooling.