Veterans Day is a significant holiday that is often forgotten or confused with Memorial Day. As a Navy Brat ensuring that children understand our military is very important to me. It is my hope that putting together this Veterans Day Unit Study will make teaching your children about the holiday both easy and fun.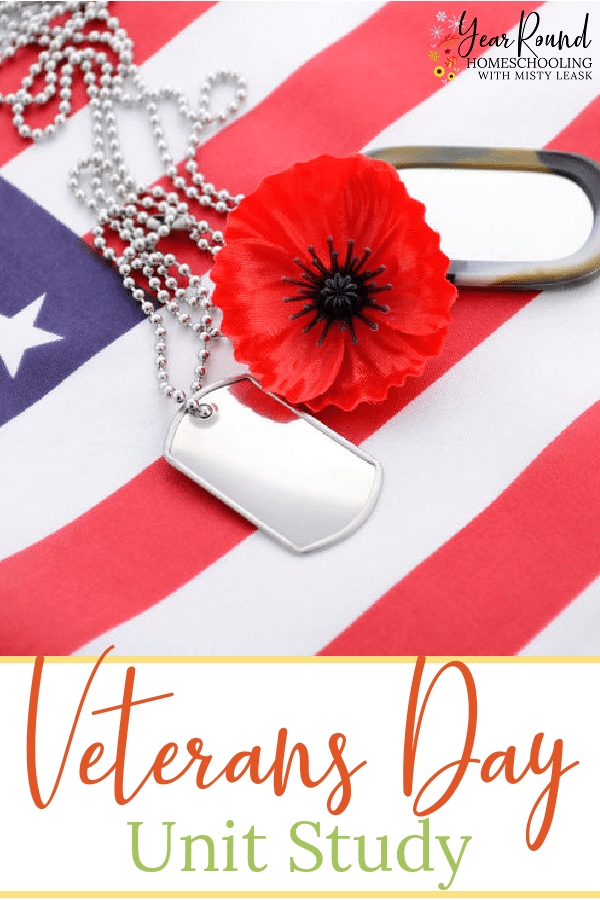 All About Veterans Day Unit Study
What is Veterans Day?
Veteran's Day is the day that we recognize, honor and thank all of our living service members who have served in any branch of our military.
Why is Veterans Day Important
Often our service members are forgotten, especially when they are no longer on active duty. It is essential that we do not forget the sacrifices they made for us and our country. We need to ensure that they know that their service is not forgotten, but that we're continually grateful for them. Without our Veterans, our country would not be where it is today. We owe them our eternal thanks for keeping us and our country safe most of all.
The History of Veterans Day
President Woodrow Wilson first recognized U.S. Veterans after the end of World War I. On November 11, 1919, the one year anniversary of WWI, he proclaimed that November 11th to be Armistice Day to honor those who had served in the war.
Congress passed a resolution to observe the holiday in 1926. However, Armistice Day didn't become an official federal holiday until it passed legislation in 1938. This was 20 years after the end of World War I on the 11th day of the 11th month in the 11th hour, November 11, 1918.
After World War II and the Korean War, Veterans organizations requested that congress change the name of the holiday to 'Veterans Day' in order to honor all service members that have or will serve our country honorably in any branch of the U.S. military.
The legislation amended the Act of 1938 and thus, Armistice Day became Veterans Day on June 1, 1954. President Dwight D. Eisenhower made the first Veterans Day proclamation regarding Veterans Day on October 8th, 1954 to ensure that the holiday was properly observed in the future. As part of this proclamation, he established the Veterans Day National Committee which is dedicated to passing down the importance of this holiday to future generations.
From 1968-1971 Veterans Day was moved from November 11th to the fourth Monday in October. This caused much confusion and disappointment. The holiday's original date was specific to the ending of World War I, so many states chose to continue recognizing their Veterans on November 11th.
It wasn't until 1975 that President Gerald R. Ford signed into law the observance of Veterans Day to be November 11th every year. This law was enacted in 1978 and Veterans Day has been observed on November 11th annually since.
Annual Veterans Day Activities
On November 11, 1921, an unknown soldier was buried in the Arlington Cemetery. His tomb is known as the Tomb of the Unknown Soldier. Every year the National Veterans Day ceremony is held at 11 am at this tomb to honor the Unknown Soldiers fallen in combat. In recent years, the President or Vice President of the United States has laid the wreath on the tomb and given a speech at the ceremony. While you may be unable to attend in person, be sure to check news channels and streaming services online to be part of the service from your home.
The Veterans Day National Committee hosts a competition each year for the Veterans Day poster. You can see past winners and find out more information for submissions here.
Popular Community Veterans Day Events
If you have the opportunity to attend a flag ceremony this is a great way to honor those who have served in the U.S. military. Often they will have a Veteran give a short speech and a chaplain say a prayer. Usually, they will then either place a flag or a wreath on a memorial stone.
While the parades are a fun activity, it is important to know why you are celebrating Veterans Day and what it signifies. In other words, when the Veterans walk by you, be sure to stand and say thank you. As the flag passes, take time to salute the flag, just like you do when you say the Pledge of Allegiance or sing the National Anthem.
Each year the Veterans Day National Committee recognizes regional observances for the holiday that truly represent the holiday and what it stands for. This would be a great opportunity to truly learn what Veterans Day is really about from those that are committed to the day and those who have served. You'll find a PDF document featuring the current year's regional sites updated yearly on their website.
Ways to Recognize Our Veterans All Year Long
Veterans are proud of their service to the country they love. Often they will wear hats that feature specific wars or ships that they served on. Take a moment out of your day to shake their hand and thank them for their service.
Most communities have a VFW stop by and ask them for the name of a local Veteran that you could encourage. While writing a handwritten note isn't usual anymore, it can brighten up a Veterans day. Write a note thanking them for their courage and bravery and for serving our country and drop it off at the VFW.
Brightening someone else's day just takes a bit of your time. Reach out to your local VA hospital and ask them about their visiting hours and rules. They usually have a list of needs as well, so be sure to ask what they are to see if you can donate something while you stop by to visit with the Veterans. Be sure to ask them about their service! There is SO much that we can learn from our Veterans, they are a wealth of knowledge for the history of our country.
Veterans Day Unit Study Fun Facts
A WWII Veteran, Raymond Weeks, is known by some as the 'Father of Veterans Day'. He was the first to organize a 'National Veterans Day' event in 1947. Raymond Weeks was awarded the Presidential Citizens Medal by President Ronald Reagan in 1982.
Veterans Day is known as 'Remembrance Day' in other countries.
In Australia, they honor their veterans at 9 pm because it is 11 am in the U.S.
Veterans Day does not contain an apostrophe.
The first Veterans Day parade was held in Birmingham, Alabama.
Veterans Day is both a state and a federal holiday.
Poppies are a World War I remembrance symbol because of Canadian's Lieutenant Colonel John McCrae's poem, "In Flander's Field". He wrote the poem based on the state of the battlefields in 1915, which were covered in poppies.
Moina Michael, a professor from Georgia, read McCrae's poem and wrote "We Shall Keep Faith" as a response. She vowed to always wear a red poppy, created them for her friends and began to sell them as a way to raise money to support Veterans.
While other holidays have specific ways to display the American Flag there aren't any rules regarding its display for Veterans Day.
Veterans Day Unit Study Resources
Books
Videos
Art
The National World War I Memorial
African American Civil War Memorial
U.S. Marine Corps War Memorial
American Disabled for Life Memorial
Printable Resources
What did you learn about Veterans Day that you didn't know before?