If a college in-person visit is not possible, virtual college tours can be a great first step in deciding if a college campus fits your needs.
Touring colleges is an important step for deciding which college your homeschool high school student wants to attend. However, touring all of the colleges our children are interested in isn't always possible for various reasons.
Often the summer before a student's senior year can be spent visiting college campuses. If your high school student is unsure about which college to attend, spending a week pursuing different virtual college tours can help create a list of possibilities.
If your high school student knows exactly where they want to attend, try to find at least one other alternative so they can create a comparison/contrast. Knowing the good and bad points is a good balance on knowing if a college is a good fit.
5 Reasons to Use Virtual College Tours
We can not always travel to the colleges our kids are interested in touring.

They can even be used by students that want to take a tour of colleges before they submit their applications, perhaps saving them (or you!) several hundred dollars in application fees.

Your teen can look at colleges long before they are ready to apply.

Virtual tours are taking off as a viable way to see the world without having to go anywhere, why not use them in a college search?

You can save time and see more options by exploring colleges online.
How to Find Colleges with Virtual Tours
If your student knows which college(s) that they are interested in attending, a Google search or glimpse at the college's website/social media will likely turn up their virtual options.
However, there are a few places that make checking out virtual college tours as easy as one-stop-shopping if your student isn't sure where to start.
Check out my two lists below featuring top Christian and Ivy League colleges with virtual tours.
CampusTours features over 1700 colleges with virtual tour options.
College Search

also offers a host of virtual tours in addition to search options for specific colleges.

The Princeton Review has a list of virtual college tours organized by state.
While your high school student is completing their college virtual tours you might want to take a look at my College Readiness Checklist. It might just help get your teens focused on the next steps they're considering or provide the motivation they need to think about their future.
What to Do After Attending a Virtual College Tour
With your child, alone, with your spouse, as a family… Just pray.
This is a print-and-go resource for keeping track of the pros and cons of each college with pages for both your student and you!
Ask your student to share their thoughts either orally or in writing on what they learned from completing their college virtual tours.
Make it a bit more fun and enjoyable for them by taking them out for coffee or a fun snack as they complete this next step in their education.
Once you have completed your college virtual tours you can then decide if an in-person visit is needed.

Visiting the school in person does give students the chance to envision themselves on that campus.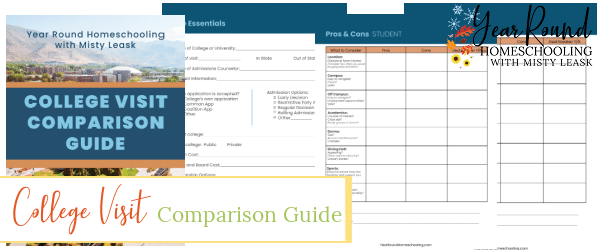 Top Christian Colleges with Virtual Tours
Prior to attending a few virtual college tours, my son was fairly certain where he wanted to go to college. However, after attending an online virtual college experience, his dream college changed and he ended up attending ACU.
Ivy League Colleges with Virtual Tours
Even if your student does not have dreams of attending an Ivy League College they might enjoy a virtual tour. Comparing the campuses of an Ivy League and their choice might give them a glimpse of if they are getting more or less of the same experience for a different price.
I encourage you to let your teen explore as many colleges virtually as possible. You never know where God may lead them and thanks to the internet and technology, virtual college tours don't cost anything!