My family's journey to year round homeschooling is a bit different than most. The biggest reason I decided to try out year round homeschooling was because my husband and I are both self employed. Add to the fact that he is a fisherman, so his days off are run by the weather and that can create a homeschool nightmare. Our kids wanted to be off when dad was off because often 2-3 days would pass when he wouldn't see them at all because of the 16-20 hour days a fisherman works. I knew something had to change because anytime daddy was home the kids would beg to have the day off because daddy had the day off.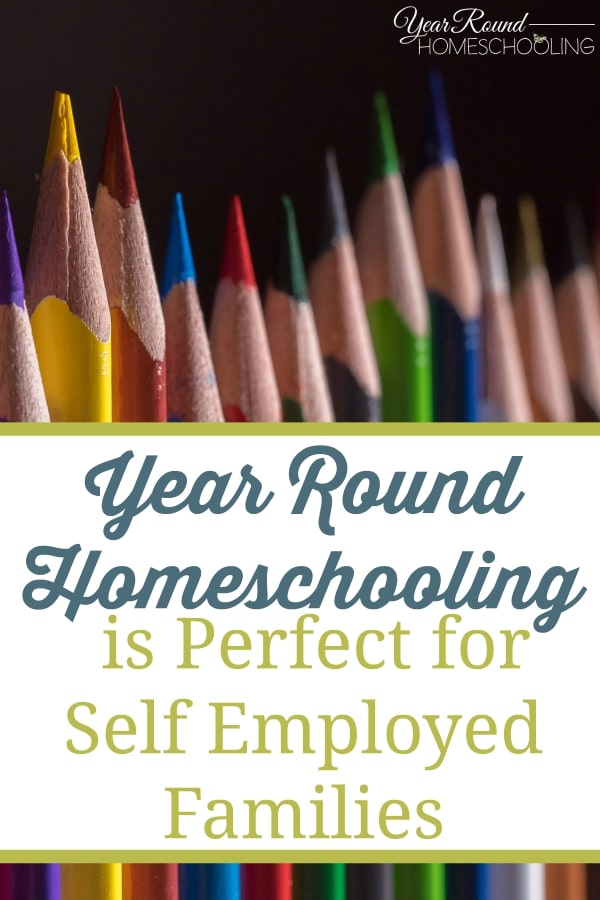 Another reason that I decided to try out year round homeschooling was because the 3 months of summer, though they are short to me, they seemed like "forever" to my kids. Barely a month into the summer and daily I began hearing a phrase that drove me crazy. I'm bored.
One reason + another reason = time to find a solution
I began researching all of the different schedules that year round homeschoolers used. While I found a few schedules online, none of them seemed to fit my family's schedule. So, I created my own that fits our family perfectly, so far. I know that life will continue to change and thus our schedule may need to change in the future. We're going into our 3rd year of year round homeschooling and loving it!
The schedule we currently have is set up by quarter. The only assigned days off that we take are my son's birthday and the major holidays, (Labor Day, Thanksgiving Day, New Year's Day, Memorial Day and 4th of July). We kick off our school year on the day after Labor Day every year, below you'll find the schedule we follow each year.
September-November
January-March
May-July
In Maine I'm required to homeschool for 165 days, so if we hit that before the end of July and we've completed that year's school work then we stop early. This year we ended the second week of July, so instead of only a 4 week break, we ended up with a 6 week break!
August is spent planning our new school year and that's lots of fun for me! I love planning! The kids have fun all month long because it's their month of vacation. Before becoming year round homeschoolers it was VERY difficult to plan in August because they were tired of summer and were bored!
With just under two weeks before school kicks off, I only have spelling left to plan. I'm excited to begin and the kids can't wait to dig into their new books!
I'd love to hear what schedule you follow as a year round homeschooler, meet me in the comments?
Follow all our encouraging year round homeschooling stories by visiting our Pinterest board below.
Follow Misty Leask's board Homeschooling Year Round Stories on Pinterest.